Lady Eagles state champs again
October 17, 2018 - 4:46 pm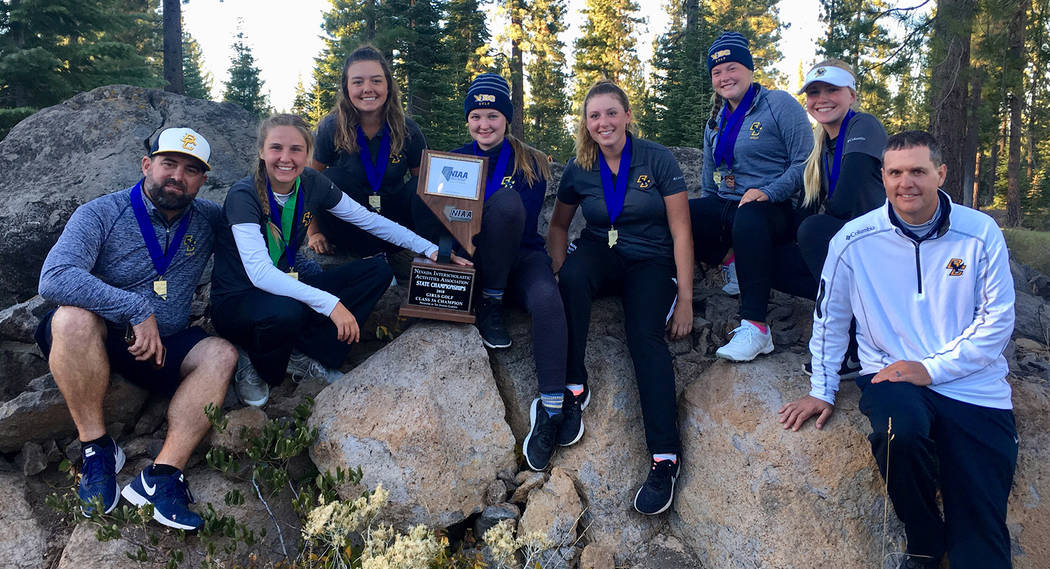 Battling back from a 14-stroke deficit after the first day of competition, Boulder City High School girls golf team captured the 3A state championship Tuesday at Schaffer's Mill Golf Club in Truckee, California.
"Honesty, I couldn't be more proud of these girls," head coach Andy Schaper said. "We dug ourselves a little bit of a hole after day one but everyone battled and we were able to pull it out."
Tuesday's win was the Lady Eagles' second consecutive 3A state championship, claiming it without their two best players from last season, Lani Potter, who graduated last spring, and senior Madisan Walker, who decided not to play this season.
"We faced a lot of adversity this year with losing our two best players from last season," Schaper said. "For us to put in the hard work and effort and for the girls to keep fighting, scratching and clawing their way to another state championship is awesome. They all rallied together and got it done together."
Battling with rival Pahrump Valley, the Lady Eagles trailed the Trojans, before generating a 20 stroke advantage on Day Two to claim the victory.
The Lady Eagles finished with a team score of 744, followed by Pahrump Valley (750) and Northern challenger Elko (774). They avenged last week's 3A Southern Region tournament loss to the Trojans, which edged out the Lady Eagles 729-732.
"What an exciting day; it was an unbelievable come back today," senior Ryann Reese said. "I'm so proud of myself and my teammates. Going back to back is just crazy. What an accomplishment for our team and coach Schaper."
Hitting a birdie on her last hole, Reese finished in fifth place with an overall score of 169. She shot an 87 on Day One, before finishing with an 82 on Day Two on the par-72 course.
Junior Sydney Krumm finished in sixth place with a score of 172, shooting 87 on Day One and 85 on Day Two.
Junior Makaela Perkins finished 16th with a score of 198, while sophomore Riley Shuman played a large role on Day Two in the Lady Eagles' turnaround. Shooting a 127 on Day One, Shuman was 55 strokes over the par 72 before rebounding on Tuesday, Oct. 16, with a 103 effort.
"A lot of people wrote us off this year," Reese said. "After Lani graduated nobody thought we had a chance. Then we lost Madisan and people thought for sure Boulder City would not go anywhere. On our first day coach wrote some numbers on a board and said it's possible. We all looked at each other and looked at the scores and thought we could do this. It all came together at the right time. This was a team effort with multiple girls shooting their best scores of the season at the right time."
Contact Robert Vendettoli at BCRsports@gmail.com.