Lady Eagles softball team undefeated in league play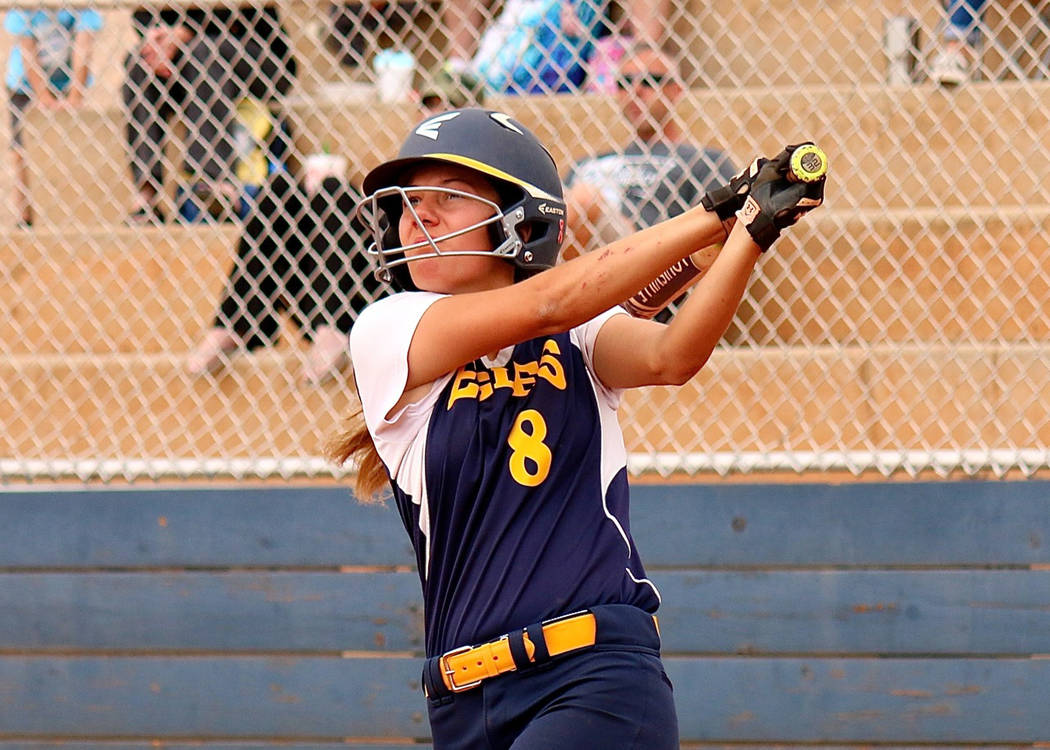 Boulder City High School's softball program is firmly in the driver's seat of the 3A Sunrise league, claiming victories over Del Sol on Monday and Southeast Career Technical Academy on Tuesday to advance to 5-0.
Struggling with Southeast Career Technical Academy the first time around at home on March 31, the Lady Eagles needed a walk-off bunt by junior Jordan Moorhead to escape the Roadrunners' upset bid 3-2. The second time around, the Lady Eagles handled the Roadrunners easily 17-0 in four innings on the road.
"The first time we played Southeast Career Technical Academy, our bats didn't do their job and we couldn't capitalized on a couple errors they had," head coach Angelica Moorhead said. "This time around, our bats were smoking and it was a totally different ball game."
Lighting the Roadrunners up often and early, the Lady Eagles' offense exploded for 13 runs in the second inning, highlighted by a three-run double from freshman Ashley Wishard off Roadrunner starter Ashlee Carratelli.
Sophomore Marlena Mills and freshman Ellie Ramsey also roughed up Carratelli in the second inning, each knocking in a pair of runs.
Junior Summer Coyle knocked in run as well in the third inning with a double.
"Our bats came alive today," junior Bailey Bennett-Jordan said. "We had a great day at the plate on Monday against Del Sol and followed it up with another great game today. This game is a huge boost of confidence for us after not playing up to our capabilities the first time around. We limited our mistakes and came out swinging. This is a big win for us."
Nearly perfect on the mound, Bennett-Jordan threw four shutout innings, striking out seven batters while allowing one run. A consistent two-way force, Bennett-Jordan also finished 1-for-3 at the plate, knocking in a pair of runs.
Dominating Del Sol on the mound on Monday as well, Bennett-Jordan led the Lady Eagles past the Dragons 14-1, throwing five innings where she struck out eight batters and allowed one run on five hits. Bennett-Jordan also drove in three runs on a third-inning double, part of an eight-run inning for the Lady Eagles.
"Bailey has done a fantastic job for us so far this season," Moorhead said. "She knows that she can't do it alone and relies on her defense to help her out. As a pitcher, she continues to work hard and practice her craft."
Helping provide Bennett-Jordan with run support against the Dragons, Mills finished 2-for-3 at the plate with five runs batted in, driving in a two-run double in the first inning and a three-run double in the third.
Sophomore Ryann Reese (3-for-4) and junior Lily Osman (1-for-2, one double) were also productive at the plate on Monday.
Set to go through the division a second time around, the Lady Eagles will host rival Moapa Valley on Tuesday with hopes of continuing to fine tune their offense.
"We've stressed to the girls how important it was to be in the No. 1 spot going into this part of our schedule," Moorhead said. "We don't take any game lightly, therefore we don't expect to cruise through the second half. We always stress one game at a time. This is a special group of young ladies; we just need to stay focused, minimize our errors, and keep our bats hot the rest of the way."
Contact Robert Vendettoli at BCRsports@gmail.com.
Upcoming game
Tuesday, vs. Moapa Valley, 3:30 p.m. home varsity, away junior varsity