Lady Eagles softball team starts playoffs with 16-6 victory over Western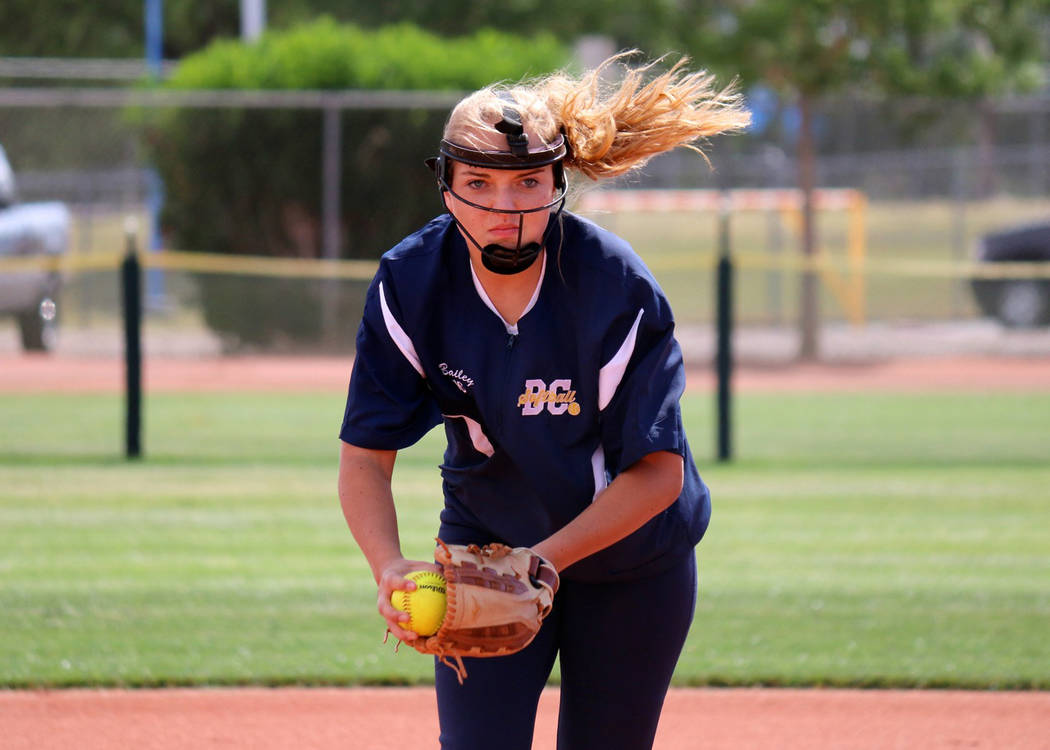 Seeking its first 3A state championship since 2010, Boulder City High School's Lady Eagles softball team rolled easily past Western 16-6 on Tuesday in the opening round of the 3A postseason.
"It was a great team win for us," said junior Bailey Bennett-Jordan. "We had a few moments that were sloppy, but we all pulled together and got the victory. When we're all on and playing for each other, we're tough to beat."
Finishing as last season's 3A state champion runner-up, Bennett-Jordan feels this year's team has what it takes after a dominant opening round performance against the Warriors.
"We're all hungry to be champions," Bennett-Jordan said. "Last year left our returning girls really motivated to finish the job. We have to take it game by game like we did against Western though. We can't get distracted looking past the team in front of us. Anyone can beat us if we're not on our A game."
Certainly on her A game Tuesday, Bennett-Jordan was a force on the mound and at the plate for the Lady Eagles.
Throwing five innings, Bennett-Jordan allowed three earned runs off of eight hits, while striking out 10 batters. Producing run support as well, Bennett-Jordan went 2-for-3 with a third inning home run.
Freshman Ashley Wishard finished 1-for-3 with a double and four runs batted in, the most RBIs she's produced this season.
"Ashley couldn't have picked a better day to step up," Bennett-Jordan said. "We need the whole team to be playing at their best if we want to contend for a state championship. I couldn't be happier that Ashley had a career day."
Coming together as a team offensively, the Lady Eagles combined for 16 hits, exploding early and often with five runs in the first inning and four runs in both the third and fifth innings.
Sophomore Marleena Mills (3-for-5, three RBIs) also hit a pair of doubles, one in the first inning and another in the third inning, while junior Jerra Hinson (2-for-3, two RBIs) hit a third-inning double.
Junior Lily Osman finished the day 2-for-2 with three RBIs, while sophomore Ryan Reese finished 3-for-4 with a pair of RBIs.
Junior Jordan Moorhead also finished 3-for-4.
"If we can keep our offensive production consistent, we're going to be tough to beat," Bennett-Jordan said. "We're capable of putting up double-digits runs every game if we're dialed in. We're going to need to be at our best this postseason."
Results from Wednesday home playoff game against Southeast Career Technical Academy will appear in next week's issue, along with the remainder of the postseason slate.
Contact Robert Vendettoli at BCRsports@gmail.com.
Upcoming games
■ Today, 3:30 p.m., site TBA
■ Friday, 2 or 4:30 p.m., depending on outcome of Thursday's game
■ Saturday, noon, depending on outcome of Friday's game