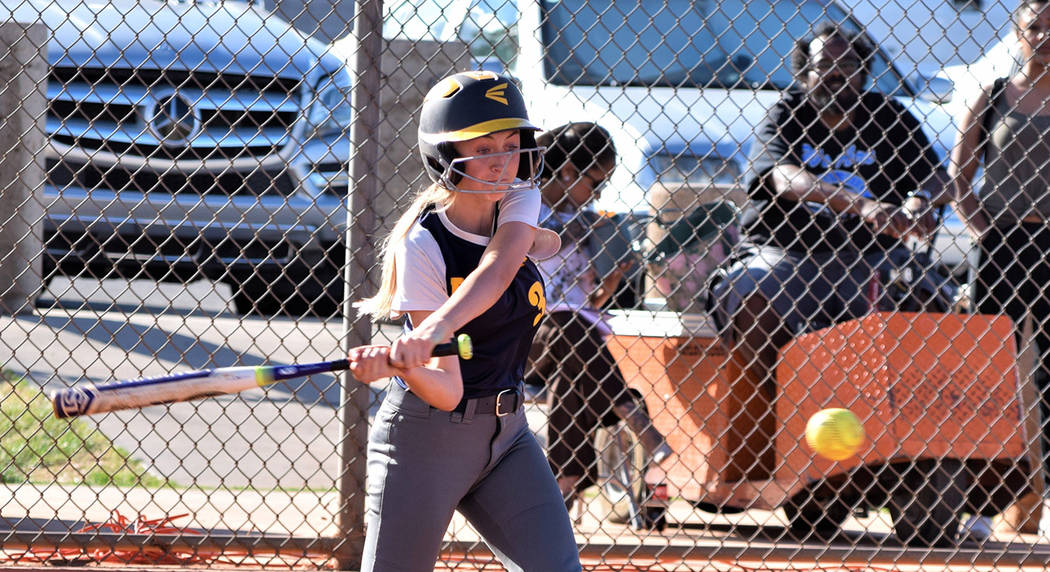 Boulder City High School's softball team was clicking on all cylinders Tuesday, March 13, routing Desert Pines 13-3 after a strong Colorado River Invitational appearance.
"I really think this weekend's tournament helped fire us up," senior Bailey Bennett-Jordan said. "We played some really strong team in Needles (California) and did well. That helped us come out today and take care of business."
After finishing 4-2 in the Colorado River Invitational, the Lady Eagles scored early and often against the Jaguars, erupting for four runs in the first inning, followed by a run each in the second through fourth innings.
While Bennett-Jordan was at her best, throwing four hitless innings with eight strikeouts, sophomore Ellie Ramsey was the Lady Eagles' star player Tuesday.
Batting 4-for-5 with a double, Ramsey used her speed against the Jaguars to hit two inside the park home runs, one each in the second and fourth innings, to lead the winning effort.
Staying perfect at the plate, senior Lily Osman and junior Marleena Mills batted 2-for-2, while sophomore Sydney Krumm (1-for-4) and freshman Brooke Baker (1-for-3) each added two runs batted in.
Starting 3A classification play off with a bang, the Lady Eagles used a pair of key victories over 4A opponents Legacy and Durango to fuel the effort.
"Playing against a larger school is always great because it shows the girls what they're capable of," said head coach Angelica Moorhead. "Especially the Durango game because they have a great pitcher and it was a tight ball game. The girls played super hard."
Playing four innings against Durango, the Lady Eagles knocked off one of the top pitchers in the 4A classification, Trinity Valentine, with a fourth-inning rally.
After allowing the Trailblazers to take a 6-4 lead heading into the bottom of the fourth, senior Jerra Hinson capped off a three-run comeback with a two-out, walk-off double to seal the victory.
Hinson finished 2-for-3 with two RBIs, while senior Jordan Moorhead batted 2-for-3 with an RBI.
Showcasing their offensive firepower against Legacy, the Lady Eagles rallied for a 17-7 victory behind Mills (3-for-3), Baker (2-for-3), Hinson (1-for-2) and sophomore Ashley Wishard (2-for-3), who each drove in a pair of runs.
Finishing their first week 5-2, the Lady Eagles will travel to Cedar City, Utah, this weekend for the March Warm-Up Tournament.
Contact Robert Vendettoli at BCRsports@gmail.com.
Upcoming games
Friday, March 16, March Warm-up Tournament in St. George, Utah, 2 p.m.
Saturday, March 17, March Warm-up Tournament in St. George, Utah, 8 a.m.
Monday, March 19, at Western, 3:30 p.m. varsity; vs. Western, 3:30 p.m. junior varsity
Wednesday, March 21, vs. Mojave, 4 p.m. varsity; at Mojave, 4 p.m. junior varsity