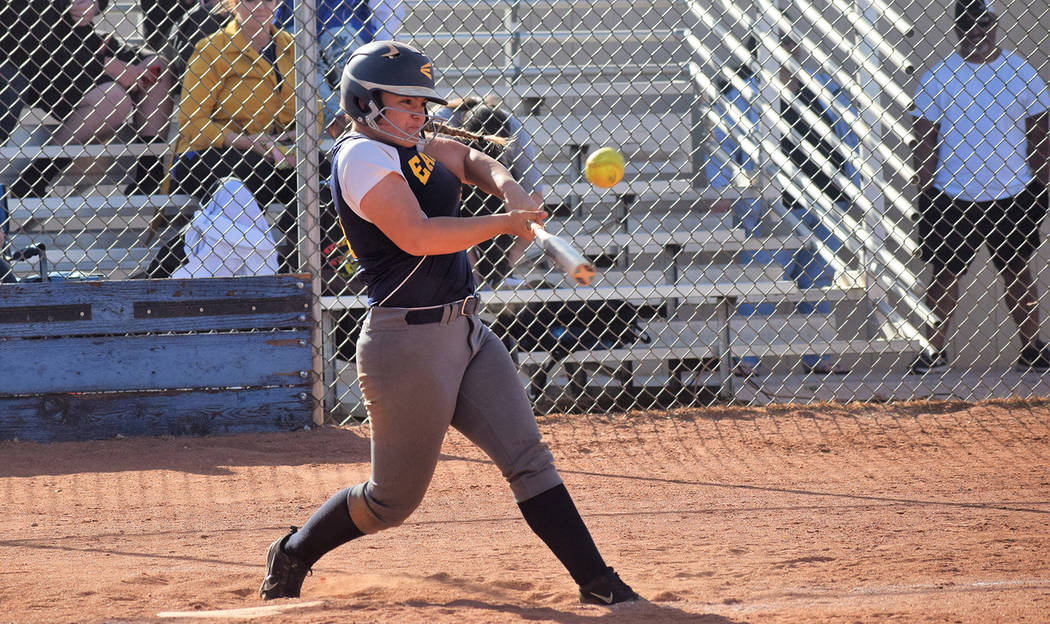 Boulder City High School's softball team claimed a statement 14-1 victory over Chaparral on Tuesday, April 17, rebounding from a 11-3 loss to 4A Sierra Vista in a windy affair on Monday, April 16.
"I thought we play well against Chaparral," senior Bailey Bennett-Jordan said. "It was nice to know that we can come out focused and ready to play after a loss. This team knows how to bounce back."
Whether they bounced back or bounced balls between the gaps, the Lady Eagles were certainly at their best Tuesday, scattering four doubles collectively, with a home run in a 15-hit total team effort.
Leading the way with their big sticks, senior Jerra Hinson finished 2-for-4 with four RBIs, slugging out an inside-the-park home run in the first inning, while senior Lily Osman finished 3-for-4 with three RBIs, slugging doubles in the first and fifth innings.
On a rampage this season, Osman leads the team with 29 RBIs and 10 doubles.
Senior Jordan Moorhead finished 2-for-2 with two RBIs, while senior Micayla Gegen finished 1-for-3 with two RBIs.
"It's always a good thing when everyone can contribute to a win," head coach Angelica Moorhead said. "Both Micayla and Jordan having two RBIs each continues to help in the team effort to work toward the regional and state playoffs."
Also helping their goals is having a dominant Bennett-Jordan on the mound, who allowed just one run on four hits against the Cowboys, while striking out five batters.
Pitching two complete games this week, Bennett-Jordan was on the losing end of Sierra Vista's powerful offensive attack, but did provide shining moments. Despite allowing 11 runs on 15 hits, Bennett-Jordan struck out a game-high eight batters.
"I thought Bailey had a good outing on Monday," Angelica Moorhead said. "Sierra Vista is a good ball club stacked with a lot of great hitters. She didn't let that affect her outing today against Chaparral. She was a little sore, but worked through that and pitched a great game today. She knows and understands she is our workhorse; she will do whatever it takes to get her job done."
The Lady Eagles resume play today, April 19, on the road against Del Sol, before traveling to Virgin Valley on Monday, April 23.
Contact Robert Vendettoli at BCRsports@gmail.com.
Upcoming games
Today, April 19, at Del Sol, 3:30 p.m. varsity; vs. Del Sol, 3:30 p.m. junior varsity
Monday, April 23, at Virgin Valley, 3:30 p.m. varsity; vs. Virgin Valley, 3:30 p.m. junior varsity
Wednesday, April 25, vs. Southeast Career Technical Academy, 3:30 p.m. varsity; at SECTA, 3:30 p.m. junior varsity