Lady Eagles poised for repeat title
October 31, 2018 - 3:21 pm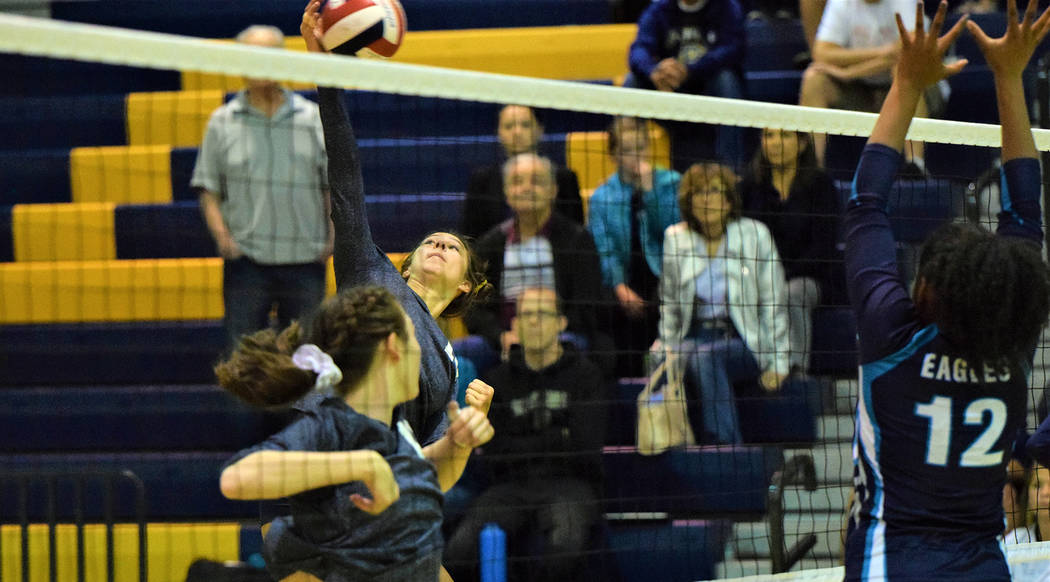 Boulder City High School girls volleyball team kept rolling on Tuesday, defeating Valley 3-0 in the opening round of the 3A postseason.
Defeating the Vikings 25-9, 25-7, 25-7, the Lady Eagles (34-6) have yet to lose to a 3A opponent this season.
"I think we played really well and I think that can be attributed to some good practices lately," sophomore Kamry Bailey said. "When we all connect and play our game, we are very difficult to beat."
Dominating the Vikings from the opening serve, sophomore Ava Wright generated 11 serving aces while sophomore Madi Wood added eight aces.
Spreading the ball around on offense, Wright dished out 24 assists, finding Bailey (13 kills), senior Setia Cox (six kills), junior Reagan Herr (five kills) and sophomore Sierra Orton (five kills) consistently.
"Having multiple girls at the net who can attack makes it very hard for the other teams to return the ball," Wright said. "Knowing I have all of these options makes it very easy for me because I know wherever I put the ball, I know it is going to be taken care of."
The Lady Eagles defeated Sky Pointe 3-1 on Oct. 24 closing out the regular season and sending Cox and seniors Ashleigh Wood and Kaitlyn Miller off with a win on senior night.
After dropping an early set, they rebounded to finish the game with a 21-25, 25-12, 25-10, 25-18 victory.
Wright supplied 45 assists with 10 digs defensively, finding Bailey (13 kills), Cox and Herr, who each added 11 kills apiece. Sophomore Rachel Krumm had a breakout game serving with eight aces, while adding five digs.
Ready to defend their 3A state championship, the Lady Eagles are poised for a repeat season. Dominating their way through the regular season, Boulder City is confident heading into the later rounds of the postseason, yet remains alert of the challenges ahead.
"The team is so excited to compete to hopefully defend our state title," Wright said. "Throughout this season we have seen our potential as a team and what we can do. Knowing our team's capability and seeing what we can do when we set a goal gives me confidence in what's to come."
The Lady Eagles will take on Pahrump Valley tonight in Pahrump Valley, with their sights set on Saturday's 3A Southern regional championship.
Hoping to get past the Trojans, the winner of tonight's contest will face the winner of Moapa Valley versus Mojave.
"The girls know that there is a target on their back and that everyone's going to give them their best," head coach Kurt Bailey said. "It's nice to finally have everyone back and healthy for regionals; that should help. We're going to go into Pahrump and give it our best."
Contact Robert Vendettoli at BCRsports@gmail.com.
Upcoming games
Today, Nov. 1, at Pahrump Valley, 4 p.m.
Saturday, Nov. 3, regional championship (if qualified) at Pahrump, noon