Lady Eagles knock off league champ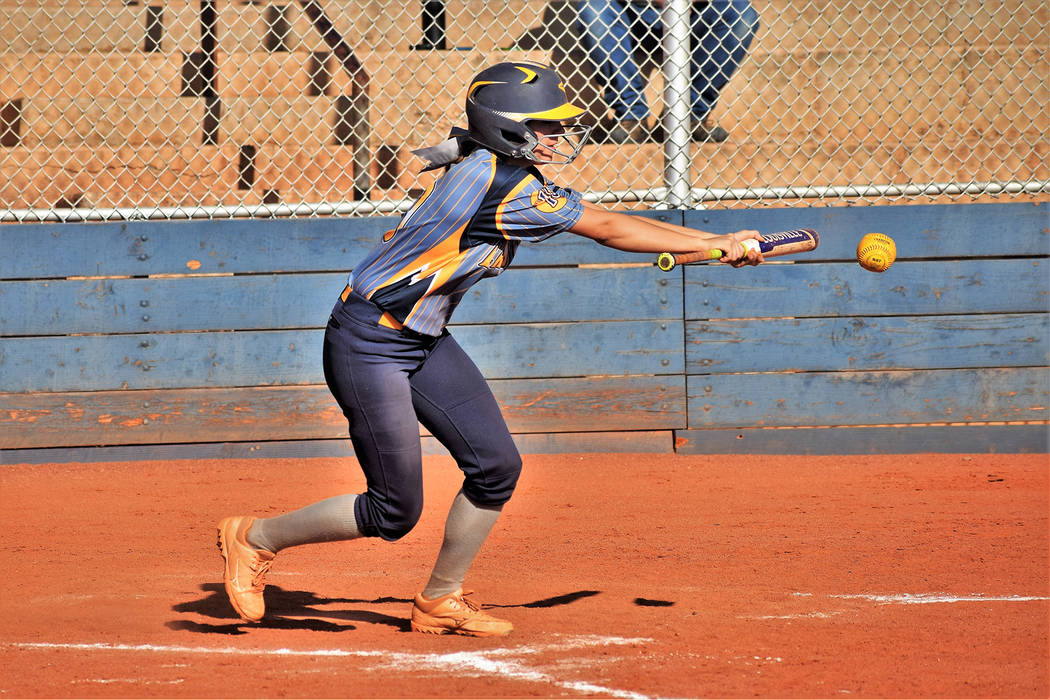 Coming through in the clutch, Boulder City High School softball team knocked off 3A Sunrise League champion Moapa Valley 8-3 on April 27, proving its season is far from over.
Suffering a minor setback earlier in the week when they fell to Virgin Valley 13-11 on April 23 without senior star Bailey Bennett-Jordan, the Lady Eagles were focused and ready to play against their rival Pirates in a must-win game with their workhorse back on the mound.
"We really wanted this game, after they came to our house last time and beat us," Bennett-Jordan said. "We all rallied behind each other and played great up there. If we can play like this in the postseason, I think we have a chance to win a lot of games."
Stepping up to the challenge herself, Bennett-Jordan was on against the Pirates, striking out nine batters. Throwing seven innings, Bennett-Jordan allowed three runs off of six hits, while her offense did a nice job of backing her up with 12 hits of their own.
"Bailey is doing a great job for us," head coach Angelica Moorhead said. "We're so glad to have her back and ready for playoff time. We just need to continue backing her up and taking care of one another."
Sophomore Ellie Ramsey finished 1-for-4 with two RBIs, while senior Jerra Hinson finished 3-for-4 with an RBI double.
Helping her own cause, Bennett-Jordan finished 1-for-4 with two RBIs, while senior Jordan Moorhead finished 2-for-4 at the plate.
"That was a solid game for the girls," Angelica Moorhead said. "They were loose and relaxed and knew what they needed to do. It's always a good feeling to beat them at home. I'm sure we will see them during the playoffs and we will be ready for them again."
Continuing their dominance on the mound and at the plate, the Lady Eagles defeated Chaparral 8-0 behind 11 hits offensively and 16 strikeouts from Bennett-Jordan.
Overpowering the Cowboys, Bennett-Jordan picked up the win after allowing only three hits, while senior Lily Osman hit a two-run home run in the bottom of the third inning.
Also finishing with two RBIs, junior Marleena Mills batted 2-for-4 at the plate, while junior Ryann Reese finished 3-for-4.
Defeating Southeast Career Technical Academy 22-5 on April 25, Reese finished 2-for-2 with three RBIs, while sophomore Ashley Wishard provided her best effort of the season, finishing 2-for-2 with five RBIs and a double and triple each.
Hitting the cover off the ball against the Roadrunners, senior Summer Coyle finished 1-for-1 with three RBIs, while Jordan Moorhead finished 1-for-3 with two RBIs.
Results from Wednesday's senior night game against Del Sol will appear in next week's issue.
Contact Robert Vendettoli at BCRsports@gmail.com.
Upcoming games
Today, May 3, at Basic, 3:30 p.m. varsity; vs Basic, 3:30 p.m. junior varsity
Tuesday-Thursday, May 8-10, Southern Region tournament, 3:30 p.m., TBA
Friday and Saturday, May 11-12, Southern Region tournament, at home, TBA