Lady Eagles help lead All-Star team to victory
November 23, 2016 - 1:41 pm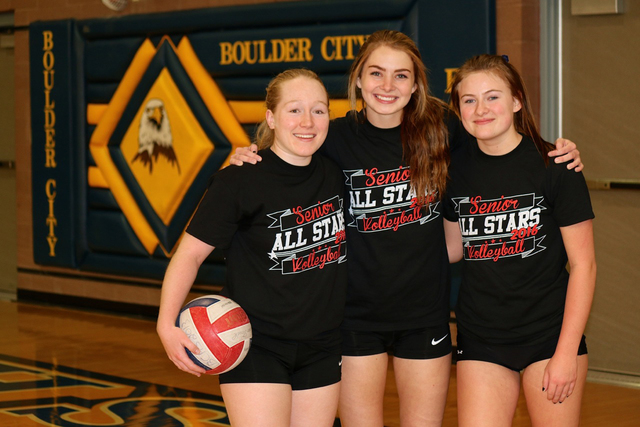 The Sunrise League All-Stars dressed only six players Friday during the 3A Senior All-Star Game but proved that quality of talent wins over quantity with a 2-0 victory over the Sunset team.
"I thought we played very well, considering we only had six players," senior Kenadee Bailey said. "Our middles had to play back row, and our libero had to hit and play front row, but everyone stepped up to the challenge and worked together to capture this win for Sunrise."
Among those stepping up to the challenge was Bailey, who proved to be one of the game's better overall players, after proving her worth throughout her senior campaign at Boulder City High School.
"She really stepped her game up this season for us," Boulder City coach Cherise Hinman said. "Bailey has worked as hard as anyone to turn her athletic ability into a solid volleyball player. She really made strides this season."
Showing off her improved ability during her final volleyball game — she has decided to focus on academics in college — Bailey was a force to be reckoned with Friday, garnering a game-high 19 digs for Sunrise. Always active on both sides of the ball, Bailey continued to show a well-rounded offensive game, tallying nine kills and four aces while generating a blocked shot during the Sunrise's 25-13, 25-15 rout.
"The All-Star game was an awesome way to end my volleyball career," Bailey said. "It was all the better for Alea (Lehr), Lexi (Bringle) and I to pull out the win on our home court one last time."
Lehr and Bringle stepped up their games individually for the Sunrise team in their last appearance on their home floor. The game was never in question for the conference that fielded both 3A Southern Region finalists: Boulder City and Moapa Valley.
Lehr, who ended her senior campaign as the state's leader in assists, tallied seven as the team's main offensive catalyst, while Bringle pulled out all the stops in her final prep game, tallying 13 digs, three aces and a kill.
"It was really fun to play with all of the Sunrise stars," Lehr said. "We weren't quite sure how to play with everyone at first, but after a few points, our motion on the court was dynamite. I am glad I had the opportunity to do this; it was definitely a memorable way to end the season."
Teaming up with the Moapa Valley duo of middle blocker JaLea Blasingame and opposite hitter Madison Bush and Southeast Career Technical Academy outside hitter Mariah Moses, the girls admittedly enjoyed themselves Friday despite sharing the ball with their rivals.
"I'm almost ashamed to say it, but I genuinely liked the Moapa girls," Bailey said. "Although we are huge rivals, the second we were on the same side of the net we put our differences behind us and just played volleyball."
Contact Robert Vendettoli at BCRsports@gmail.com.