Lady Eagles headed to state tournament as top seed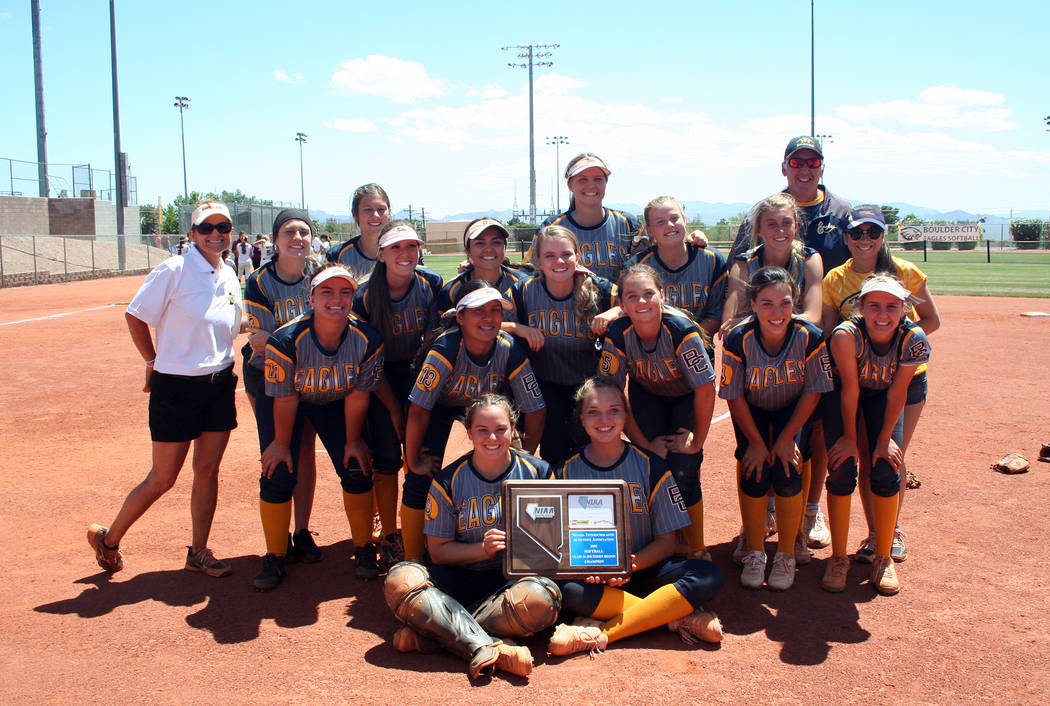 The Boulder City High School softball team recently won its first regional championship since 2012 and is headed for the state tournament after sweeping the 3A Southern Regional playoffs.
Finishing as 3A state runner-up in 2016, the Lady Eagles senior-laden core made sure their season didn't end early like it did last year, defeating rival Pahrump Valley 8-2 on May 12.
"Going 4-0 in regionals was amazing," said head coach Angelica Moorhead. "They came out hungry to play and they wanted to win. Losing in regionals last year definitely left a sour note. We didn't want that to happen again this year, and we took it one game at a time and made it work this year."
Dominant throughout the postseason, the Lady Eagles scored in double digits their first three games, 19-0 against Western on May 8, 15-3 against Pahrump Valley on May 9 and 12-8 against Moapa Valley on May 10, before Saturday's championship victory.
With the scoring coming in bunches, senior pitcher Bailey Bennett-Jordan was relaxed during her outings, striking out a combined 18 batters in her four victories.
"When my team is putting up runs behind me, it really helps me do well," Bennett-Jordan said. "Knowing they have my back and are playing well helps me play well. We're on a roll right now. Hopefully we can keep it going."
Playing their best softball of the season, the Lady Eagles collected 62 hits during regionals, powered by senior Lily Osman, who was a combined 11-for-14 with 10 runs batted in, four home runs and three doubles.
"Lily's bat has been amazing for us," Moorhead said. "We're lucky to have her. I hope her bat continues to stay hot and she stays focused."
Also focused at the plate during regionals, sophomore Ashley Wishard went 10-for-15 with four RBIs and three doubles, while senior Jerra Hinson was 7-for-15 with seven RBIs, two doubles and a home run.
Junior Marleena Mills went 6-for-13 with seven RBIs, a home run and a double, while junior Ryann Reese batted .500, going 9-for-18.
"I'm extremely proud of these young ladies," Moorhead said. "Each game has been won by a total team effort. As long as we work hard for one another and take care of one another, we will go far in the state tournament."
Traveling to Reno, the Lady Eagles will take on Northern Nevada challenger Lowry in the opening round of the state championship. Following the team's performance at regionals, Moorhead is confident her team is ready to bring home its first state title since 2010.
"We are super-excited to be traveling to Reno this week," Moorhead said.
"We will approach this week one game at a time. The girls are peaking at the right time and want this title pretty badly. This is a very special group for me, and I would love for them to reach that goal. They are ready. I can feel it."
Contact Robert Vendettoli at BCRsports@gmail.com.