Lady Eagles golf star Potter signs letter to play for Jackrabbits
November 15, 2017 - 4:22 pm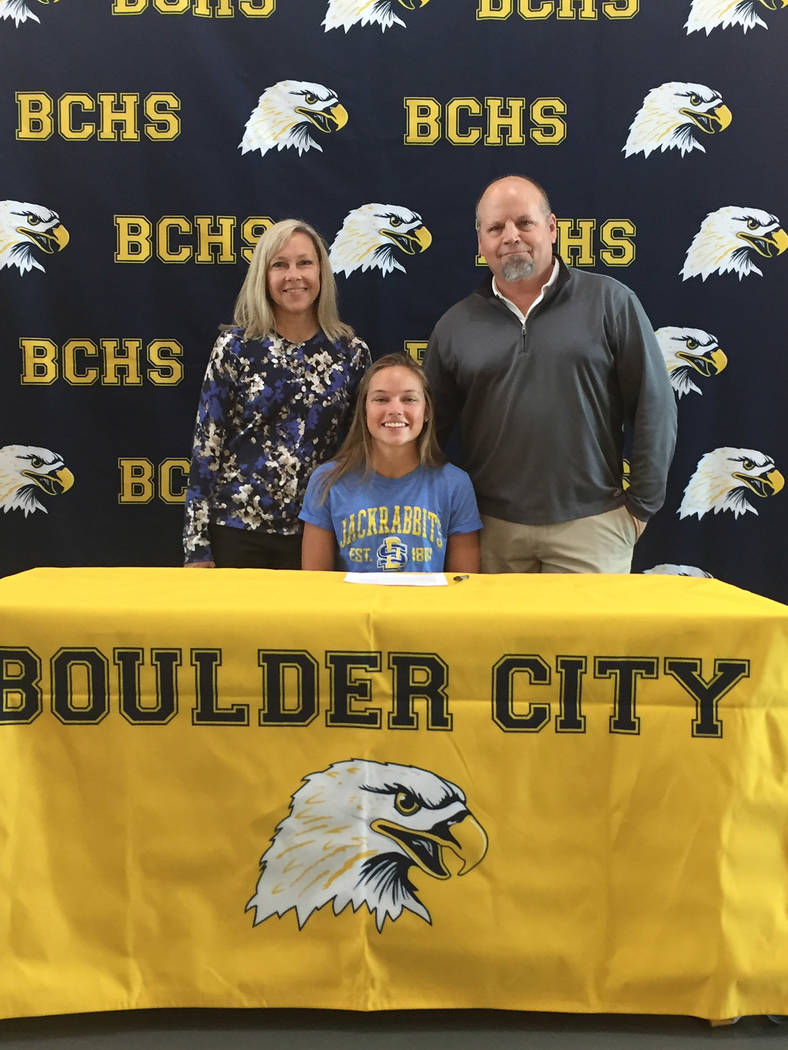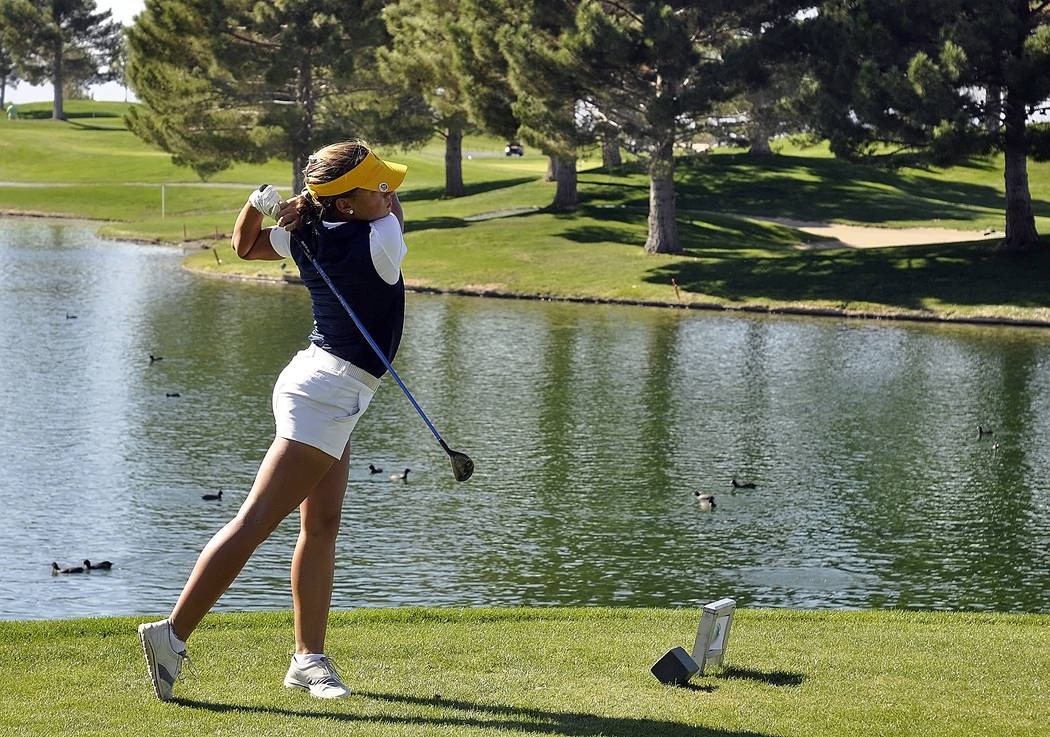 After dominating the 3A high school girls golf landscape the past two seasons, Boulder City High School star senior Lani Potter said she was looking for a challenge at the collegiate level. It's the primary reason she signed her national letter of intent Nov. 8 to attend Division I program South Dakota State University in Brookings.
"I've enjoyed my time the past few years, but I'm looking for more," Potter said. "I feel like I'm a good golfer, but I'm striving to be great one day. I'm hopeful tougher competition in college will help get the best out of me."
Knowing nothing but success since her sophomore season with the Lady Eagles, Potter concluded her prep career as a two-time individual state champion and a one-time runner-up. Eagles head coach Andy Schaper wasn't shy to call Potter's career one of the most accomplished in 3A girls history.
"Lani's been fun to watch throughout her high school career," Schaper said. "I feel she has had one of the greatest high school golf careers in the state of Nevada. What she's been able to accomplish during her career is amazing."
Though she's accustomed to nothing but success, Potter's desire to be even greater hasn't diminished, going as far as to state that she's failed to reach her own expectations as an individual golfer.
"I'm really hard on myself, especially on the course," she said. "I know I've done great in the past, but that's on the high school level. I know I need to buckle down more and focus on becoming better in order to have future success."
Praising her current and past coaches for helping her become the golfer she is today, Potter is hopeful her next head coach, Casey VanDamme, will help get the best out of her throughout the next four years.
"Coach VanDamme was one of the primary reasons why I chose South Dakota State," Potter said. "I really got a good feel for him and liked his coaching style. He pushes players to compete and be their best. He's a hard-nose coach. I feel that's exactly what I need if I want to get better."
Having success throughout his first four seasons with the Jackrabbits, VanDamme has coached seven all-league selections since joining the program, constantly challenging his players with a rigorous regular season schedule.
Confident in his star pupil, Schaper said he feels Potter has the potential to be the next good high school golfer VanDamme turns into a great collegiate golfer.
"I expect nothing but success for Lani in college, because that's exactly what she expects," Schaper said. "So much of being a great golfer comes down to how bad you want it and how much work you'll put into it. I know Lani is hungry, and it wouldn't surprise me to see her doing really well up there."
Bringing more than just individual prestige with her to South Dakota State, Potter is also hoping to make an impact on the Jackrabbits team as a whole after guiding Boulder City to its first 3A state championship since 2010.
"I'm more focused on team goals coming in as a freshman and just trying to help my teammates get better with competition," Potter said. "I feel like if I'm pushing them to get better and they're pushing me to get better, all of my individual goals will work themselves out in the long run. I'm excited for my new journey. I'm glad to continue to be a part of a team."
Contact Robert Vendettoli at BCRsports@gmail.com.