Lady Eagles gear up for state volleyball tourney
November 9, 2016 - 1:25 pm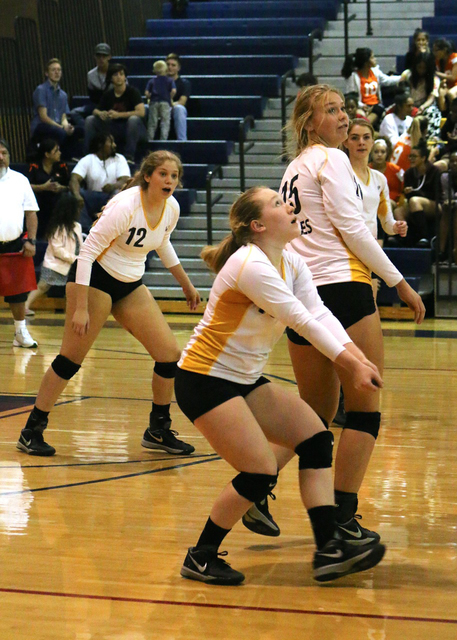 With her team making its first 3A state tournament appearance since 2013, Boulder City High School girls volleyball coach Cherise Hinman said she couldn't be more proud of the transformation the Lady Eagles have gone through this season.
Despite a deceiving 17-20 overall record, including a second-place finish in the 3A Sunrise League conference following a 7-3 slate, the Lady Eagles enter Friday's matchup with Northern Nevada opponent Truckee at Damonte Ranch High School with a clean slate — one they're hopeful to capitalize on.
"With the up-and-down season we have had I am thrilled we are going to the state tournament," Hinman said. "Each player needs to take this opportunity and stick with what they do best on the court. We need to minimize serving errors and play great defense."
Pulling out all the stops during their first two 3A postseason matchups, the Lady Eagles routed Cheyenne 3-0 on Oct. 31 and Pahrump Valley 3-2 on Nov. 2, before running out of gas in the Southern Region championship game against rival Moapa Valley 3-1 on Saturday. Settling for the second Southern seed to open the state tournament, the Lady Eagles are optimistic of putting together a quality showing after a strong stretch of postseason play.
"We worked on a few adjustments and improved our defense throughout the tournament," senior captain Alea Lehr said. "Our movement on the court has gotten smoother, and we have been striving to strengthen all of our fundamentals before our trip to Reno. If we have good passing and serving like we did against Pahrump and especially the first game against Moapa, we will have a solid showing at state."
Showing signs of their best ball against Pahrump Valley in the semifinals, the Lady Eagles looked to be on another level against the Trojans during their five-set battle. Outlasting the Trojans, the girls came together collectively to pull off a 25-20, 25-22, 20-25, 23-25, 15-11 point upset.
"It was a very exciting win for us to advance in the playoffs," Lehr said. "Our whole team fought for this victory and we are very proud of what we've been able to accomplish."
Lehr tallied a season-high 75 assists throughout the grueling five-set match, along with seven serving aces. She matched that effort with 44 assists against Moapa Valley during their 25-23, 12-25, 19-25, 19-25 loss.
Coming up clutch as well for the Lady Eagles against the Trojans, junior captain Maggie Roe provided an all-around performance tallying a season-high 42 kills, along with 32 digs, six serving aces and five blocked shots. She tallied 23 kills, 12 digs and seven aces against the Pirates.
Senior Lexi Bringle (37 digs and four serving aces) and junior Jerra Hinson (eight kills and three blocks) also provided game-changing efforts for Boulder City against the Trojans and will certainly be relied upon in Reno if they want to bring home their first state championship since 1989.
"We need everyone to play our game," senior Kenadee Bailey said, who totaled nine digs and seven blocks against Moapa Valley on Saturday. "As our coaches have told us before, when we are all in the zone and playing together, we are unbeatable. So essentially, we need to make sure we stay focused, know our defensive roles and positions and serve well to accomplish our goals at state."
Matched with Truckee (25-6) in the state semifinal, the Lady Eagles will give it their best shot during their Friday contest, once again looking to rise to the occasion like they have all season long.
"These girls have found the confidence in each other to battle during some tough matches this season," Hinman said. "No matter what players a coach has, if you can get them to buy into the program and believe in each other, there will be successes. These girls have certainly done that."
Contact Robert Vendettoli at BCRsports@gmail.com.