Lady Eagles fare well against bigger schools
October 3, 2018 - 4:53 pm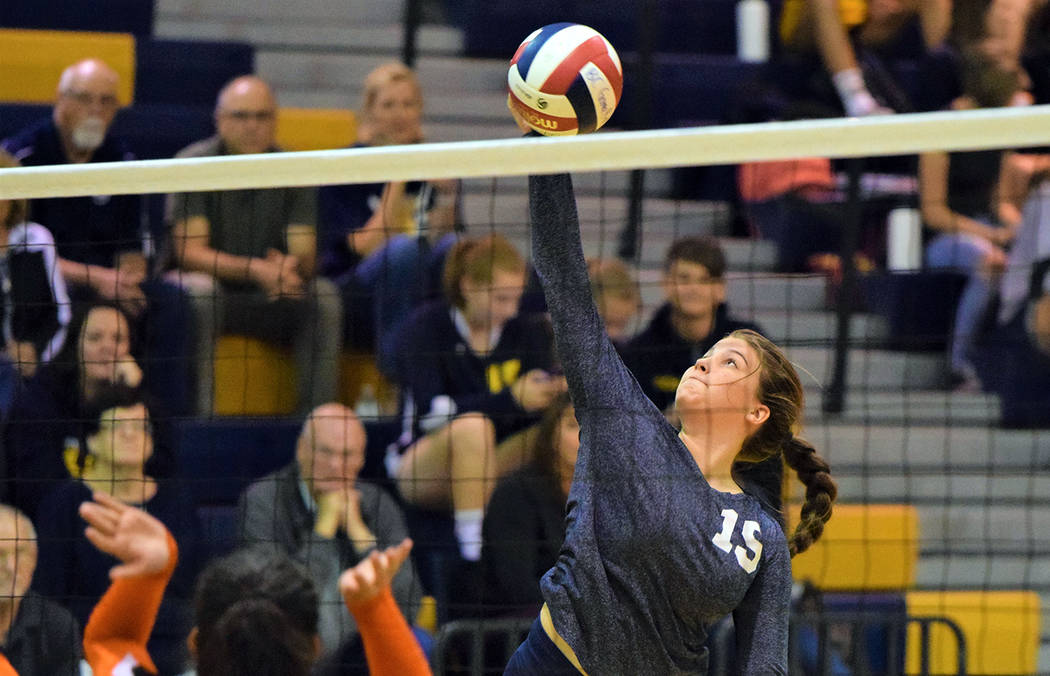 Playing a handful of larger programs this past week, Boulder City High School girls volleyball team finished second in the Boulder City Invitational.
Compiling an 8-1 record over the two-day event, the Lady Eagles (21-5) fell in the championship round to 4A Desert Oasis 2-1 (25-19, 23-25, 15-9) but gained confidence for the remainder of the season.
"I thought the girls played really well this weekend," head coach Kurt Bailey said. "We played a lot of bigger schools and did really well against them. We just ran into an equally talented Desert Oasis team at the end. We weren't at full strength so it was nice to see the girls step up and all grow individually."
The Lady Eagles picked up victories over 4A programs Cimarron-Memorial, Basic, Silverado and Spring Valley during the tournament. Boulder City, the defending 3A state champions, is 10-4 against 4A opponents.
"What makes this group so good and able to win a lot of games is their passion," Bailey said. "They all complement each others game so well on the court and are in sync. Their drive to win is what fuels them. This isn't a group that likes to lose. Whenever we suffer a loss, we regroup and go back to work. The girls know there's no time to be lazy."
Picking up tournament victories over Pahranagat Valley, Liberty Baptist Academy, The Meadows and Somerset Sky Pointe as well, the Lady Eagles as a whole picked up the slack without star sophomore Kamry Bailey, who was injured during the event's first game.
"I think we played very well especially considering we had some players missing and some hurt," sophomore Ava Wright said. "Even with these setbacks we pushed through, gave it our all and ultimately did very well."
Junior Raegan Herr stepped up offensively, leading the Lady Eagles this weekend with 53 kills, while adding seven blocks.
Attacking from all directions, sophomore Kelsi Robinson (39 kills), sophomore Sierra Orton (36 kills), senior Setia Cox (35 kills) and sophomore Rachel Krumm (24 kills) all powered the Lady Eagles' offense at times.
Setter Wright had 168 assists over the nine-game stretch, adding 38 digs and 23 serving aces.
Key defensively, Krumm added 52 digs, while Robinson added 14 blocks and Orton added 11 blocks. Freshman Zoey Robinson added 27 digs.
"This tournament showed us that we can face anything thrown at us, including league play, as long as we are together," Cox said. "Everyone on our team is so close and we are able to connect with each other on and off the court. I believe that it makes us more successful because we don't have a lot of miscommunication and everyone is always cheering each other on."
The Lady Eagles defeated rival Virgin Valley 3-0 on Sept. 27 and Chaparral 3-0 on Tuesday, remaining perfect in league play,
"Beating a rival is always really nice, but beating a rival by a large deficit builds the confidence we need as a team to perform well in future games," Kamry Bailey said.
The Lady Eagles will travel to Somerset Sky Pointe tonight, Oct. 4, before traveling to rival Moapa Valley on Wednesday, Oct. 10.
Contact Robert Vendettoli at BCRsports@gmail.com.
Upcoming games
Thursday, Oct. 4, at Sky Pointe, 5 p.m. junior varsity and freshmen; 6 p.m. varsity
Friday, Oct. 5, SoCal Invitational in San Diego, 3 p.m. varsity
Saturday, Oct. 6, SoCal Invitational in San Diego, 9 a.m. varsity
Tuesday, Oct. 10, at Moapa Valley, 5 p.m. junior varsity and freshmen; 6 p.m. varsity