Lady Eagles enter softball playoffs as No. 1 seed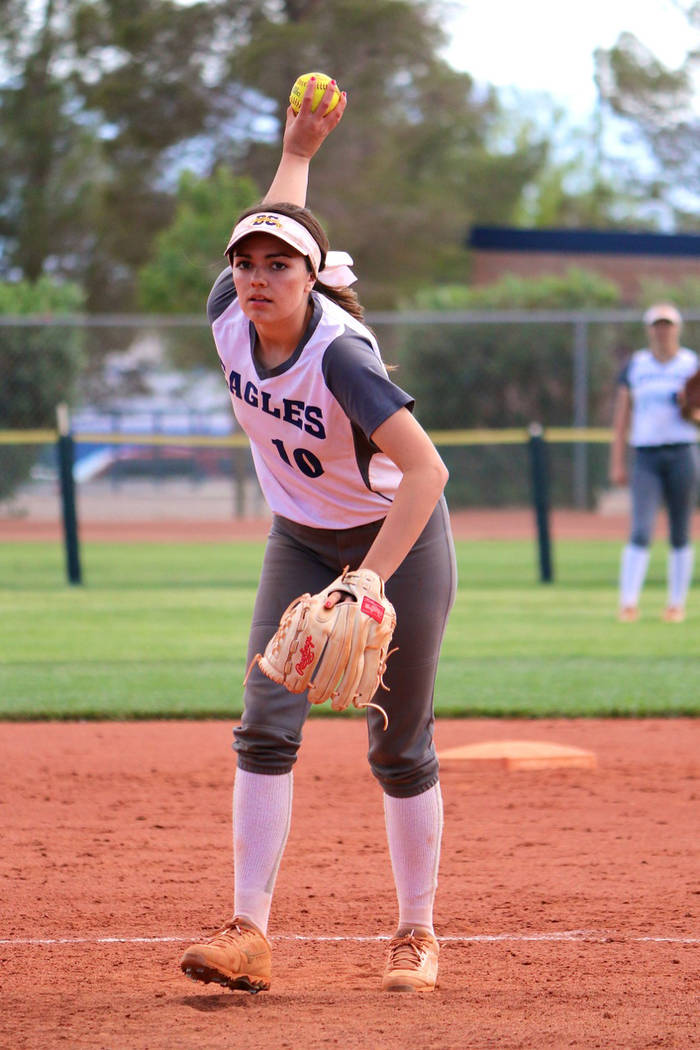 Bouncing back strongly from an uncharacteristic 8-3 league loss to Chaparral on April 27, Boulder City High School's softball program routed Del Sol 21-0 on Monday to get back on track.
"When the girls are in the game, they do a great job offensively and defensively," head coach Angelica Moorhead said. "Unfortunately, we didn't have that against Chaparral. I think it was a good wake-up call for us before the playoffs. Everybody wants to beat us; the girls need to know that's possible and they need to do whatever it takes not to let that happen again."
Making sure they handled their business Monday against the Dragons, the Lady Eagles wasted little time announcing that they're still the top team in the 3A classification, exploding for 14 runs in the first inning of Del Sol starter Jazmine Rivera.
"Our offense can be pretty exciting to watch," Moorhead said. "Our bunting, slapping and some great hits have produced lots of runs for us this season. Sometimes it's our long-ball hitters that put us on top and sometimes it's our slappers and bunters. It's a team effort for sure, but when they are on, they sure can produce runs."
Having her best game of the season offensively, junior Bailey Bennett-Jordan finished 3-for-3 at the plate with five runs batted in, including a two-run double in the first inning.
Bennett-Jordan also threw a no-hitter in three scoreless inning, striking out seven batters.
"The best thing about today was just getting the support of my teammates and coaches," Bennett-Jordan said. When everyone is rallying behind you to get things going, it makes your job easier. You feel more comfortable handling the moment. Without them I wouldn't be able to do anything."
Continuing to handle the moment herself at the plate, sophomore slugger Marleena Mills finished the day 3-for-4 with a pair of RBIs, hitting a double in the first inning and a triple in the second inning.
"When Marleena is on a role, she is on a role," Bennett-Jordan said. "She has come in handy a few times with clutch hits in between the gaps allowing runs to score. When Marleena is relaxed, she is a beast. She's really going to be an asset for our offense as we make another run at state."
The Lady Eagles also defeated 4A opponent Legacy on Friday, behind a three-run home run from Lily Osman.
Jordan Moorhead earned the victory against the Longhorns, throwing five innings where she allowed only four hits with a strikeout.
Entering the postseason as the No. 1 seed in the Sunrise League, the Lady Eagles will host Western on Tuesday in the first round.
Contact Robert Vendettoli at BCRsports@gmail.com.
Upcoming games
Tuesday, vs. Western, 3:30 p.m.
Wednesday-May 13, regionals, TBA