Lady Eagles eager for softball championship
February 28, 2018 - 4:04 pm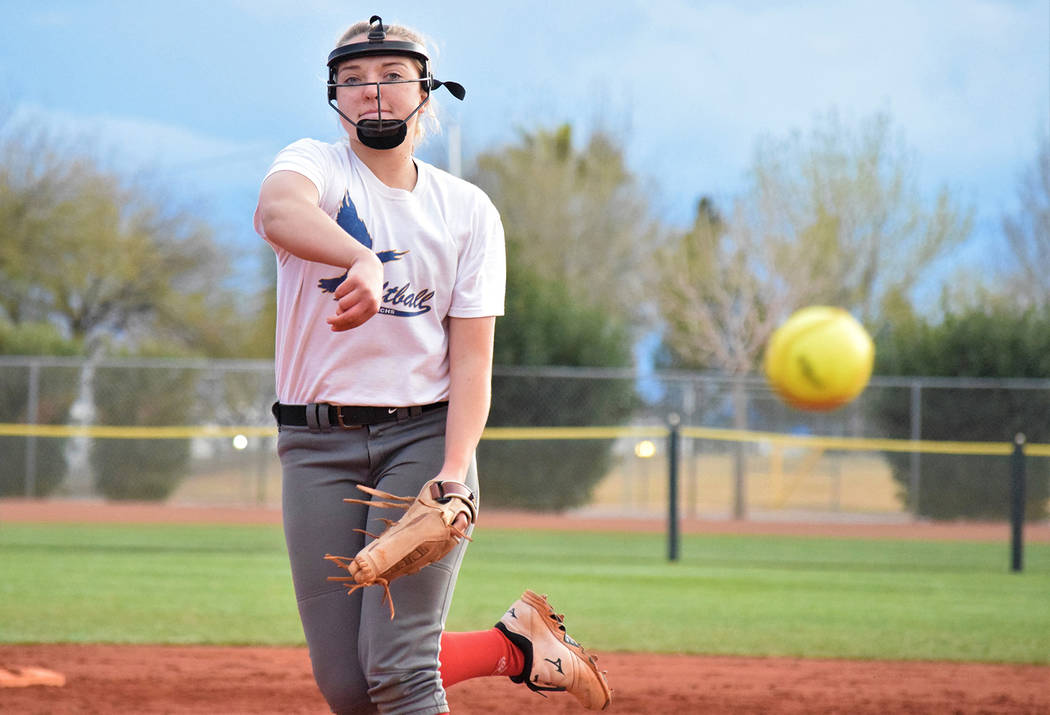 Returning eight starters from a year ago, including six seniors, Boulder City High School softball coach Angelica Moorhead hasn't shied away from the fact that this is the season the Lady Eagles need to finally put it all together.
Hanging their last 3A state championship banner in 2010, the Lady Eagles have won seven consecutive league titles since, each season entering as a presumed favorite to take state. With the classification's best pitcher and enough offensive firepower returning, Moorhead expressed the sense of urgency that hangs over the program.
"This is the year we have to do it," she said. "This is the year we have to take state. We're hungry for it. Most of these girls have been playing together since they were 10, and this is their last year. I know that's all that's on their minds right now."
Senior two-way star Bailey Bennett-Jordan earned personal accolades last season as 3A All-Southern Region Player of the Year and Nevada second-team All-State selection, but she hopes to finally experience team success this spring.
"It's an honor to be highlighted as an individual, but I want more," Bennett-Jordan said. "I want to be a state champion, hang a banner, experience that with my teammates. We have a great team, and I'm hopeful we can pull it out this season."
Establishing herself as a workhorse, Bennett-Jordan pitched all but 19 innings last season for the Lady Eagles, compiling a 18-9 record with 240 strikeouts and a 1.33 earned run average.
An offensive threat as well, Bennett-Jordan batted .424 last season, leading the Lady Eagles with seven home runs while finishing second with 45 runs batted in.
She was far from the lone contributor on offense. The Lady Eagles scored 243 runs last season, and six starters batted over .400.
"Offensively, we have a lot of great hitters," Moorhead said. "We expect to put a lot of runs on the board. We need to go for more base hits rather than swinging for home runs, but the girls know how to move runners. This is a great group. It's going to be a lot of fun."
Accustomed to moving runners home, junior catcher Marleena Mills recorded a 3A-leading 54 RBIs while batting .434 with eight doubles, three home runs and two triples. Mills was a 3A second-team All-State selection last season with sophomore shortstop Ashley Wishard (.381 BA, 29 RBIs, eight doubles).
Rounding out the Lady Eagles' offensive core, seniors Jordan Moorhead (.457 BA, 14 RBIs), Jerra Hinson (.456 BA, 24 RBIs, 11 doubles) and Lily Osman (.444 BA, 26 RBIs, five home runs) return along with junior Ryann Reese (.495 BA, 14 RBIs, 19 stolen bases).
Looking to build on last season's success (23-9), the Lady Eagles open the season March 8 in the Colorado River Invitational in Needles, California.
Contact Robert Vendettoli at BCRsports@gmail.com.
Upcoming games
Thursday-Saturday, March 8-10, Colorado River Invitational