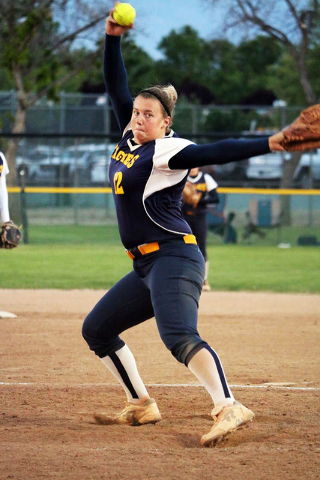 Despite their best efforts the Lady Eagles softball team fell short of a state championship, losing 6-5 to Spring Valley in extra innings.
It was an amazing ride for the softball program, shattering outside perceptions and achieving their goals in the process.
A building program that continues to grow each year under head coach Angelica Moorhead, few outside the Boulder City faithful expected the Lady Eagles to get past higher level programs Faith Lutheran and Sierra Vista, who are both moving into the Division I ranks due to their ample amount of success the past two seasons in the Division I-A ranks. Boulder City, however, never faltered; instead they rallied.
Making her second state tournament appearance of her storied prep career, senior Charlie Masterson led the way for the Lady Eagles, leaving behind a career that will be hard to duplicate for the program's next star.
"The two games we played against Faith Lutheran and Sierra Vista will always be the most rewarding for me because no one thought that we could hang with them," Charlie Masterson said. "Quite honestly I didn't either, but we battled together as a team and came through it together. It was a great season for us overall, even if we finished as the state runner-up."
Nearly defeating Spring Valley in game one of the Division I-A state championship at UNR's Hixson Park, the Lady Eagles battled with the Grizzlies well into the ninth inning, before Spring Valley junior Vivian Quiroz-Montano knocked in a two-out game winning RBI to conclude the Eagles season.
"I was sad that it ended cause I'm really going to miss some of the girls on this team," Masterson added. "Being an Eagle has been pretty awesome throughout my time here, because we worked hard to shred our little school label. Even if we don't have a lot of travel ball players on our roster, we still go out their and compete each week. On this team we work for what we want. I've always believed that hard work beats talent, when talent doesn't work hard."
Concluding her senior campaign in style, Masterson led the team with a .610 batting average, with 55 RBIs, 12 doubles, five home runs and three triples, while compiling a 20-7 record on the mound, with a 1.22 ERA and 193 strikeouts.
Carving out a legacy that will be a tough act to follow, the senior UNLV commit leaves Boulder City as one of the greatest softball players in state history regardless of division classification. Concluding her career with a .582 batting average, Masterson drove in 197 runs during her four-year tenure, while garnering 47 doubles, 19 home runs and 13 triples. Even more dominate on the mound, Masterson compiled a 62-22 record for the Lady Eagles as the team's ace each season, garnering a 1.30 ERA and a 627 strikeouts.
"I've truly enjoyed my tenure here," Masterson concluded. "I'll always remember how much fun it was. It bittersweet that it's over, but I'm looking forward to this summer season and hopefully establishing myself at UNLV next season."
The departure of Masterson leaves the team with big shoes to fill, but the Lady Eagles are far from done. Their core roster is still intact and laden with sophomore talent. Following breakout campaigns individually this season that were instrumental in Boulder City's state tournament berth, two-way star Bailey Bennett-Jordan (.475 batting average, 42 RBIs, 3 home runs; 10-3 record, 1.94 ERA, 101 strikeouts) and emerging sluggers Jerra Hinson (.465 BA, 36 RBIs, 13 doubles) and Lily Osman (.421 BA, 32 RBIs, 5 home runs) all return to lead the Eagles towards another successful season under coach Moorhead.
"I'm very excited for next season and what it holds," Lily Osman said. "I hope that we can continue the energy from the end of this season into next season. We're losing key players, but there is still talent coming up. Being a leader is an important role on any team, and I strive to be like the seniors this year. They were great leaders and awesome role models."
Contact Robert Vendettoli at BCRsports@gmail.com.