Lady Eagles charge ahead after tough loss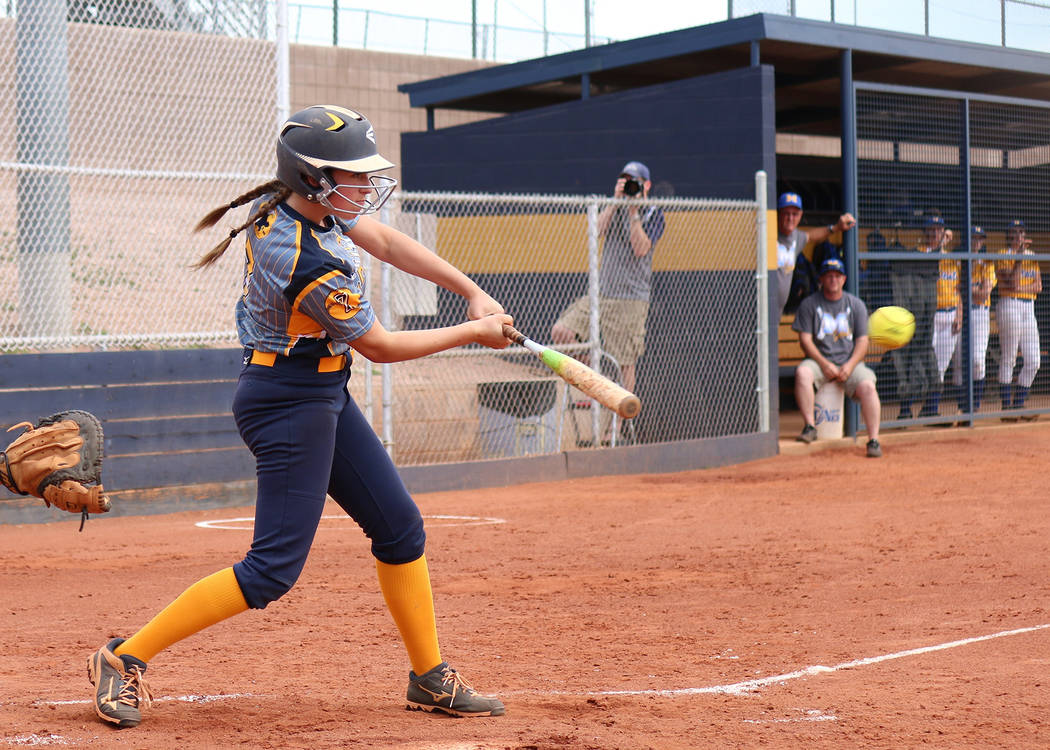 Boulder City High School softball team members reclaimed their composure Monday with a 14-8 rout of rival Virgin Valley, after falling to rival Moapa Valley 5-2 on Friday, April 6.
Playing up to their abilities against the Bulldogs, the Lady Eagles took control of the ball game early, scoring six runs in the first inning and three runs in the second inning. After falling apart Friday against the Pirates, the Lady Eagles made sure to make a statement early that they weren't going to dwell over the loss.
"It's nice to come out today and get a big win like this because it shows us and it shows the community the real strength of our team," senior Jerra Hinson said. "We don't let past defeats bring us down. We use them and learn from them for next time."
Leading the Lady Eagles' charge, Hinson finished 3-for-5 with two doubles Monday, driving in three runs on the day.
Collecting 16 hits against the Bulldogs, after managing only seven hits against Moapa Valley, senior Bailey Bennett-Jordan (1-for-3) finished with two RBIs, while seniors Jordan Moorhead and Lily Osman each finished 2-for-3 with an RBI each.
Osman also hit a double in the third inning on a line drive to center field.
"We've been working on our offensive play a lot lately," Hinson said. "It's really nice to see the result of our efforts help us in games."
Turning into a slugfest after the Lady Eagles appeared on the verge on run ruling the Bulldogs, Bennett-Jordan picked up the win after starting and closing the game.
Throwing the game's first three innings before being relieved by junior Abby Giunta, Bennett-Jordan came back in to close the seventh inning, striking out all three batters to finish the day. In all Bennett-Jordan threw four innings, allowing four hits and three runs with seven strikeouts. Giunta pitched three innings, allowing six hits and five runs with one strikeout.
Hoping to pick up a victory the next time they play Moapa Valley, the Lady Eagles know they have areas to improve upon following their first league loss.
"We need to take one game at a time and work on the problems we are facing," head coach Angelica Moorhead said. "We struggled, both offensively and defensively against them. We just need to buckle down and play like we know how to. We will be ready for Moapa in our next encounter."
Bennett-Jordan finished 1-for-2 with a pair of RBIs, while Hinson and junior Marleena Mills each finished 2-for-3 at the plate against Moapa.
The Lady Eagles travel to 4A Sierra Vista on Monday and Chaparral on Tuesday.
Contact Robert Vendettoli at BCRsports@gmail.com.
Upcoming games
Monday, April 16, at Sierra Vista, 3:30 p.m. varsity; vs. Sierra Vista, 3:30 p.m. junior varsity
Tuesday, April 17, at Chaparral, 3:30 p.m. varsity; vs. Chaparral, 3:30 p.m. junior varsity