Lady Eagles avoid upset thanks to Moorhead's batting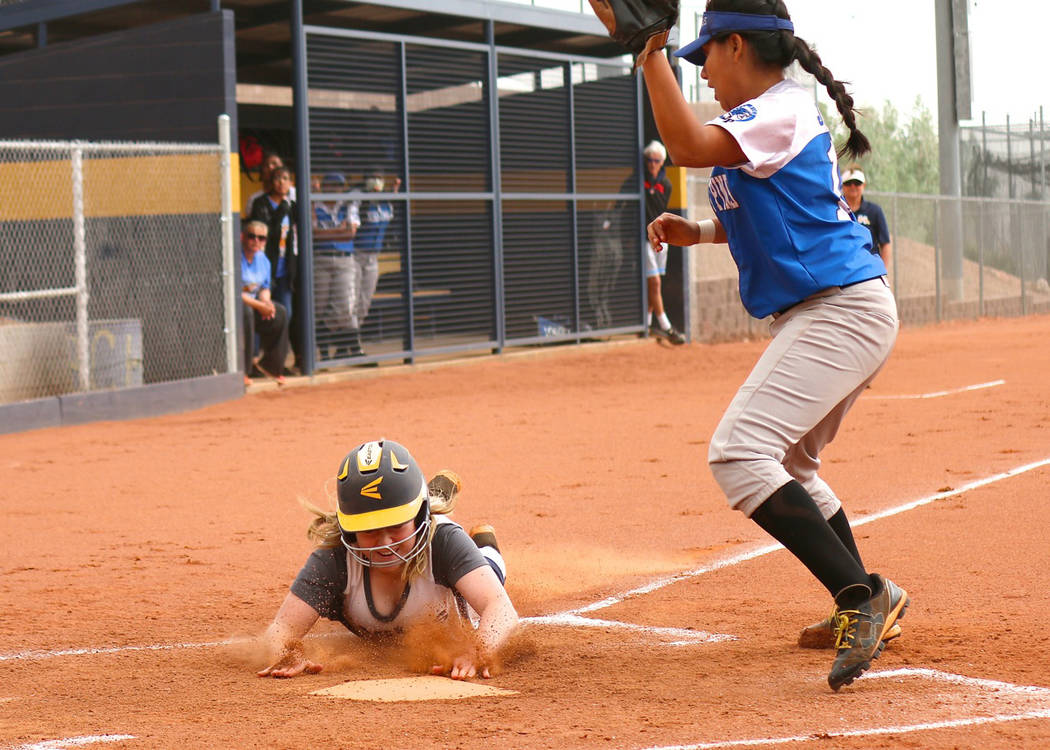 Boulder City High School's softball program avoided an upset bid by Southeast Career Technical Academy on Friday in its league opener, behind the bat of junior Jordan Moorhead.
Tied 2-2 apiece after the first inning, Moorhead gave the Lady Eagles a walk-off victory in the bottom of the seventh inning with one out, bunting sophomore Ryann Reese home for the game-winning run.
"I knew I had to relax and do my job the best I could," Moorhead said. "I needed to get Ryann in to score."
Starring offensively on a quiet day for the Lady Eagles, Moorhead and Reese batted 3-for-4. Freshmen Ashley Wishard and Ellie Ramsey both finished 1-for-3 to give the team eight hits.
Throwing a complete game for the Lady Eagles, junior Bailey Bennett-Jordan allowed five hits with 12 strikeouts, fanning four consecutive batters between the third and fourth innings.
Nothing made Bennett-Jordan happier, however, than Moorhead's walk-off bunt.
"I was honestly so happy for the team," Bennett-Jordan said. "It was a great team victory. Everyone has been playing great. We still have things to work on but so far we're looking good."
Carrying Friday's late-game heroics into Tuesday, the Lady Eagles' offense erupted for 12 runs in the fifth inning against Moapa Valley, giving them a 16-0 victory over the Pirates.
On her game both on the mound and at the plate, Bennett-Jordan struck out 11 batters in five innings, while batting 2-for-4, with four runs batted in and a home run.
Wishard also hit a two-run home run in the fifth inning, finishing 3-for-4 at the plate with three RBIs, while Moorhead and junior Micayla Gegen each batted 2-for-3 with two RBIs.
The two wins capped two victories the previous week when the Lady Eagles defeated Desert Pines 18-1 on March 30. Alea Lehr batted in four runs against Desert Pines, while Bennett-Jordan, who had two hits and six strike outs during her three innings on the mound, had three RBIs.
The Lady Eagles, 2-0 in league play, will host Chaparral today, before host 4A program Sierra Vista on Friday in what will be their last true test to prepare them for another state tournament run.
"We're excited for the Sierra Vista game on Friday," said head coach Angelica Moorhead. "It's going to be a tough game for sure, but we need to play one inning at a time. We know they want to beat us, after knocking them out of the playoffs last season. I know our team is confident, they just need to go in relaxed and play like they know how."
Contact Robert Vendettoli at BCRsports@gmail.com.
Upcoming games
Today, vs. Chaparral, 3:30 p.m. home varsity, away junior varsity
Friday, vs. Sierra Vista, 3:30 p.m. home varsity, away junior varsity.