Kelso signs to play football for Concordia
February 8, 2017 - 3:02 pm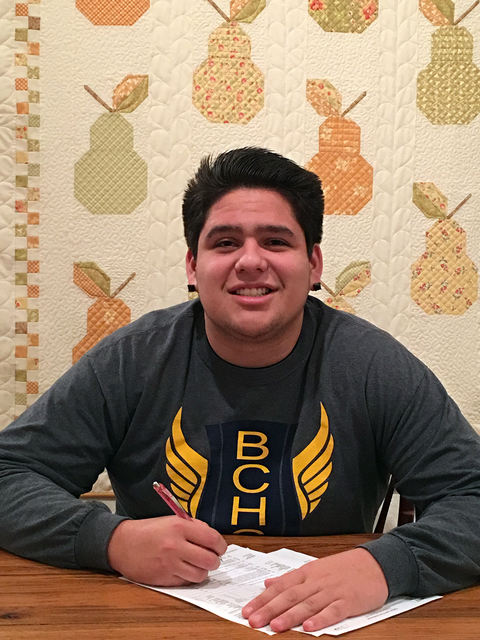 Boulder City High School football player Craig Kelso has signed his letter of intent with Division II program Concordia University in St. Paul, Minnesota, where he'll play football for the Golden Bears in the Northern Sun Intercollegiate Conference.
"It has been a really exciting winter because I received some very good scholarship offers before deciding on Concordia University," Kelso said.
"I was impressed with the coaching staff and the team atmosphere that surrounded the program."
Planning to major in business, Kelso said the university's program as well as the location played a heavy factor in his decision.
"I was also very impressed with their business department," Kelso said. "Also, I'm very excited to be living so close to a large, metropolitan city like Minneapolis."
Crediting the Boulder City coaching staff for making him a better player, Kelso also praised the coaches' ability to preach education during his high school tenure.
"My coaches at Boulder City are amazing, selfless guys who have spent a ton of energy and time not only coaching me but mentoring me for the past few years," said the 6-foot-5-inch, 300-pound lineman. "Not every student is driven by academics and these men have taught me a lot more than football and I will always appreciate them."
"I couldn't be more proud of all three of them," head coach Chris Morelli said, referring to Kelso, along with quarterback Taylor Hatchel and linebacker Chase Cowley, who both signed recently with Hastings College in Nebraska. "I think this is a testament to our program that if you really want to play at the next level, we'll help you get there. Everyone put in the work necessary this year and they're being rewarded for it."
He is the son of Kirsten Kelso.
Contact Robert Vendettoli at BCRsports@gmail.com.