Junior team wins state championship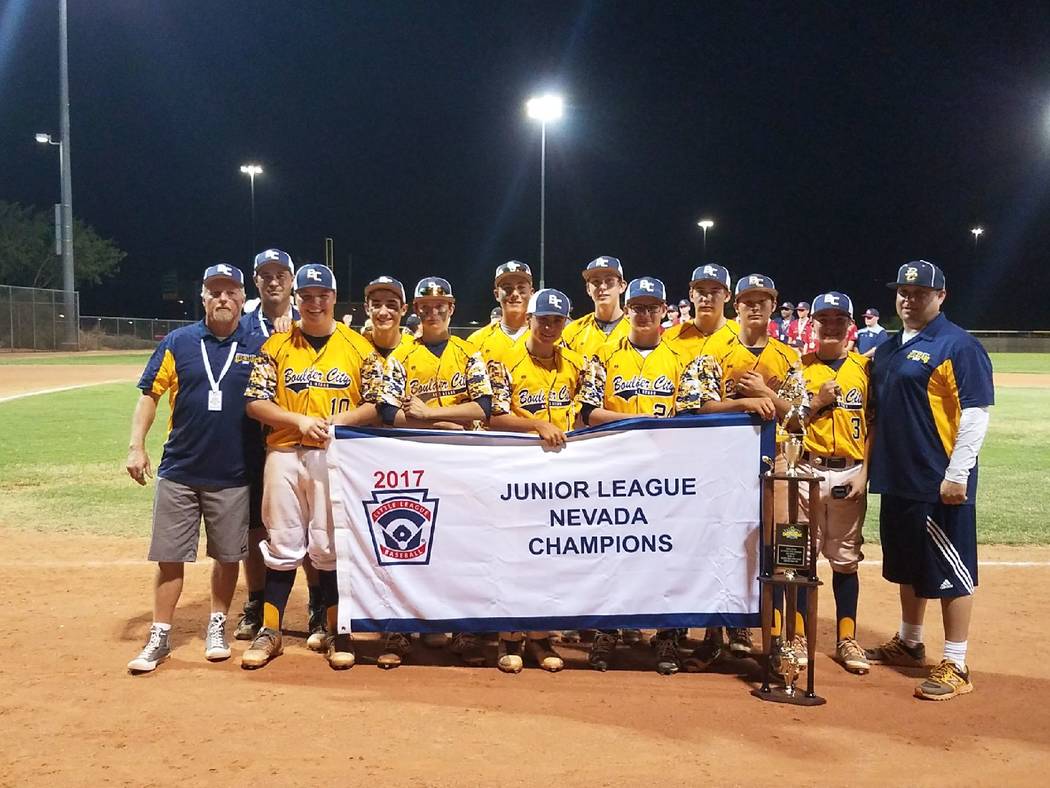 The Boulder City Little League captured its first Nevada Junior Little League state championship on Saturday, July 22, defeating Northern Nevada challenger Reno American 13-6 at Mountain Ridge Park.
Having yet to lose a game this season, 16-0 during the regular season and 6-0 currently in the postseason, Boulder City now advances to the regionals in San Jose, California.
"I couldn't be prouder of these boys," head coach Don Trumble said. "This is the first time that a Boulder City Little League team has won state and advanced to the Regional All-Star tournament. This was truly a team effort and a job well done by our players and our entire coaching staff."
With Saturday's championship game tied 4-4 heading into the top of the sixth inning, Troy Connell and Matt Felsenfeld drove in three runs each.
Felsenfeld finished the game 3-for-4 at the plate, while Connell finished 2-for-4.
Finding consistent run production throughout the state tournament, Boulder City outscored its opponents 45-20, defeating Reno American 17-9 in game one of the tournament, followed by a 15-5 defeat of Elko.
"Our offense continued to stay hot," assistant coach Steve Connell said. "We drove in runs when we needed to and stayed consistent throughout the tournament."
Leading the way offensively, Felsenfeld hit 7-for-10 throughout the three-game stretch with eight runs batted in and two doubles. Joey Giunta (5-for-9 with one double) and Connell (5-for-11 with two doubles) each added five RBIs during the tournament.
Scott Sicklebaugh (4-for-9), Blaze Trumble (4-for-10) and RJ Kilar (3-for-11) each added three RBIs.
Dominant on the mound as well, Boulder City's pitching staff collectively allowed only 18 hits, behind the arms of Connell, Giunta, Trumble, Sicklebaugh and Scott Bahde.
Trumble earned the state championship victory, while Sicklebaugh defeated Elko and Bahde earned the first victory against Reno American.
Playing for a chance at nationals July 31-Aug. 7, Boulder City hopes to remain hot. Soaking in the moment of playing for a regional championship, the team couldn't be more excited about the experience.
"I've seen many great teams make it to regionals, but I never thought we would be one of them," Blaze Trumble said. "Everyone on our team is honored to be here and we're looking forward to this experience."
Contact Robert Vendettoli at BCRsports@gmail.com