Interceptions help BCHS flag football team advance to playoffs
February 15, 2017 - 2:50 pm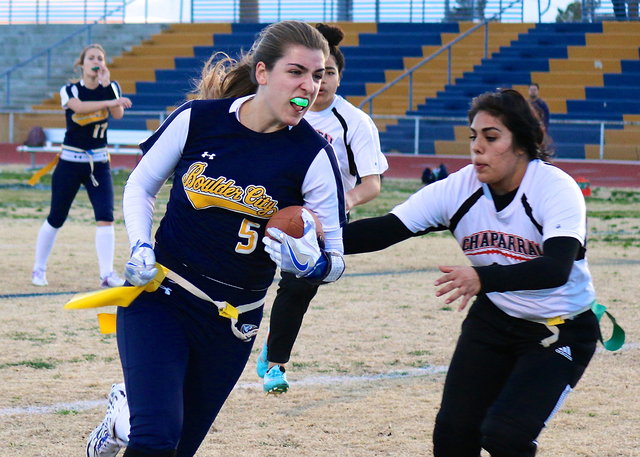 Finding balance on both sides of the ball during the Lady Eagle's flag football 26-6 victory over Chaparral on Feb. 8, Boulder City High School head coach Chris Morelli is hopefully the team can stay consistent throughout the postseason.
"We just have to consistently play a physical style of ball," Morelli said. "When we do, we win; when we don't, we get pushed around sometimes. That will determine our playoff success."
Playing fast and smart on defense, the Lady Eagles forced Chaparral into four interceptions Wednesday, two caught by junior Taylor Tenney and one each recorded by senior Kenadee Bailey and junior Hannah Barth.
Bailey led all tacklers with six, while Barth generated five tackles.
Converting turnovers into points against the Cowboys, Tenney continues to shine under center for the Lady Eagles, completing 9-of-14 for 116 yards and two touchdowns, while rushing for 79 yards on 11 carries.
On the receiving end from Tenney, senior Emily Mulls caught five passes for 61 yards and a touchdown, while senior Aimee Finn caught three passes for 17 yards and a touchdown.
"We click more on offense each week," Finn said. "If we can continue to improve, we'll be dangerous in the postseason."
Also providing solid offensive efforts, junior Daisey Hodgkin rushed for 71 yards and a touchdown on seven carries, while senior Alexis Pohe caught five passes for 38 yards, while rushing for 31 yards on four carries.
Entering the postseason as the 3A Sunrise fourth seed, the Lady Eagles traveled to Cheyenne on Wednesday for their first round playoff matchup. Results will be posted in next week's paper.