Interceptions costly for Lady Eagles
January 17, 2018 - 3:23 pm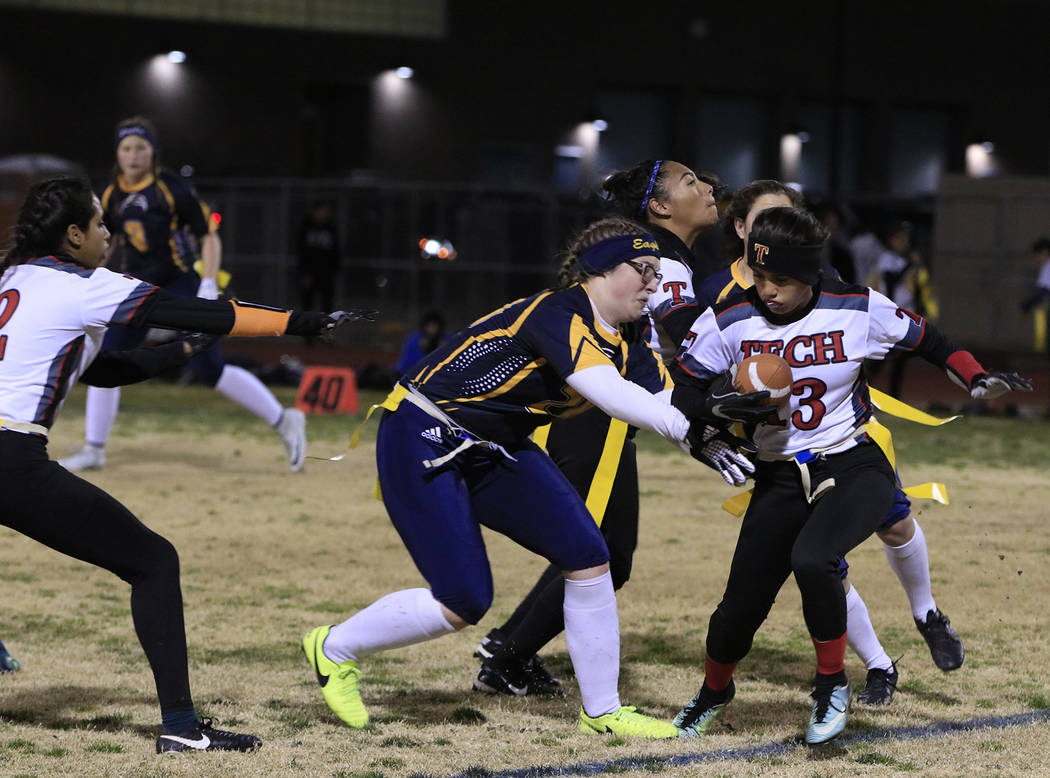 Boulder City High School girls flag football suffered a setback during its first league contest of the season, falling 20-14 to Southeast Career Technical Academy on Jan. 11.
Unable to recover from a pair of interceptions late in the first quarter, the Roadrunners evened the score 14-14 at halftime, before scoring the game-winning touchdown in the third quarter.
"We had opportunities to win our first league game and we just didn't capitalize," head coach Kevin Ruth said. "We had a few turnovers late in the first half that let them back in the game, and we just couldn't recover after that. We feel like this is a game we should have won, so we'll go back to working hard and try to fix our mistakes."
Despite throwing a pair of interceptions, senior quarterback Nicole Valle had a productive day behind center, completing 14 of her 24 pass attempts for 200 yards and a pair of touchdowns. With a running game that generated only 95 yards on 18 rushing attempts, the burden of carrying the offense was too heavy for Valle.
"We have to do a better job of taking pressure off the passing game by being productive with our rushing attack," Ruth said. "We know that we can't rely on just one player winning a ball game for us; it's a team effort."
Finding receiver Ryann Reese on a pair of touchdown passes in the first half, Valle threw 113 of her passing yards to the junior playmaker, while connecting with senior Elizabeth Taggard on five passes for 48 yards.
Reese was the Lady Eagles' leading rusher as well with 57 yards, while senior Nikki Meleo rushed for 20 yards on seven carries.
Tightening up on defense in the second half, the Lady Eagles made adjustments behind senior linebacker Hannah Barth, who controlled the edge with a game-high 10 tackles.
Looking to improve throughout the remainder of league play, Ruth is hopeful the Lady Eagles' second-half effort will translate over the next few games.
"I thought we did a much better job being physical in the second half," Ruth said. "We gave them a pair of cheap scores earlier in the game, but I feel like we made progress as the game went on. We need to see that kind of energy level if we want to win games."
Tallying seven tackles each for the defense were Meleo and junior Hayley Jackson, while Reese finished with three tackles and an interception.
Looking to get back on the winning side, the Lady Eagles will travel to Moapa Valley on Friday, before hosting Chaparral on Tuesday.
Results from the Lady Eagles' matchup against Del Sol on Jan. 17 will appear in next week's issue.
Contact Robert Vendettoli at BCRsports@gmail.com.
Upcoming games
Friday, at Moapa, 3:30 p.m. junior varsity; 4:30 p.m. varsity
Tuesday, vs. Chaparral, 3:30 p.m. junior varsity; 4:30 p.m. varsity