Injury doesn't deter Cowley from pursuing football in college
February 1, 2017 - 2:38 pm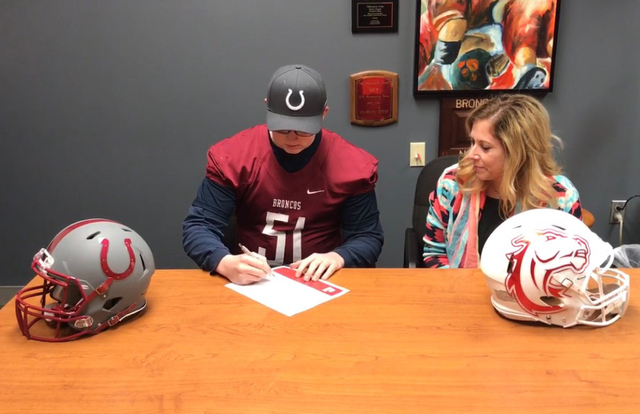 Despite suffering a season-ending knee injury Sept. 16 against Valley, Chase Cowley, a senior at Boulder City High School, has signed his letter of intent to play football at Hastings College in Hastings, Nebraska.
"From the moment I stepped on campus, I knew this is where I wanted to go," said Cowley, adding that the signing fulfills his dream of playing college football for the Broncos at the National Association of Intercollegiate Athletics level. "I felt at home unlike a lot of other schools I visited. I made a great connection with my coaches and know that they want to win just as much as I do."
Heralded as one of the Eagles' top players during preseason evaluations by head coach Chris Morelli, Cowley said his recovery is going well and he expects to finish two months ahead of schedule.
"The knee is feeling really good," Cowley said. "Dr. Chad Hanson did a great job with it and I couldn't be happier. Rehab was pretty tough at first, but my trainer at Tru Physical Therapy has done a great job with my knee. I've done so well and my knee is doing so good that I will be out of physical therapy almost two months earlier than expected."
A standout offensive lineman and linebacker for the Eagles during his tenure with the program, the 6-foot, 220-pound Cowley will transfer to the defensive side of the ball full time next season.
"I'm very excited about the position change," Cowley said. "In high school I had to focus on both sides of the ball and now I get to focus on one spot. I think it will help me become better at that position because I can spend all my time on defense rather than half and half."
A two-year varsity contributor, Cowley said he was sad to leave the program behind, but is excited to play at the collegiate level after an up-and-down recruiting process.
"Recruiting has really been a crazy experience for me," he said. "I'm just really happy to have it over with and know that I have a home come next fall. After tearing my ACL, I was really worried about my future. After talking to the coaches at Hastings though, I now feel very comfortable about going there, getting healthy and contributing in any way possible."
Cowley will major in business administration. He is the son of Daryl Cowley and Randi Steilen.