Hurdler jumps in to lead Lady Eagles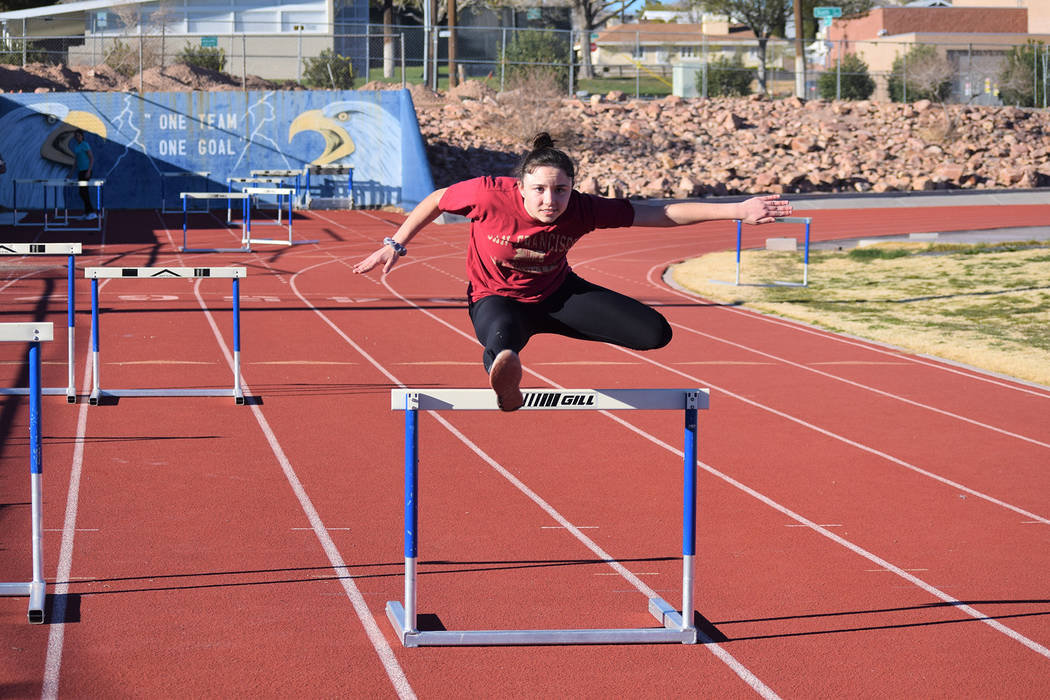 Boulder City High School girls track team is in need of a star contributor after last season's sixth-place state finish and the graduation of four state competitors. Junior hurdler Geri Wachtel is ready to answer the call.
"This year I'm hopeful to qualify in both hurdling events," Wachtel said. "This year I've been focusing on years past and the role models I have, Kenadee Bailey and Lauren Mullins (2016 graduate). I'm trying to duplicate their best performances."
Placing seventh in the 100-meter hurdle (17.35 seconds) at the 3A state meet last season, Wachtel is ready to help make up the losses of Bailey (100-meter hurdles, 300-meter hurdles, triple jump and 4×400 relay), Jordyn Trobiani (400-meter dash, high jump, triple jump and 4×400 relay), Sara Stepherson (pole vault and long jump) and Kate Stepherson (pole vault).
"Geri is coming out this season, exploding faster out of the blocks than she ever did last year," head coach Sara Fisher said. "We're really excited to see what she can do this season. She has a great endurance base and she's flying out with a lot of speed."
Expected to be a top points earner for the Lady Eagles, Wachtel also placed fourth at regionals in the high jump and 11th in the triple jump.
Joining Wachtel are seniors Taylor Tenney and Sierra Selinger, who each made 3A state meet appearances last season in two individual events.
Tenney placed sixth in the long jump (14-9.75), while placing eighth in the triple jump (30-11.75).
Tenney was also on the Lady Eagles' 4×400 relay team that finished sixth at state along with returning senior Hannah Miller.
Selinger, a seasoned state meet veteran, finished eighth in the 1600-meter run (6:08.14) and 3200-meter run (14:15.18) last season. Coming into her final season with the program, the four-year letter winner has lofty expectations for herself.
"I'm hopeful to better at state this season and place at least in the top three," Seligner said. "I'm also hopeful to break the school record in the 3200-meter run."
Class of 2007 graduate Katie Palmer set the school record with a time of 11:43.
Giving the Lady Eagles a strong core to rely on, seniors Maggie Roe and Nicole Valle (shot put and discus) and junior Taylor Cunningham (sprinting) are also expected to earn points each week.
Sophomore Ariana Acosta (pole vaulting and jumping) and freshmen Kamry Bailey (jumping), Christina Dunagan and Kamryn Dolph (sprinting) are also expected to contribute throughout the season.
"Our underclassman have great attitudes," Fisher said. "They've all shown great work ethics and I think it's going to be a phenomenal building season. It will be interesting to see where we end up."
The Lady Eagles will start their season March 15 at Virgin Valley, where they'll face the Bulldogs and Cheyenne.
Contact Robert Vendettoli at BCRsports@gmail.com.
Upcoming games
Friday, March 9, Bulldog Early Bird Meet at Virgin Valley, 2:30 p.m.