Hubel's pitching, batting sparks teammates; Eagles rally with two key wins to retain hope for playoff spot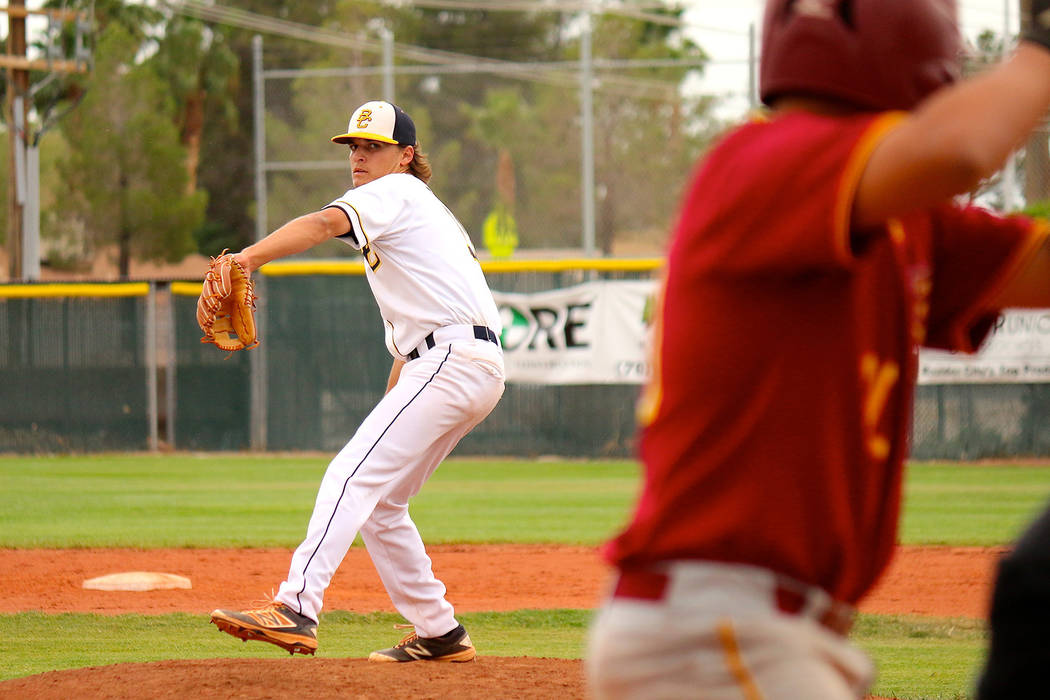 Boulder City High School's baseball program is currently fighting for a spot in the 3A Sunrise division playoffs, responding well to the test this week with a pair of league victories over Del Sol and Southeast Career Technical Academy to advance to 3-2 in league play.
"These two games were crucial for us," senior Jake Hubel said. "If we wouldn't have won them, we would not have had a shot at playoffs. These were must-win games and our team came through. I believe that hits, great plays and phenomenal pitching outings are contagious. Once somebody sparks our team, we are unstoppable."
Trying to spark his inexperienced roster, Hubel is one of only three returning everyday players from last season's state championship roster. Taking turns putting on a clinic for the Eagles, Hubel was dominant on the mound on Monday, followed by a game-changing performance at the plate on Tuesday.
Handling Del Sol 10-0 on Monday, Hubel threw five scoreless innings, striking out a pair of batters while allowing three hits. Stepping up even larger on Tuesday against Southeast Career Technical Academy in a wild 19-14 shootout, Hubel led the Eagles with seven runs batted in, knocking in a one-run double in the fourth inning and a three-run double in the fifth inning.
"I feel the way that I performed on the mound and at the plate helped delivered confidence to our team," Hubel said. "It just takes one player to start a rally and get us going. It's my senior year; just trying to give it everything I have."
Striking confidence in his supporting cast, the Eagles bats came alive against the Roadrunners, collecting 17 hits behind a 4-for-5 performance from junior Rhett Armstrong and a 3-for-5 performance from junior D.J. Reese.
Armstrong knocked in a pair of runs, hitting a triple in the first inning, followed by doubles in the second and third innings, while Reese contributed with a two RBIs, hitting doubles in both the fifth and sixth innings.
Senior Preston Van Diest finished 2-for-6 at the plate, doubling in the first inning, followed by a two-run single in the second inning to spark a seven-run inning for the Eagles, while senior Kodey Rahr finished 2-for-3 with a pair of RBIs.
"We are playing very well right now, maybe the best we have played all year the past two games," head coach Bobby Reese said. "Hopefully, we're putting things together at the right time. Our bats got hot the past two days; we need to stay consistent."
Battling against the wind Tuesday for the majority of their outing with the Roadrunners, the Eagles were able to escape with the victory despite allowing 14 runs over 19 hits.
Armstrong was awarded the win following four innings in which he allowed eight runs on 11 hits, while striking out seven batters. Senior Noah Higgins was awarded the save, throwing three innings where he allowed six runs on eight hits with two strikeouts.
"Crazy weather at the ball park," Bobby Reese said. "We knew the wind was blowing out so it would be high-scoring game. It's never fun to pitch in those conditions but Rhett battled and gave a solid four and then Noah came in did a great job as well. Whatever it takes to come away with a win."
Finding their groove perhaps just in time to turn their season around, the Eagles find themselves in third place behind top-seed Moapa Valley (4-0) and Chaparral (3-2). Rattling off 12 hits against Del Sol on Monday, coach Reese is hopeful the team's tough spring season schedule against four top 4A pitchers will help the players stay consistent at the plate for the remainder of the season against 3A competition.
"I think the spring break games and a little rest and relaxation did the kids some good," he said. "Everyone threw their ace against us over the break. We battled through it and learned. We seemed relaxed and focused on the job coming back from that."
Finding their grooves individually at the plate on Monday, D.J. Reese finished 2-for-2 with a double and a two-run triple, while junior Teddy Lobkowicz finished 3-for-4 with two RBIs.
The Eagles will look to make a statement at home Tuesday against Moapa Valley, but first get another tune-up against a quality 4A opponent on Friday when they host Bonanza.
Contact Robert Vendettoli at BCRsports@gmail.com.
Upcoming games
Friday, vs. Bonanza, 3:30 p.m. home varsity, away junior varsity
Tuesday, vs. Moapa Valley, 3:30 p.m. home varsity, away junior varsity