Hubel commits to San Diego college
December 28, 2016 - 2:42 pm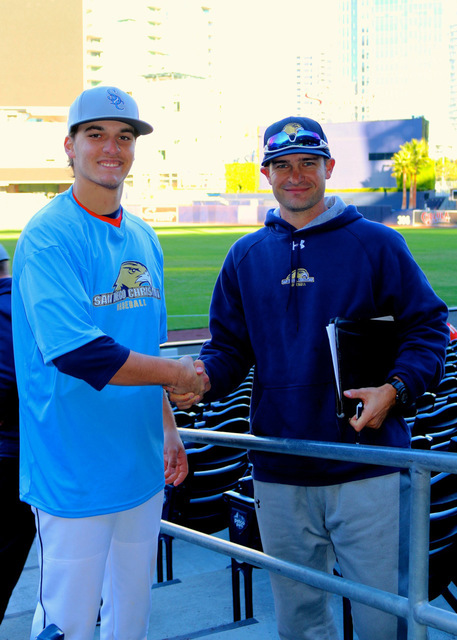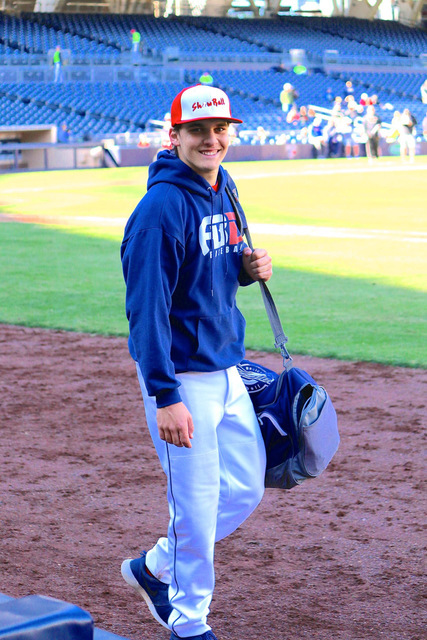 Jake Hubel, a baseball star for Boulder City High School, has verbally committed to San Diego Christian College, where he will play for the Hawks at the National Association of Intercollegiate Athletics level.
"I am blessed to have committed to play baseball with San Diego Christian College," the high school senior said. "I hope to find my purpose in life and pursue my dream of playing college baseball by becoming a Hawk. I'm truly excited about this opportunity and I can't wait to get to work."
Originally thinking of going the junior college route, Hubel's interest in the program peaked once he learned of the Hawks' prestige, having earned a trip to the NAIA World Series in 2014. Following a meet and greet with the players and coaches and its proximity to Boulder City, Hubel fell in love with the program.
"When the call came from the head coach, Landon Burt, offering me a scholarship to play for his team, I was excited and couldn't wait to say yes," Hubel said. "The school offers great opportunities along with some interesting majors. What sold me most was meeting the head coach and working out with the team when I was invited to a few practices. The players were so uplifting. It was a great experience to be able to be on the field with them, and see how I fit with the team while showing the coaches what I could offer."
Bringing with him to Santee, California, big-game experience and a championship pedigree, Hubel's head coach at BCHS, Bobby Reese, offered his take on his star pupil's commitment.
"I'm very proud and excited for Jacob," Reese said. "He has put in the hard work, put in the extra time and done things the right way. It is great to see him rewarded for that and it is all paying off for him. San Diego Christian is a great opportunity for him and I wish him the best."
Coming into his own as one of the state's best pitchers regardless of classification, Hubel proved last season that he's capable of carrying the Eagles' program.
Squaring off against perennial power Faith Lutheran in the winners bracket final of last season's 3A Southern Region tournament, Hubel outdueled Tampa Bay sixth-round major league draft selection Zack Trageton during the team's 4-3 upset. Hubel would later pitch another seven-inning complete game against Sierra Vista in the Eagles' 4-3 state championship victory, delivering the program its first state title since 2006.
"My staff and I had all the confidence in the world giving Jacob the ball versus Faith and then again versus Sierra Vista in the championship game," Reese said. "I have coached Jacob a long time and he has thrown some big games for me. Every time he has shown he can handle the pressure and deliver a solid outing. I have no doubt he will be able to do that at the next level."
Showing flashes of dominance, Hubel posted a 4-3 record last season along with his state championship game heroics, generating a 4.79 earned run average and 42 strikeouts in 45.1 innings. Having put in much work throughout the offseason, Hubel is ready for one last year with the Eagles.
"Having coached pitchers for the past 30 years, the best thing I can say about Jake is his ability to be coached," Boulder City pitching coach Bill Strachan said. "He truly is a student of the game. When I finally got my hands on him, he was already well on his way to being a great pitcher with Ron (Hubel) teaching him for many years, but that didn't stop him from listening and making a few adjustments when needed. Jake knows he's not always going to blow past guys, but with the location he has on his pitches, those things are filthy. He's well on his way to a bright future."
Versatile on the baseball diamond, Hubel will also get a chance to play shortstop for the Hawks. A consistent hitter who batted .281 last season with 17 RBIs and four doubles, Hubel seems primed to help the program in a variety of ways.
"I just want to go in there and contribute any way I can," Hubel said. "I'm grateful for the opportunity to be a part of this program and looking forward to being part of a winning culture."
Contact Robert Vendettoli at BCRsports@gmail.com.