Wrestlers have fighting chance to top division standings
February 3, 2016 - 4:02 pm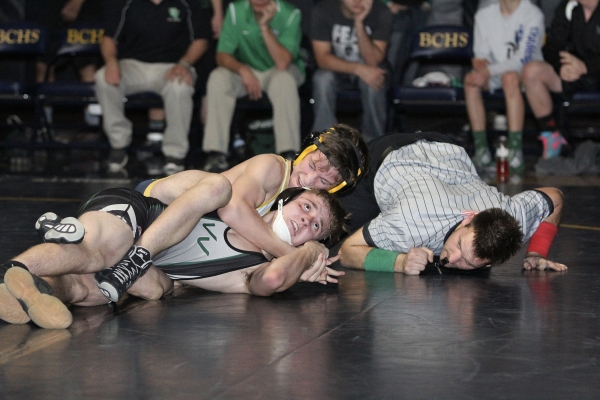 The Boulder City wrestling program split this past week's conference series, picking up a 48-23 victory over Del Sol, while knocking a close 40-32 contest to Virgin Valley.
Tied with Moapa Valley for first place in the Division I-A Sunrise standings, the Eagles have a fighting chance at remaining at the top spot with a favorable matchup against Desert Pines looming.
"Each week in this conference is tough," assistant coach Allen Haines said. "You have to be prepared at all times to put forth your best effort. Each week we improve."
Against the Dragons on Jan. 26, juniors Jimmy Brown, Bryan Foster and Dillon Viera led the way for the Eagles with wins.
Wrestling in the 126-pound weight class, Brown picked up his victory by pin, while Foster (160-pound weight class) and Viera (152-pound weight class) picked up their victories on falls.
Sophomores Garrett Leavitt (106-pound weight class) and D.J. Reese (113-pound weight class) also picked up victories over Del Sol by way of pin, along with freshman Jimmy Dunagan (132- pound weight class).
Senior heavyweight Kyle Gossard continues to improve as each week progresses, picking up another win in the 275-pound weight class with a fall last week against the Dragons, while freshman 195-pound wrestler Ryan Vanario picked up a fall as well.
Despite having trouble against the always competitive Bulldogs, the upside was there for the Eagles, which got a pair of great performances from their up-and-coming stars during the Jan. 28 meet.
Leavitt and Dunagan both won their matches against Virgin valley, defeating their opponents 12-4 and 10-0, respectively, while junior Octavian Trumbo (145-pound weight class) picked up a victory over the Bulldogs by fall.
Brown and Gossard added onto the Eagles' win column, picking up their wins by forfeit.
The Eagles are back in action tonight against Division I opponent Durango, before they make their way back home for senior night on Tuesday against the Jaguars.
"(I'm) excited to wrap up our regular season with a home match," head coach Jim Cox said. "This senior night will be special under the lights."
— By Robert Vendettoli
Boys Basketball
On Tuesday night, the Boulder City boys basketball team sat junior Justus Green for the first quarter of their 43-38 overtime victory against Moapa Valley. Green has been their go-to scorer for most of the season and has the ability to get to the free-throw line when the team cannot seem to put any kind of offense together.
Even with Green's absence at the start of the game, the Eagles, as a team, ended up getting to the free-throw line an astonishing 30 times Tuesday night against Moapa Valley. Not settling for the easy shot, and drawing fouls had them shooting 70 percent from the free-throw line, and making a remarkable 21 of their 30 free-throw attempts.
"Our kids played so hard, I'm really proud of their effort," boys basketball coach John Balistere said. "We definitely played with a toughness tonight. Our defense was really solid, and we rebounded the ball well."
Senior Peyton Koopman has been playing his best basketball of the season as of late, as he is averaging just over 11 points a game in his last three contests.
Although Green did not play in the first quarter, he still led the team in scoring with 11 points on the night.
Their victory in Moapa Valley came on the heels of their 73-60 loss to Basic High School on Friday night, which almost ended in a tremendous comeback for the Eagles.
"I am so proud of their fight. For our record to be 6-17 and to have these guys keep battling like they are is a testament to their resiliency," Balistere said proudly.
The Eagles were down 20 points at half in their loss to Basic. Instead of collapsing even further, they battled back to get within seven points, and outscored Basic 25-20 in the final quarter of the game.
"What we might lack in talent, we make up for with effort," Balistere said.
The Eagles' next game will be at 6:30 tonight against Desert Pines. It is their last home game of the season, and for nine of the seniors playing, the last opportunity to play in front of their home crowd.
— By Diego Pergentili
Girls Basketball
The Lady Eagles dropped a heartbreaker in overtime Tuesday night on the road against Moapa Valley, falling to the Pirates 54-49 in Overton.
In a game that solidified fourth place in the Division I-A Sunrise conference for the Pirates, senior guard Megan Morton put the Lady Eagles on her back with a game-high 27 points, but unfortunately that wouldn't be enough to hold off Moapa's late-second-half surge.
Boulder City led 30-16 at halftime, behind Morton's hot hand, but allowed the Pirates to go on a 29-15 second-half run, before closing the game out with a 9-4 advantage in extra regulation.
Doing their best to lend their star senior a helping hand, freshmen guards Hannah Estes and Setia Cox provided the Lady Eagles with seven and six points, respectively, while senior forward Rylee Dosch added five points.
Junior guard Alea Lehr and sophomore forward Jerra Hinson both added two points against the Pirates.
The Lady Eagles were in a similar boat Friday at home against Division I opponent Basic, dropping another heartbreaker to the Wolves 41-35, after holding the lead at the half.
Ahead 24-22 at the break, Morton would again lead all scorers with 18 points on the night against the Wolves, while Hinson finished with a solid eight.
Currently trailing a game behind the Pirates for the conference's final postseason berth, the Lady Eagles now have their work cut out for them with only three games remaining in the regular season.
Behind a better all-around offensive effort displayed the past few games, the Lady Eagles are hopeful to make up ground in conference play starting tonight against Desert Pines. In their previous matchup with the Jaguars, the Lady Eagles played solid on the road, falling 41-35 on the night.
— By Robert Vendettoli
Contact Robert Vendettoli at BCRsports@gmail.com. Contact reporter Juan Diego Pergentili at jpergentili@bouldercityreview.com or at 702-586-9401. Follow him on Twitter @jdpbcreview.
^
Upcoming Games
Boys basketball
Today, vs Desert Pines, 5 p.m., junior varsity; 6:30 p.m. varsity
Monday, at Chaparral, 5 p.m., junior varsity; 6:30 p.m. varsity
^
Girls basketball
Today, vs Desert Pines, 5 p.m., junior varsity; 6:30 p.m. varsity
Monday, at Chaparral, 5 p.m., junior varsity; 6:30 p.m. varsity
^
Wrestling
Today, at Durango, 5 p.m., junior varsity; 6 p.m., varsity
Tuesday, vs Desert Pines, 5 p.m., junior varsity; 6 p.m., varsity