Wrestlers focus on regional tourney
February 4, 2015 - 1:29 pm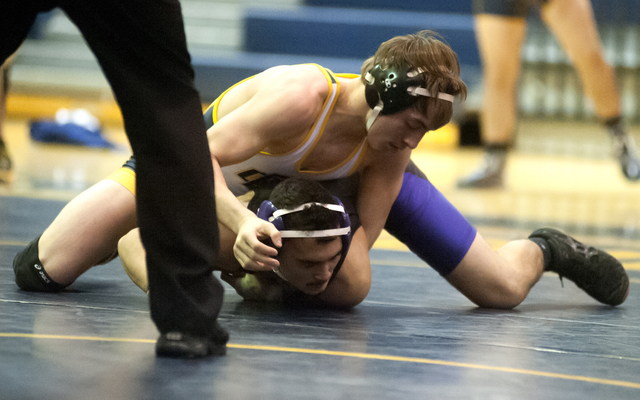 Team Boulder coach Jim Cox on Tuesday announced his lineup of 18 wrestlers who will compete in the Division I-A Southern Region Tournament this weekend at the high school.
"There were some tough calls and cuts to make, but the athletes who will represent Boulder City have worked hard and earned their position to wrestle in the region tournament and have a chance to go on to state," Cox said.
The opening rounds of the Southern Region tournament begin at 3 p.m. Friday. Saturday's middle and championship rounds are at 9 a.m and 3 p.m., respectively.
In revised numbers announced by Cox on Tuesday, there will be 16 teams in the regional event, with 18 wrestlers in each of the 14 weight classes — 288 athletes each with the goal of advancing to the state tournament.
The top four finishers in each class advance to the state tournament in Winnemucca Feb. 13-14. A school can enter and advance two wrestlers in the same weight class.
A year ago, Team Boulder placed third in the region behind Pahrump Valley and Virgin Valley.
Leading the Eagles into the tournament are three athletes who finished second a year ago in the regional tournament and are looking for personal championships this weekend as well as a team title.
Collin Fox, Patrick Garvin and Nelson Van Diest all have one goal in mind.
"Win the region as an individual and as a team," Fox said.
"Nothing but a championship for me and the team," Van Diest said.
"Win it without a doubt," Garvin said. 'The home crowd will give me and the team added incentive."
The Boulder City lineup:
106 pounds: D.J. Reese (an 18-10 record in dual meets this season).
113: Brady Branscum (20-3).
120: Jimmy Brown (19-9).
126: Collin Fox (26-5).
132: J.P. Valenzuela (2-7).
138: Tyler Rushworth (20-8).
145: Dillon Viera (15-8) and Zayne Dennington (16-6).
152: Patrick Garvin (21-7).
160: Bryan Foster (18-7) and Dylan Dennington (13-4).
170: Alex Pappageorge (20-7).
182: Nelson Van Diest (22-10).
195: Jacob Jurgschat (19-9).
220: Dustin Edlund (19-8) and Sam Doane (18-7).
285: Jack Rozycki (25-6) and Kyle Gossard (25-7).
Fox, Edlund and Rozycki each had a pin as the Eagles defeated Durango 58-21 at home Friday on senior night. They also lost 43-33 to Valley Virgin in Mesquite late Tuesday in their final dual meet match of the season.
Heavyweight Rozycki won his match with a takedown in the final 10 seconds.