Wrestlers eager to improve record at state
November 19, 2014 - 3:22 pm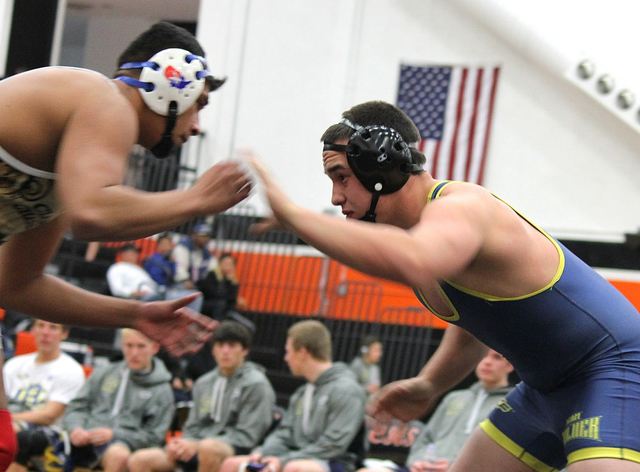 Team Boulder heads into the wrestling season with seven returning state qualifiers leading a team hungry to return to the top of the state finals podium.
Team Boulder has been among the best small-school wrestling teams in Nevada for the past decade, including winning its league title the past five seasons.
Last season, the Eagles finished 11th at the Division I-A state meet with 28 points, and finished third at the Division I-A Southern Region meet with 154 points.
"You never know what will happen at state because the northern teams are loaded and usually advance extra wrestlers, making it tougher for southern teams to win the state title," said senior Jacob Jurgschat, who is one of the state's top contenders at 195 pounds. "But if enough of our individuals max out and we have a good day at state, who knows what can happen. We have a lot of experience.
"We do have a few guys that can win individual championships, and our goal right now is to do our best each week and get ready for the postseason when it counts most."
Jurgschat was named wrestler of the week in late January after winning six of eight matches to place fifth in the Mohave (Ariz.) Invitational.
Other Eagles who qualified for the state tournament last season are sophomore Brady Branscum, who will wrestle in the 106- and 113-pound weight classes, and senior Nelson Van Diest, now 192 pounds, who is a three-time state qualifier.
Senior Patrick Garvin is the returning Southern Region champion and a three-time qualifier for the state finals. He will be at 152 pounds this season.
Senior Collin Fox was state runner-up last season and is a three-time state qualifier. By season's end he will be in the 126-pound weight class.
Senior Dylan Dennington (160) and junior Tyler Rushworth (132) have the experience of reaching the state tournament last season.
Team Boulder also will benefit from having four experienced seniors in Sam Doane (220), Jack Rozycki ( 275), Dustin Edlund (182) and Alex Pappageorge (170).
"These young men wrestled dozens of off-season matches, which will give them valuable experience going into this season," Boulder City coach Jim Cox said. "They have all worked hard and we expect a real good season from all of the them."
The way for Team Boulder to get better for this season was to spend a grueling summer on the mats. In one event, they had as many as 15 individual matches in two days.
Team Nevada, comprised of nine wrestlers from Boulder City High and seven from Sunrise League-rival Virgin Valley, finished second on July 26 in the Mid Summer Bash in Dallas. Fox was the outstanding wrestler; he finished with a 14-1 record in the 120-pound weight class.
"Collin was outstanding at that event and we expect a lot from him this season," Cox said. "The main focus was to get the wrestlers experience to make them better and improve the overall team. A lot of guys did well even in matches they lost because of the quality of the competition. All that experience will benefit us this season."