World Cup inspires BC soccer players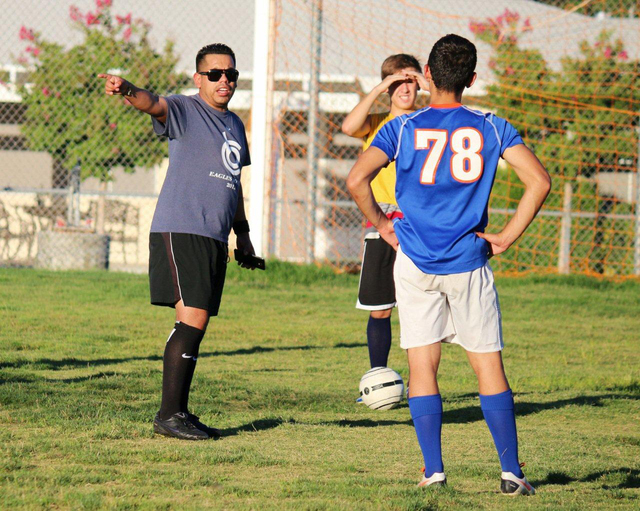 The World Cup is over and now it is time to turn attention to the soccer that matters most in Boulder City: the high school teams.
"The World Cup was so cool to watch, with so many great teams. It pumped me and my teammates up and we are so excited for the season to begin in a few weeks," said senior Victor Andrades, the Eagles captain who said he was rooting for Germany to win in the final. "Germany was so full of young players that worked so hard to get where they got. I really respected them and was pulling for them to win it all. We have a young team, but I think we have a lot of guys that are good and can work hard to become a solid team.
"It was an exciting World Cup and interest in soccer will be up all around the county and state because of it. We are looking forward to making the playoffs and having a great season."
The Eagles are coached by Frank Pimental, a one-time player in Major League Soccer. It will be his third year.
Among the players Pimental is expecting to lead the squad are Andrades, Sebastian Balmer, Hunter Dale, Justin Fox and Barrett Cowdrey.
"Victor is the senior and will have a huge role as team captain this year. It's going to be tough, but he has the character to lead the group."
The boys started intramurals July 1 in the middle of World Cup fever. Anyone wanting to play for the high school team can attend the sessions and contact Pimental. The sessions are at 6 p.m. every Tuesday and Thursday at the Boulder City soccer field.
"I have about 12 guys that have been consistently coming out," Pimental said. "It's still a bit early to tell what the ultimate turnout will be. I have noticed that the World Cup has motivated some players and has sparked the interest to participate in the sport in others. That's always a great thing since our numbers have been relatively low in the past seasons."
The Eagles have been very competitive under Pimental.
"I expect to build off of last season. We have a team composed of many freshmen and sophomores who are young but have some experience. We put a team together in the spring composed of returning lettermen and incoming freshmen. The main objective was to get them to play together and build chemistry.
"It was a very rough start but toward the end of the season things started to mesh together. In the end of the spring season tournament, these kids displayed consistency in their game and bursts of amazingness (if that's even a word). It was really exciting to watch an idea of play come together. I have to thank my players for their hunger to become better."
Pimental says building this season's team has required support and patience.
"I need to thank the parents for their patience and constant support. I really appreciate that. It never ceases to amaze me how involved parents are in their child's life, here in Boulder City. It's astonishing to see. I've never met or had a more supportive group anywhere. I have to applaud the parents and BC for that. They inspire me to want to coach these kids and to win."
In the intramurals, the coaches are working on technique and defense.
The Sunrise League is full of talented teams and because of Nevada Interscholastic Activities Association realignment has added Del Sol this season, another playoff contender.
"We have a tough season ahead of us with the addition of Del Sol into the league," Pimental said. "We're going to have to win key games against teams we know we can beat and have a winning mentality against stronger opposition. We are developing great team chemistry and I have a good nucleus of young players in Sebastian, Hunter, Justin and Barrett to go with the veteran Andrades."