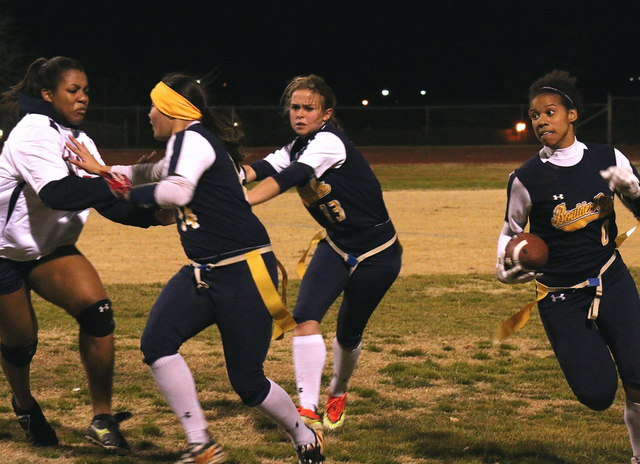 The winning streak continues.
The Boulder City girls flag football team, unbeaten and ranked second in the county, defeated visiting Coronado 48-0 Monday night to extend its streak of consecutive regular season victories to 30 games over a two-year span.
The Lady Eagles are 12-0 this season, and are 10-0 and in first place in the Sunrise League.
They remain ranked No. 2 in the latest Las Vegas Review-Journal poll of Southern Nevada coaches behind Cimarron-Memorial, the only other undefeated team among 34 teams playing the sport in Clark County.
Quarterback Jeanne Carmell had another outstanding night as she passed for five touchdowns and ran for another in the victory. She completed 17 of 27 passes for 192 yards and gained 107 yards rushing on 11 attempts.
Senior receiver Kinsey Smyth caught three passes for 41 yards and one touchdown, and she rushed for 64 yards on six attempts and scored one touchdown. Mackenzie Pluta had three catches for 40 yards and two touchdowns.
The defense held Coronado to only two first downs. Morgan Gilmore and Kenadee Bailey each had four tackles, while linebackers Logan Kanaley and Paige Buettner each had five tackles and one quarterback sack.
"Winning in the playoffs has always been our overall goal, but now that we are this close to a second straight unbeaten season, yeah, it would be nice to get it," Smyth said. "But we know what is at stake next week with three difficult games against teams that have become our biggest rivals."
They won all 18 regular season games a year ago and have not lost a regular season game since their 2013 season finale, a 16-6 February 2013 loss to Foothill.
To end their second consecutive regular season unbeaten, the Lady Eagles must beat decades-long rival Basic, new area-rival Foothill and playoff rival Green Valley in their final three regular-season games.
"It is our toughest week of the year and somehow they all fell into our schedule back-to-back-to-back, twice this season," coach Chris Morelli said. "We swept them right after the holiday break, but this is a little different. The playoff seedings are on the line. A loss to Foothill could drop us into second place. The girls know what to do. They have prepared all year for this final week to make a statement and to keep the momentum heading into the playoffs the following week."
The Eagles have defeated Foothill in their past three meetings, but all three games have come down to the wire and one went into triple overtime last season. Green Valley eliminated the then 20-0 Eagles last season in the Sunrise Region championship final, scoring late to secure an 18-13 win.
The Lady Eagles also played Wednesday at Rancho in a game too late to report in this issue.
They play Friday at home against Eldorado before the big three beginning Tuesday at Basic. Foothill is at home on Feb. 5 on senior night, and Green Valley is on the road Feb. 9.
"We just have to continue to play hard and remember our overall season-long goals," Smyth said.