Walk pushes Eagles baseball team ahead of Grizzlies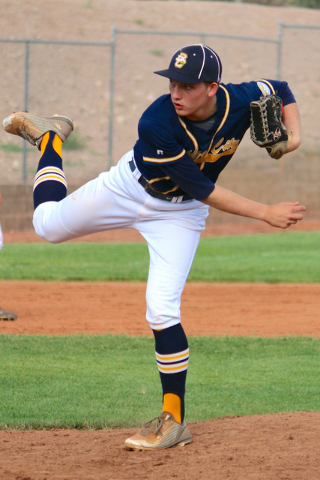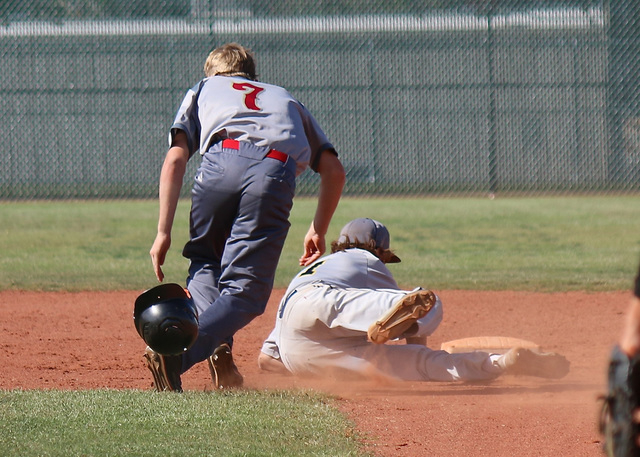 Boulder City High baseball head coach Bobby Reese was hopeful that last Monday's perfect game by senior Peyton Koopman was a sign of good things to come for the program. Friday's contest with Spring Valley is probably not what he had in mind at the time.
Trailing 4-2 to the Grizzlies in the bottom of the sixth inning, the Eagles evened the score with a two-run rally. Then the unthinkable happened.
After closing out Spring Valley in the top of the seventh, senior Austin Wishard reached base on an error and moved to second base. Following an intentional walk to senior power hitter Koopman, senior Alec Mathis provided the Eagles with a clutch infield single to load the bases for senior Zach Murphy, who drew a four-pitch walk to force Wishard home for the comeback 5-4 victory.
"That was a really good game for us to be in," senior Steve Wagner said. "It was important to get the win against them any way we could, so we can keep this momentum that we have going and send a message to a team that we will see again in playoffs. It was huge and it kept the momentum going for us."
On Tuesday against Chaparral the Eagles didn't need any late-game dramatics against the Cowboys, picking up a decisive 10-0 victory.
Continuing a strong second half to the season, Koopman was the star on the mound and the plate for the Eagles, making his impact felt in every facet of the game. Throwing a complete six-inning shutout, the senior struck out nine batters, while allowing just two hits on the day. He went 1-for-2 at the plate with a double and a game-high four runs batted in.
Mathis was also key in the Eagles' victory over the Cowboys, batting 2-for-4 with a pair of doubles, along with Murphy who batted 1-for-3 with a pair of RBIs as well.
"Our momentum level is at an all-time high right now," Wagner said. "We're playing really good baseball and we are dominating. We have to keep it going all the way until playoffs so we are ready to keep it going."
Looking to end their season on a high note, the Eagles will travel to Moapa Valley today, before their showdown on Friday with Division I opponent Arbor View.
Holding a 2-1 victory over the Aggies earlier in the season, the Eagles are hopeful that their recent momentum along with the return of junior two-way player Jake Hubel will be enough to keep their winning streak alive.
Hubel, who serves as one of the Eagles' starting pitchers, has missed the past two games following an ugly sequence when a Southeast Career Technical Academy batter barreled into him head first, neglecting to slide.
"We're very excited for Friday's game against Arbor View," Wagner concluded. "It's a huge game that will help prepare us for the playoffs. We were fortunate enough to beat them the first time we played them and we hope to repeat and keep the momentum going. We look forward to seeing what's in store for us these next couple of weeks."
Contact Robert Vendettoli at BCRsports@gmail.com
Upcoming games
■ Today, at Moapa Valley, 3:30 p.m. varsity; 3:30 p.m. at home, junior varsity
■ Friday, vs. Arbor View,, 3:30 p.m., varsity; 3:30 p.m. at Arbor View, junior varsity
■ Tuesday-May 14, Sunrise League regionals, TBA