Volleyball team spends summer working on skills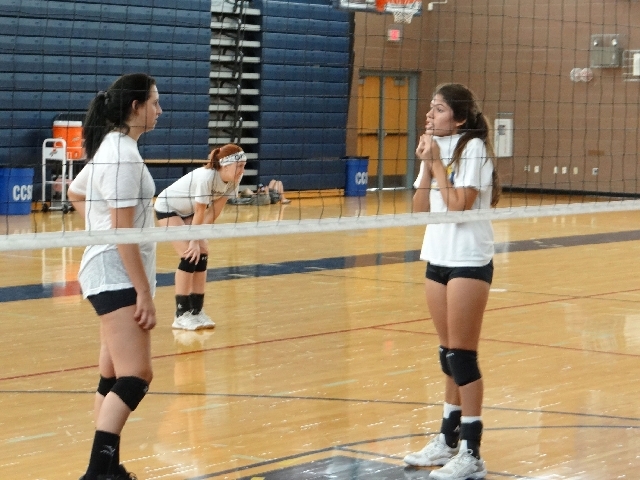 Summer intramurals and camps could go a long way if the Lady Eagles hope to remain one of the top team in Sunrise League when the high school girls' volleyball season begins in late August.
The Lady Eagles have spent the past few Wednesdays in the school's gym going through voluntary intramural drills. But there are more summer events ahead.
"A majority of the girls at all three levels (varsity, junior varsity and freshman teams) played club ball in the offseason and will attend summer camps," said Cherise Hinman, who will be coaching her 20th season of high school volleyball and 16th at Boulder City. "The offseason play will really make all three of our teams strong. We have intramurals just to keep in contact with the girls throughout the summer and to get the ball into their hands and measure their progress."
There are two remaining intramural sessions, July 31 and Aug. 7, in the school's gym from 12:30 to 2 p.m.
Boulder City is having its annual summer camp from 8 a.m. to 3 p.m. Aug. 12-14, with visiting coaches from All American Volleyball.
"I am again bringing in the staff from All American Volleyball because they are so good and they do really well with the kids," Hinman said. "Intramurals and a good mix of camps help develop the players year-round."
Many of the Lady Eagles are attending additional volleyball camps in Las Vegas, California, Arizona, Utah and Illinois, Hinman said.
Tryouts for the Lady Eagles' volleyball squad are from 8 a.m. to 11:30 a.m. Aug. 19-21. To try out, athletes must have completed a physical and an insurance packet.
Last fall, the Lady Eagles were 28-8 overall and 12-0 in the Sunrise League during the regular season. They were upset by Chaparral, a team they beat twice in league play, in the Southern Region semifinal. Hinman was chosen the Sunrise League Coach of the Year.
They have made the playoffs for 16 straight seasons, but a three-year state appearance run ended last season. The program has won four state titles, the last coming in 1989.
Seniors Whitney Barlow and Kendall Miller will lead a talented returning group. Barlow was a 1-A all-Southern Region selection last year at outside hitter, and Miller made the all region, second team as a libero.
Hinman said senior Kaylin Koltyerhan, and juniors Lauren Pocius and Kinsey Smyth should also be leaders.
Other players with experience from last year's team are junior Mickaela Brown, senior Savannah Morris, junior Alyssa Ybarra and junior Katlyn Daly. The team will also welcome newcomer Velzani Moncayo, a sophomore.
A strong group of underclassmen are also on the way up, if not this season.
"And we have a strong incoming sophomore class from the undefeated freshmen team last year," Hinman said.
The team has a big hole to fill in the middle. Gone from the setter position is four-year starter Avalon Frantz. Frantz, who made first team, all state twice and second team once, will play this year for Division I University of Houston.
Also gone is outside hitter Mallory Bird, who was second team, all region last year.
"We will miss Avalon and Mallory, but we wish them well," Hinman said. "There is another season to prepare for. Great players like Avalon don't walk into the gym every day. But we have a lot of good volleyball players who are working hard to succeed as a team. I think they will come together as their own team and be very successful."
Boulder City opens the season Aug. 30-31 at the Las Vegas Invitational. The team's first home match is at 6 p.m. Sept. 12 against Faith Lutheran. The Crusaders won the Southern Region championship, qualifying for the state tournament with Chaparral.
Lady Eagles open league play at Desert Pines on Sept. 19.
For the first time under Hinman, Boulder City will be hosting its own invitational tournament on Sept. 20-21. Currently, 18 teams have committed to play, Hinman said.
Boulder City will compete in Sunrise League against Chaparral, as well as last year playoff qualifiers Moapa Valley and Sunrise Mountain. Other teams in the league are Desert Pines, Tech and Virgin Valley.
Rachelle Huxford returns for her third season as a varsity assistant for the Lady Eagles and newcomer Kelly Lehr will be the freshman coach. Lehr has formerly coached at Las Vegas Day School and at the club level.
"Kelly is bringing great experience, competitiveness and enthusiasm," Hinman said. "I am looking forward to this season. We will be trying some new things this year offensively and defensively based on our personal and the size of our rosters."
For more information, go to www.bouldercityvolleyball.com.