Volleyball team rebounds, gains focus
October 7, 2015 - 3:39 pm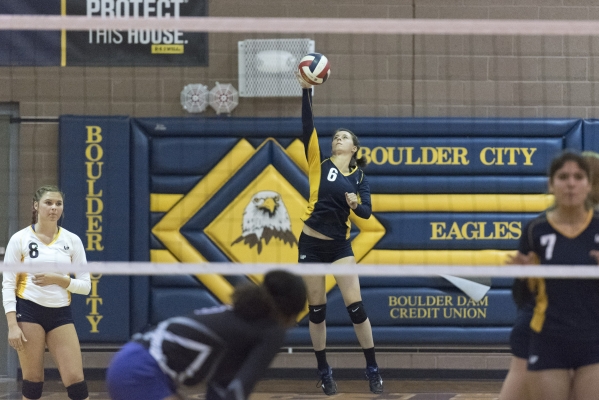 Rebounding nicely from last week's heartbreaking conference loss to Virgin Valley 3-2, the Lady Eagles (14-7 overall, 5-1 conference) volleyball players found their stride again during their last two league opponents, dominating both Sunrise Mountain 3-1 and Chaparral 3-0.
In a conference where wins will be at a premium this season and with stiff competition laden throughout their schedule, the Lady Eagles rebounded nicely against the Miners on Sept. 30. Taking the first pair of sets 25-7 and 25-20, the Lady Eagles appeared to have let the Miners in the game for a brief moment during their 16-25 third-set loss, before reminding themselves how good they truly can become this season with a 25-8 fourth-set blow out.
"Our team is extremely talented this season," senior setter Tarah Cox said after the overwhelming defeat. "We have the tendency to get sidetracked at times, but when we're focused we're always tough to beat. There's just a few minor things we need to work on."
Cox led Boulder City with 22 assists and 10 serving aces, while sophomore outside hitter Maggie Roe and senior outside hitter Jayden Wood made the most of their scoring opportunities with 17 and 10 kills apiece.
Not getting sidetracked in Monday's outing against Chaparral, the Lady Eagles looked focused throughout, dominating all threes sets 25-7, 25-13 and 25-23.
"This season so far has been a dream," Cox said earlier this week. "We still have a long way to go, but we're playing the right way. It's our senior year, so were definitely going to go out with a bang."
Currently sitting tied for second behind only Virgin Valley with Moapa Valley in the Division I-A Sunrise, coach Cherise Hinman likes the makeup of her team following this past week of play.
"Our seniors are really stepping up," Hinman said. "Our captains have done a great job of rallying this group together, which brings the other girls along and shows in our play. Heading into the final stretch of conference, we're going to continue to change up our style of play a little bit and hopefully have a few different offenses we can run to get things going."
The Lady Eagles will get a firsthand look at how their newly developed style of play suits them Friday, when they resume league play at Del Sol High School.
Golf
The Lady Eagles continue to roll as the class of the Division I-A this season, picking up another pair of victories over the past week.
While their Monday match-up with Division I opponent Green Valley was postponed because of weather conditions, the Lady Eagles' match play throughout their past two outings was dominating and inspiring, despite not getting the opportunity to see where they measure up against a higher-classed opponent.
During their Sept. 30 league match at Wildhorse, the Lady Eagles earned their fourth conference victory of the season, with a team score of 432.
Beating out strong competitors Southeast Career Technical Academy (490), Virgin Valley (508) and Moapa Valley (511), the Lady Eagles have positioned themselves nicely in the driver's seat of the conference heading into regional play.
Sophomore Lani Potter continues to state her case for best golfer in the classification, shooting a high score of 75 to lead the Lady Eagles to victory. Just three strokes off the 72-hole par, Potter dominated the course overall, beating out Josie Delgadillo of Moapa Valley (101) for the lead.
Helping the Lady Eagles fight off a strong push from the Roadrunners, which placed three girls within the top 10 Sept. 30, was the duo of junior Lauryn Norris and freshman Madisan Walker, who finished within the top five.
Norris tied with Tech competitor Mckenzie Pope with a score of 110 for third overall in the event, while Walker followed just four strokes behind in fifth place with a score of 114. Freshman Ryann Reese and junior Holly Pipper also showed bright spots throughout the course's front nine, but were unable to make the nine-hole cut of 58.
Continuing their dominance Tuesday, the Lady Eagles picked up their fifth and final league victory of the season, sweeping through the Division I-A Sunrise unbeaten.
"We have had a great success in the Sunrise Division, but we have to eliminate the small mistakes to compete with the Sunset Division teams in the region and state tournaments," coach Andy Schaper said. "We have just a couple of weeks left, but we'll continue to work on all aspects of the game to prepare for the postseason."
Placing four golfers this time within the top 11 of the event, the Lady Eagles were once again able to hold off their toughest competitors Tech and Moapa Valley.
Sweeping through conference with the lead score once again, Potter shot a 76, just four strokes behind the 72 par at The Canyons inside Oasis Golf Club in Mesquite. Dating back to last season, Potter has now won all 10 league matches to start her prep career.
Walker, who's continued to improve throughout the past few weeks, followed Potter with a score of 112 to finish fifth, while Pipper made her first cut of the year Tuesday, finishing with a season-low score of 121 to finish ninth. Reese also made the nine-hole cut, finishing tied for 11th with a score of 124 with Tylee Robison of Virgin Valley.
"I continue to be proud of this group of girls," Schaper said. "They all have worked so hard to get their golf games where they're at today. They've all reached personal best scores in the past couple of weeks and with more work they will continue to bring down those scores toward the postseason."
Heading into postseason play Oct. 15 at the Mountain Falls Golf Club in Pahrump, the Lady Eagles feel good about their chances after already dominating the course earlier in the year. The top three teams from the event will advance to the state tournament, while the top five individuals from nonqualifying teams also will advance in case the team has an uncharacteristic outing.
"Everyone has continued to improve steadily throughout the season," Schaper concluded. "Lani continues to shoot great scores and has been very consistent all year. Behind her, Madisan, Lauryn, Ryann and Holly are all on the verge of making a big leap to lower their scores. If that leap happens in the next few weeks, it will make things interesting at the state tournament."
Soccer
Both Boulder City soccer programs hung their heads high after this past week of play, bringing home competitive victories.
The Lady Eagles (2-5 overall, 2-4 conference) played their best soccer of the season this past week, splitting their two-game series 1-1.
Despite falling 1-0 on Sept. 30 to Moapa Valley, the Lady Eagles put on an inspiring performance against the currently postseason-bound Pirates. Following up their strong effort, the Lady Eagles put another one in the win column Tuesday, with a 2-1 victory over Del Sol.
Senior forward Jordyn Trobiani and freshman forward Elizabeth Taggard both scored, with both goals being assisted by senior midfielder Oshauna Remy.
Currently sitting in sixth place within the Division I-A Sunrise conference, the Lady Eagles are only 4 points away from catching the Pirates for their first playoff appearance since 2012.
For the boys, the Eagles (1-8 overall, 1-5 conference) finally captured their first win under head coach Chad Smith in a 3-2 shootout over Moapa Valley on Sept. 30, before dropping Tuesday's contest to Del Sol 8-1.
"The boys are learning to work better as a team," Smith said. "It will take time and a little more commitment to the game as a whole to get them to gel well together."
With the girls already on to win No. 2 of the season, Smith is hoping the boys can join them shortly.
"The win column is always a nice boost for the kids," Smith said. "With an upcoming game against Virgin Valley, the boys can put together a good game and tally up a another win. Ultimately though they have to want it."
Both soccer programs will resume play today at Virgin Valley, followed by match-ups with Chaparral on the road Monday and a home game against Sunrise Mountain on Wednesday.
Contact Robert Vendettoli at BCRsports@gmail.com.