Volleyball starts season with annual tournament
August 29, 2013 - 1:02 am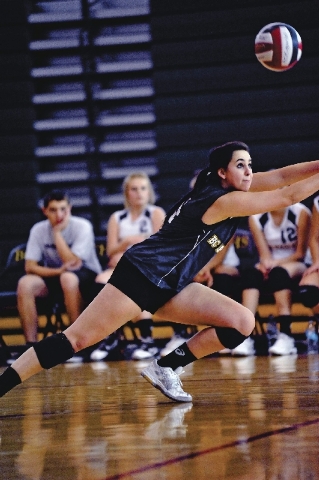 The starting lineup for the Boulder City girls' volleyball team that begins its season tomorrow in the Las Vegas Invitational at Las Vegas High probably will be quite different from the one that heads into the regular season a week later.
Each year, the Lady Eagles compete in the annual kickoff invitational only to have its strengths and weaknesses exposed.
Then changes are made.
"We always start the season with this tournament to get a feel of what players can do and what changes need to be made," senior hitter Whitney Barlow said. "We don't always do very well in the tournament as far as wins, but we always get out of it what we need to build a winning season.
"This weekend isn't as much about winning as it is about learning from each other and finding the chemistry that will make us a contender for the Division I-A state championship. That is our goal."
Boulder City coach Cherise Hinman agreed.
"The Las Vegas invitational is always a tournament that we do a lot of learning against tough competition. I usually make a lot of changes after the invitational each year," said Hinman, entering her 16th season as coach of the Lady Eagles. "In recent years we haven't fared well if you are talking wins and losses, but each year we have bounced from this tournament to make the playoffs in our division."
Last fall, the Lady Eagles were 28-8 overall and 12-0 in the Sunrise League. They were upset by Chaparral, a team they beat twice in league play, in the Southern Region semifinal. Hinman was chosen the Sunrise League Coach of the Year.
They have made the playoffs for 16 straight seasons and last won a state championship in 1989.
Hinman said it will be a tough weekend for all her players. The Lady Eagles prepared for the invitational by scrimmaging last Saturday against Durango, Las Vegas and Legacy.
"We did pretty well against all three in the scrimmage," Hinman said. "If we had kept score, I think we would have won all three. We have the largest roster we have had in years and we are excited about our senior players leading the way.
"We also have some good new sophomores and players from the junior varsity and the undefeated freshman team."
Hinman said the Lady Eagles will be running an entirely new offense and defense from the team of a year ago.
"It's all new," Hinman said. "The offense is new and the defense is new, but this is a good group of girls that can make the transition. It's going to be a fun year."
This season, the Lady Eagles will be without all-state setter Avalon Frantz and outside hitter Mallory Bird. Frantz will play Division I women's volleyball this fall at the University of Houston.
"Last season was last season and it's behind us. We now have to concentrate on making this a new team and bonding and coming together as this year's team," said Barlow, who was the main recipient of Franz's sets during the past two years.
Barlow and libero Kendall Miller also were all-Sunrise League first-team. Barlow was chosen all-Southern Region, while Miller was second-team all region.
In the Las Vegas Invitational, several players will play new positions to see what chemistry can be formed.
Miller is one of three setters hoping to follow Frantz.
"Avalon was Avalon, but now we have three girls that can be setters and all three are very good," Hinman said. "Kendall, Katlyn Kolteryahn and Tarah Cox will all play setter until we form our final lineup. Miller is very valuable at the net and as a setter, but she could still be the libero. We are still a work in progress."
Other players who Hinman said she expects to step up and possibly play new positions are Kinsey Smyth, Lauren Pocius, Mickaela Brown, Jade Wood, Savannah Morris, Alyssa Ybarra and Katlyn Daly.
"We have the largest roster we have had in years and there will be plenty of competition at each position," Hinman said. "The competition will make us a better squad."
The team opens the regular season Sept. 10 at Canyon Springs, then hosts defending Southern Region champion Faith Lutheran on Sept. 12.