Volleyball invitational to help girls work cohesively
September 17, 2014 - 12:37 pm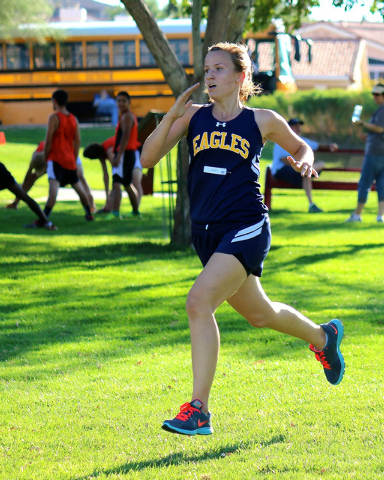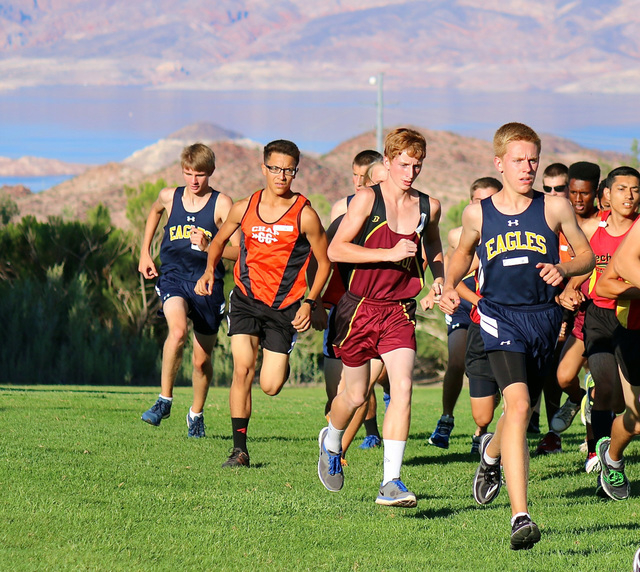 Twenty teams will play Friday and Saturday in the second annual Boulder City girls volleyball tournament.
"The tournament will give us several more games to work on our chemistry and in playing together before we really get into our league schedule," middle blocker Kinsey Smyth said. "We are looking forward to the experience and making changes as we learn what we need to do to become a better team."
The Lady Eagles are off to a 6-5 start overall and 1-0 in the Sunrise League.
After a 25-18, 25-18, 18-25, 25-15 loss to visiting Basic Sept. 9, the Lady Eagles bounced back to dominate Del Sol 25-13, 25-10, 25-12 in their Sunrise League opener Sept. 11.
Against Basic, freshman Maggie Roe had 10 kills and two blocks, and teammate Alyssa Ybarra had 15 digs.
The Lady Eagles played Monday at home against Desert Pines. Jaden Wood had five kills and eight aces to lead the Lady Eagles to a 25­-8, 25­-15, 25­-11 sweep.
Wednesday the team played at Tech.
After the tournament this weekend, the Lady Eagles play at home against league rival Virgin Valley Tuesday. The match is at 6 p.m.
Girls Golf
The Boulder City girls golf team is off to a solid start and first-year coach Andy Schaper couldn't be happier.
"The girls are all doing well for the early part of the season. They are off to a great start," Schaper said. "All three girls continue to play smart and improve each time they hit the golf course. The girls are trying to eliminate keys mistakes in each round to help keep their scores down."
The team consists of three individuals: senior Kelli Hatfield, sophomore Lauryn Norris and freshman Lani Potter.
In their first 18-hole match at Silverstone Golf Club in extreme hot temperatures, all three girls finished in the top 10. Potter had the low score of the tournament with an 82, finishing her back nine holes with a 37. Hatfield scored a personal-best 106 and finished in fourth place.
In the second event, Potter shot a 39 at Highland Falls in a nine-hole match with Desert Oasis and Green Valley. She placed second.
At the Wildhorse Golf Club meet, Potter shot a low of 77 for the tournament. It was her low score of the season and teammate Norris shot a personal best of 111 to place fifth.
Cross-Country
Boulder City's Jessica Embro ran 20:16.8 Saturday to place 21st overall in the Red Rock Running Invitational at Floyd Lamb State Park. Her time, however was third best among Division I-A runners.
The Lady Eagles finished in seventh place as a team with 265 points to winner Centennial's 32 points. But they placed second among Division I-A schools, only seven points behind Faith Lutheran.
"The girls ran well again, especially Jessica Embro," Boulder City coach Canaan Petersen said.
"After last Saturday's Las Vegas Invitational, Jessica and I had several conversations about her goals for the season. Her focus definitely showed on Wednesday as she placed second in the midweek meet and ran fantastic again on Saturday.
"She has also been encouraging others like Sierra Selinger and Emma Torgeson to step it up in their races and the entire team is doing well under her leadership. She is the captain of the team along with Aubrey Klouse and together, they are a fantastic duo with numerous leadership traits."
The Sept. 10 meet at Hemenway Park included all of the Sunrise League teams except Moapa Valley and Virgin Valley, which suspended athletic activities for the week because of the closure of Interstate 15.
The boys team, led by Tyler Campbell and Joren Selinger, improved in both the midweek meet and the Red Rock Running Invitational Saturday.
"It is clear to any observer they are finding their groove not only as individuals but as a team," Petersen said. "They placed third as a team out of six teams on Wednesday and there were good performances from several runners.
"On Saturday the team improved on their performances again. Over the next week, which does not contain any competitions, I want to focus on improving all of their performances."
The next meet for both teams is Sept. 27 at the Foothill Falcon Invitational.
Tennis
Melissa O'Berto led the Lady Eagles to two victories this past week.
O'Berto went 3-0 in singles Sept. 9 to help the Lady Eagles to a 12-6 victory against Tech. Iris Meijer and Natalia Fullmer won all three sets at No. 2 doubles.
O'Berto, Arianne Hess and Natalia Fullmer each went 3-0 in singles to lead the Lady Eagles to a 15-3 victory over Chaparral Thursday. The No. 2 doubles team of Sariah Gneiting and Meijer and No. 3 doubles team of McKenna Frazier and Kyra Yamamoto also won.
In boys tennis, Andre Pappas, Jacob Harrison and Gavin Morris each finished 3-0 in singles to lead the Eagles to a 13-5 victory against Chaparral Thursday. In their Sept. 9 match, the Eagles went to a tiebreaker after a 9-9 score, but eventually lost to Tech 10-9.