Volleyball coach, division hand out honors
November 25, 2015 - 2:39 pm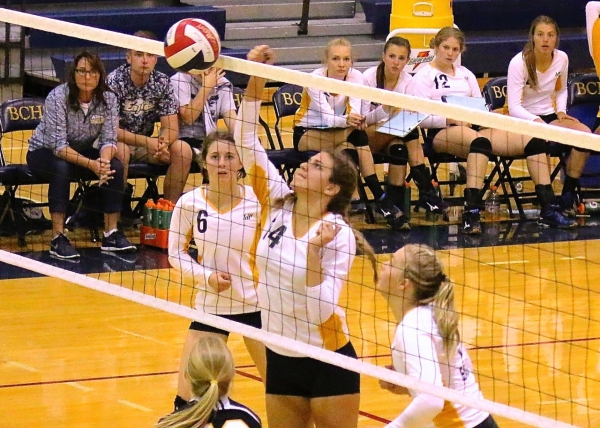 The Boulder City volleyball program lost to eventual state champion Faith Lutheran in a three-set match during the second round of the Division I-A state playoffs this month, but even that couldn't put a damper on a wonderful season for the Lady Eagles.
Earning multiple postseason awards, Boulder City may not have reached its ultimate goal of reaching its third state tournament in the past five years, but head coach Cherise Hinman is proud of the girls for not only their individual efforts, but for the way they channeled them into a collective one.
"It was a great season for us overall and I'm so proud of all the girls who were selected to their respected teams," Hinman said. "It's truly an honor to coach such a talented group of girls that were well represented as some of the Division I-A's best. I'm happy with how the selection process panned out."
Leading the way for the Boulder City was sophomore outside hitter Maggie Roe, who was the lone Lady Eagle selected to the Division I-A All-State team. A first-team selection, Roe concluded her season with a team-high 337 kills, 259 digs, 92 aces and 41 blocked shots, becoming an all-around threat for Boulder City. Roe was selected to the All-Southern region first team and All-Sunrise conference first team.
"It was nice for Maggie to be represented on the All-State level," Hinman added. "Maggie's an exceptional talent and has worked very hard for this achievement."
Joining Roe on the All-Southern region team were senior captains Tarah Cox and Jaden Wood and Bayden Huxford, who were all awarded second-team honors.
Cox was awarded the Lady Eagles' Athlete of the Season honor by Hinman after tallying a team-high 681 assists, 116 digs, 101 aces, 80 kills and 11 blocks. She was also a first-team All-Sunrise selection.
"Tarah has worked so hard over the years playing club in the off season trying to perfect her setting," Hinman said. "She really wanted to play in college and her effort has paid off. She became a true leader on and off the court this season for our team. She motivated the girls through team-bonding activities, organized extra workouts and team dinners and was one of the primary voices on the court for us throughout the season."
Wood and Huxford were awarded as the team's Offensive and Defensive Players of the Year by Hinman and were first-team All-Sunrise selections.
Wood tallied 322 kills, 218 digs, 59 aces and 17 blocks for the Lady Eagles, while Huxford contributed with a team-leading 518 digs, 67 aces and 32 kills.
"Jaden was our hardest hitter," Hinman said. "She's always played outside. When she connects with the ball, it's one powerful hit to try and block or dig. She also was one of our toughest servers and played all over for us.
"Bayden was an easy pick for defense player of the year since she finished with most digs for the team and second in the state," Hinman added. "She worked hard throughout the year and toward the end of the season really was able to shift the serve receive when needed for us."
Finding spots on the All-Sunrise second-team were senior Italian foreign exchange student Valentina Rolleri and junior Alea Lehr, who were both key at times in Boulder City's overall team success.
At middle blocker Rolleri led the team with 76 blocks, to go with 129 kills, 58 digs and 35 aces, while Lehr gave the Lady Eagles a reliable second setter with 346 assists, 82 aces, 81 digs and nine kills.
Senior defensive special Hunter Spragno was award the team's Coaches Award by Hinman for her outstanding effort this season.
"Hunter is getting the Coaches Award for her terrific attitude as a player that came off the bench anytime when needed and was ready to go," Hinman concluded.
— Contact Robert Vendettoli at BCRsports@gmail.com.