Victories continue to add up for Lady Eagles flag football team
January 27, 2016 - 4:01 pm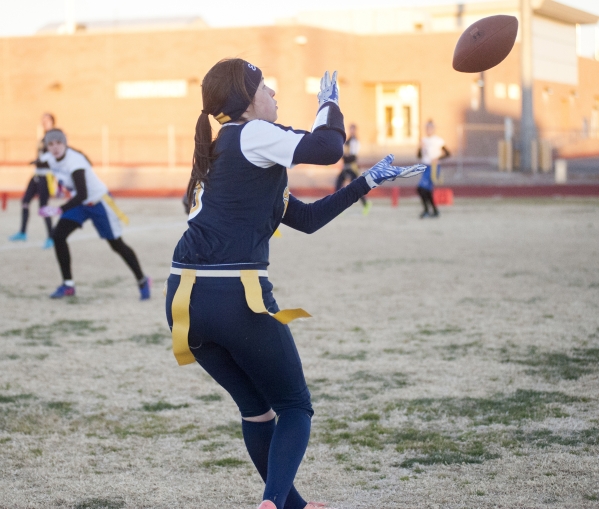 It's one thing to win ball games when your play reflects that of perfection, but what about on a day when your play reflects that of only good?
Boulder City High's girls flag football program certainly hasn't experienced many games like that this season, having outscored their opponents 320-32 this season, but on a night where points were at a premium, the Lady Eagles found a way to grind out a closer-than-expected victory the easy way.
On a quest to finish with their second consecutive undefeated season, the Lady Eagles opened their three-game slate this past week with their closet margin of victory this season, a 27-6 win over the Dragons on Jan. 20. Still even when they're not topping the 40-point mark, which has only happened three times this season for the 13-0 Lady Eagles, the girls certainly know how to get the job done.
Completing 20-of-29 on the day against Del Sol, senior dual-threat quarterback Jeanne Carmell was at her usual best, passing for 239 yards and three touchdowns. Continuing to thrive under pressure from opposing defenders, Carmell also added another 80 yards and a score on the ground for Boulder City on seven scrambles.
Breaking out offensively against the Dragons, junior receiver Kenadee Bailey led all pass catchers with four catches for 44 yards and all three of Carmell's touchdown passes.
Seniors Paige Buettner (five catches for 67 yards) and Oshanna Remy (four catches for 82 yards) also had strong outings for the Lady Eagles, while senior Makenzy Waldo caught two passes for 22 yards. Seniors Emma Jeppsen and Tarah Cox also each caught 17-yard passes.
Carving up the Dragons' defense on the ground as well, Remy burned Del Sol for 48 yards on a pair of attempts, while Cox gained 41 yards on three carries.
Defensively, the Lady Eagles were at the routine best, despite snapping a two-game streak in which they held conference Virgin Valley and Chaparral scoreless.
Linebackers Remy and Bailey both led the defense with seven tackles each, while defensive back Carmell added six of her own from the secondary.
Cox also made five tackles on the day, while Buettner and Jeppsen each contributed with four against Del Sol.
Leaving the currently second-seeded Sunrise conference Dragons in their rearview mirror, the Lady Eagles also picked up a pair of conference victories this over Southeast Career Technical Academy and Moapa Valley on Friday and Monday, respectively.
Nearly perfect all week for the Lady Eagles, Carmell combined for 34-of-51 passing for 521 passing yards, eight touchdowns and just one interception, while rushing for 120 yards and a score on 11 carries in Boulder City's 35-6 victory over the Roadrunners and 53-12 victory over the Pirates.
Taking turns starring for the Lady Eagles alongside Carmell, Remy and Jeppsen took turns making big contributions to the program.
Following a modest two catch, 25-yard performance against the Roardrunners, Remy broke out for her best game of the season with 10 catches against the Pirates for 171 yards and three scores. She also combined for six tackles and a sack during the stretch.
Becoming ever more dangerous for the Lady Eagles during the past month, Jeppsen's emergence as a player who's able to contribute in a variety of ways is another key reason for Boulder City's current 13-0 record.
Hauling in four catches for 31 yards, while adding another 20 rushing yards on two carries against the Roadrunners, Jeppsen also pulled down an interception on the defense end with a pair of tackles. Flashing big play ability, Jeppsen also earned a 54-yard rushing touchdown against the Pirates on her only attempt of the night, while returning an interception for a touchdown.
With a roster capable of giving opposing coaches matchup fits, the Lady Eagles will look to extend their season to a perfect 14-0 when they host conference opponent Sunrise Mountain tonight. During their first matchup with the Miners, Boulder City blanked Sunrise Mountain 41-0 on the road, using their versatility and speed at the skill position to pull ahead early.
"I'm proud of what these girls have been able to accomplish, up util this point," head coach Chris Morelli said. "They love this game and respect the game. As a coach, you can't ask for anything more than that."
Contact Robert Vendettoli at BCRsports@gmail.com.
^
Upcoming Games
Today, vs. Sunrise Mountain, 3:30 p.m., junior varsity; 4:30 p.m., varsity;
Monday, at Desert Pines, 3:30 p.m., junior varsity; 4:30 p.m., varsity