Versatile players strengthen varsity baseball lineup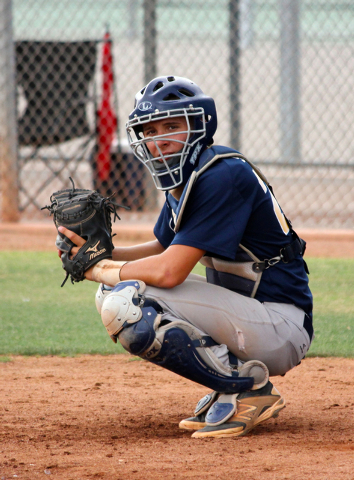 The Boulder City varsity baseball team may only have 12 players, but as coach Bobby Reese says, they are a quality 12.
"It is great to have nine returning varsity players, and while the varsity may only consist of 12 players, it is 12 very good baseball players," Reese said. "We have 12 kids that can play multiple positions and 10 of them that can pitch.
"This is a great group of kids that can accomplish a lot this season. If we can keep improving all season long and continue to work hard, we feel we can make a deep run in the playoffs. But the key is hard work. We will only be as good as the hard work we put into it."
Last season, the Eagles were 21-8-2 overall and 10-2 in the Sunrise League. They qualified for the playoffs as a No. 2 seed, and pulled off a few wins to reach the elimination bracket final round before being eliminated 3-2 by Chaparral.
The previous season, Reese's first as head coach, the Eagles were 25-11 overall and 12-0 in the league and finished second in the state in Division I-A.
"I think we are already a lot further ahead of where we were at this same time last year," said Peyton Koopman, a junior pitcher/outfielder. "I'm super excited for the year and I can't wait for our games to start because I think we are going to surprise a lot of people."
The Eagles play today through Saturday in the Bengal Kickoff at Bonanza High. They play at 3:30 p.m. Wednesday at home against Sierra Vista.
The returning seniors are pitcher Nick Giunta, outfielder Patrick Garvin, outfielder/pitcher Seth Kermode and catcher/pitcher Austin Shepard.
The other returning players are several juniors — infielder Nolan DeSantis, outfielder/pitcher Zach Murphy and infielder Austin Wishardd — and sophomore infielder/pitcher Preston Van Diest.
New to the varsity team are junior infielders Nick Morelli and Steve Wagner, and sophomore first baseman/pitcher Jake Hubel.
The team will start only one senior and that will be Shepard, who will move from third base to catcher. That move allows Wishard to return to third base where he played two seasons ago as a sophomore.
Taking over the shortstop position will be the two new infielders, Morelli and Wagner, while DeSantis returns to second base. Van Diest and Hubel will share playing first base.
Some positions will be shared depending on pitching duties and days off for pitchers to recover.
The outfield is solid, led by Koopman, who will be starting in left field for a third consecutive year. The center field will be played by Kermode and Murphy, while right field will be played by Garvin and Giunta.
"We have a lot more pitching depth than we have had in previous years, which can benefit us more as the season progresses," Shepard said. "Any lineup that coach Reese puts together can win games."