Utah tourney lets BCHS softball team show offensive, defensive skills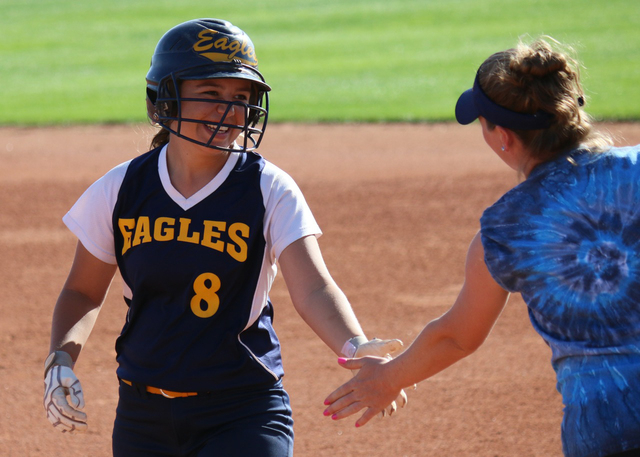 Traveling to Utah this past weekend for the March Warm-Up Tournament, the Boulder City High's Lady Eagles advanced to 11-3 on the season, compiling a 6-1 record on the road.
"I thought the level of competition we played was very solid," senior slugger Charlie Masterson said. "Overall, we faced a few high-level teams that I'm hopeful will prepare us for our postseason stretch in May when we face teams from the other side of the region."
Knocking off Desert Pines earlier in the week on March 16 in the Division I-A Sunrise opener, the Lady Eagles routed the Jaguars 17-0 in a five-inning run rule game, behind the bats of Masterson and freshman Marleena Mills, who each led the way with three RBIs apiece.
"Marleena's doing a great job for us right now," Masterson said. "Her bat is definitely a solid addition in our lineup and she makes us more dangerous offensively."
Sophomore newcomer Bailey Bennett-Jordan also had a solid outing against the Jaguars in their conference opener, slugging two runs batted in on three hits, while pitching a five-inning gem with nine strikeouts and only one hit allowed.
"Bailey's another great addition to this roster that we didn't have last year," Masterson said. "She can give us reliable innings when needed and again, you can never have too much offense. With her contributing on both sides of the ball, we could have a chance a making a postseason run."
Too much offense is certainly what the Lady Eagles are hoping for this season and after producing double-digit run totals in five of their seven games in Utah, it's safe to say that Boulder City has the conference's most potent offensive attack.
Posting double-digit run totals in nine of their 13 regular season games this far, the Lady Eagles swept their way through their first six Utah opponents by a combined score of 74-7, before falling to Desert Hills 8-5 in their final game of the weekend.
"We played a lot of games in two days," Boulder City head coach Angelica Moorhead said. "We saw a lot of good things out there, but we need to buckle down on some errors and take less strikes at the plate. Overall I'm very pleased with the girls and the way we played. (I'm) looking forward to seeing what the season has in store for us. We're going to take it one game at a time in order to hopefully get to Reno in May."
In Utah, all three Lady Eagles pitchers picked up victories over the weekend, with Masterson leading the way with three, while Bennett-Jordan compiled two and sophomore Jordan Moorhead grabbed one in a relief effort.
Against Pine View in their tournament opener, Masterson was nearly flawless on the mound in the tight 4-2 victory, tossing a complete seven-inning game with eight strikeouts and just two runs and hits allowed apiece.
In a six-inning run rule outing against North Sevier, Masterson was dominant on the mound, fanning 14 batters, while allowing five hits, She grabbed another win against Park City in a three-inning run rule, tossing two innings in which she struck out a pair of batters.
Bennett-Jordan, picked up her pair of victories against Duchesne and Delta, combining for 11 innings in which she struck out 16 batters, while allowing on four runs on eight hits. Jordan Moorhead came in for relief against Skyline, striking out four batters in her two innings of work to grab the win.
Run support was also at a premium throughout the weekend, with Masterson (Skyline), Bennett-Jordan (North Sevier), Mills (Delta) and senior Kylee Hamel (Duchesne) all providing the Lady Eagles with individual four-RBIs efforts.
Heading into the heart of their conference schedule, the Lady Eagles will travel to Sunrise Mountain this Monday to resume league play, before hosting Del Sol on Wednesday.
"I'm excited to get back into league play," Masterson concluded. "I'm hopeful we can take the momentum we gained from our Utah trip and use it throughout the regular season."
Contact Robert Vendettoli at BCRsports@gmail.com.