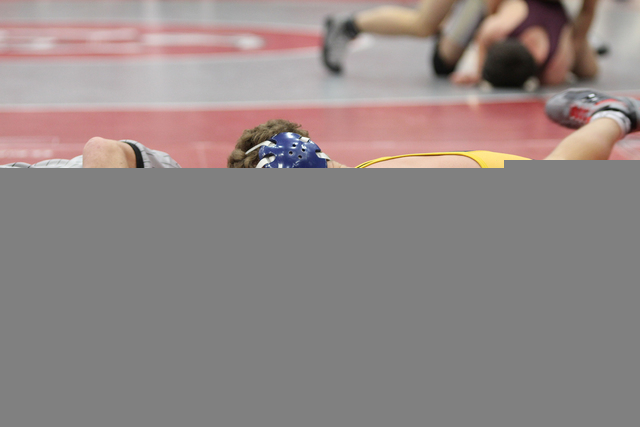 Team Boulder coach Jim Cox warned his wrestlers ahead of time to be ready for their toughest tournament of the season. The Great Basin Grapple in Delta, Utah, on Saturday proved to be just that.
For most of the Eagles, their individual records took a beating at the expense of experience.
"Our team record was 4-5 in the event, but we got great experience," Cox said. "With the season winding down, a tournament like this prepares everyone for the postseason and lets everyone know what they still need to work on."
Among the Utah teams in the event were Delta, the Class 3A state champion; Maple Mountain, the Class 4A state champion; and Atlamont, the Class 1A state champion.
"We didn't go there to go sightseeing; we went there to gain valuable experience and we did," Cox said. "The kids worked very hard. You get tough when you wrestle the best."
The Eagles end their regular season this week with senior night Friday against Durango and a final dual match against rival Virgin Valley on the road Tuesday.
The Eagles will host the two-day Division I-A Southern Region Tournament at home. The opening round begins at 3 p.m. Feb. 6. The middle rounds and the championship rounds start at 9 a.m. Feb. 7.
There will be 17 teams and more than 200 wrestlers seeking to advance to the state tournament in 14 weight classes. The top four in each class advance to the state tournament in Winnemucca Feb. 13-14.
To prepare for that region tournament, the Eagles did plenty of learning in Utah as 11 of 19 wrestlers who participated ended the weekend with a losing record.
The Utah teams dominated the lighter weight classes.
At 106 pounds, DJ Reese was 1-8 and Garrett Leavitt was 1-5. But at 113 pounds Brady Branscum was 7-1, while teammate Zane Dennington was 1-6.
Jimmy Brown (120 pounds) was 3-5 and Collin Fox (126) was 6-2. Tyler Rushworth (138) had a 5-3 record, while Dillon Viera (145) was 2-5 and Patrick Garvin (152) was 4-4.
At 160 pounds, Dylan Dennington earned a 3-1 record and Bryan Foster was 1-3, and at 170 pounds Alex Pappageorge was 3-2 and Devin Fox was 1-3.
Nelson Van Diest (182) ended with a 5-3 record and Jacob Jurgschat (195) was 2-5.
The Eagles used three wrestlers at 220 pounds, with Dustin Edlund being 2-2, Sam Doane was 1-2, and Kyle Gossard was 3-5. Heavyweight Jack Rozycki (285) ended 5-3.