Undefeated Lady Eagles flag football team continues to soar
December 16, 2015 - 3:43 pm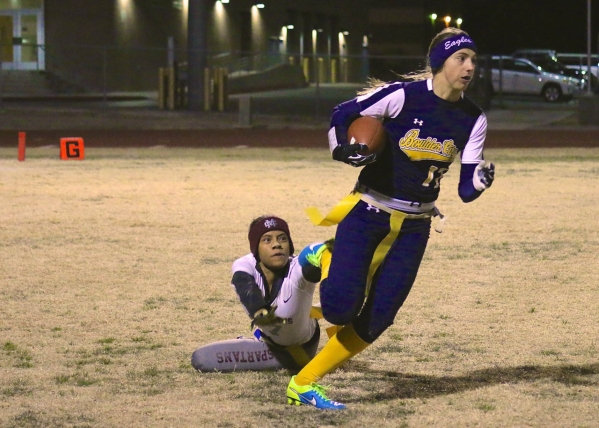 Despite riding a 28-game winning streak dating back to last season, the Boulder City flag football program continues to be highly disrespected, placing second in the Southern Nevada Flag Football Coaches poll this week behind Centennial High School, even though they defeated the Bulldogs in last season's Clark County School District championship game 7-6.
Moving up from No. 3 this week, the Lady Eagles returned nearly it's entire roster from a season ago, along with a few new faces that have been key throughout the Lady Eagles' current six-game winning streak this season. Unfortunately for the Lady Eagles, Boulder City most likely won't get a fair chance to claim the state's top spot at the end of the season, after being moved into a lower division based off of its student population, despite the dominance the team has displayed in years past over programs with nearly triple their student count.
"Some people still can't believe we won last year," Boulder City head coach Chris Morelli said. "As a small school we will always be seen as an underdog, even after going 22-0 last season. Last year our girls were prepared for excellence and that was the difference in the championship game. We will continue to quietly go about our business and at a high level regardless."
Not letting the latest poll get to their heads, the Lady Eagles were dominant Tuesday afternoon on the road at Moapa Valley, just hours after the latest rankings were released.
Defeating the 4-3 Pirates 40-14 after a monstrous fourth quarter, the Lady Eagles were able to come out of Overton unscathed, remaining undefeated for the season.
Knotted at 14-14 heading into the fourth quarter, the Lady Eagles, behind a balanced offensive, were able to score 26 unanswered points to close out the game Tuesday.
Sensational as always, senior dual-threat quarterback Jeanne Carmell put together another breathtaking performance both through the air and on the ground, combining for five touchdowns.
Completing 20-of-29 against the Pirates, Carmell threw 254 yards and a pair of scores, while rushing for another 54 yards on the ground and three scores on seven carries.
Lending a helping hand both through the air and on the ground was senior running back Paige Buettner, who caught six passes for 65 yards and a score as Carmell's favorite target, while rushing for 24 yards and a score on five attempts.
"Paige has done an outstanding job for us on both sides of the ball," Morelli said. "Her pass catching abilities are phenomenal this year and she only continues to get better each week."
Junior Kenadee Bailey pulled down a receiving score, while hauling in four passes for 74 yards, while seniors Oshanna Remy (five catches, 34 yards) Tarah Cox (three catches, 43 yards) and junior Aimee Finn (four catches, 39 yards) all had productive days receiving.
On defense for the Lady Eagles, Bailey led the way with eight tackles, while senior defensive back Makenzy Waldo had a career day with a pair of interceptions.
"Makenzy has emerged as another complete player for us," Morelli added. She was a full-time player on both sides of the ball last year and is putting up great numbers this year. She has made big plays for us all season long."
Also pulling down an interception against the Pirates was senior Emma Jeppsen, who finished the game with six tackles, while Carmell, Buettner and Remy all finished with two tackles apiece.
Advancing to 6-0 on the season, the Lady Eagles also pulled out a pair of victories last week against Division I program Cimarron-Memorial 40-0 and against Southeast Career Technical Academy 4-1. Coincidentally the flag football coaches poll is compiled by Cimarron-Memorial head coach Mark Bailey, whose Spartans suffered their worst defeat to date against Boulder City, despite hanging tough with Division I opponents Palo Verde and Legacy, which ranked fifth and sixth in the poll, respectively.
In the two-game outing, Carmell combined to complete 34-of-44 for 444 yards and eight passing touchdowns, while rushing for 87 yards and a score on nine carries.
On defense, Bailey combined to make 15 tackles and four interceptions, three against Cimarron and one against SECTA, while Jeppsen, Waldo, Finn and Remy all recorded interceptions as well.
The Lady Eagles will resume league play tonight at Sunrise Mountain.
Contact Robert Vendettoli at BCRSports@gmail.com.
^
Upcoming Games
Today, at Sunrise Mountain, 4:30 p.m., junior varsity; 6 p.m., varsity