Track team heads to, hosts division meet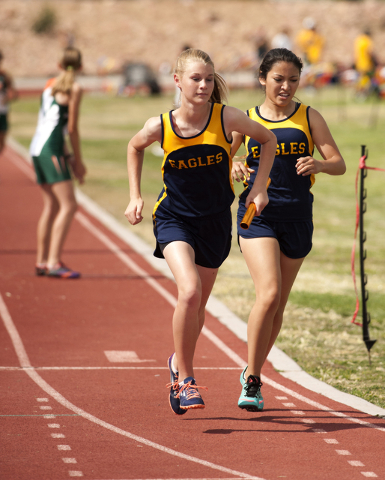 The Boulder City track team hosted the Boulder City Small School Invite on Friday.
The boys team, with 97 points, placed second behind Faith Lutheran, which has 132 points.
Brooks Roe placed second in the 300-meter hurdles with a time of 41.11, after disqualifying in the 110 hurdles with a false start. He also placed fourth in long jump, recording a distance of 19-07.
Andrew Sands placed first in shot put, throwing 48 feet and first in discus, with a distance of 148-06. Sam Gomez took second in both events, with distances of 46-01.25 and 146-11, respectively.
The girls team placed fourth overall in the meet, with 65 points. Faith Lutheran also placed first for the girls with 202.5 points.
Sierra Selinger placed third in the 3200-meter relay with a time of 13:13.93. She also placed seventh in the 1600-meter race, running 5:59.09.
Sariah Gneiting placed first in shot put with a distance of 35-09.25, and second in discus throwing with a throw of 101-01.
Up next for the Boulder City track and field team is the regional Divisions I-A, III and IV Southern track meet Friday and Saturday at the high school.
SWIMMING
The Boulder City swim team attended the Last Chance Meet, held at Municipal Pool, on Saturday. It was not a scored meet, but rather a chance for swimmers to record times to make them eligible for regional competition.
According to coach Sara Carroll, about 90 percent of those who swam recorded their best times during the meet. For those who didn't make regional eligibility, it was a good season-ending meet. It also was a great chance for some swimmers to swim in events they had not participated in before, she said.
Carroll said the girls team looks strong heading into regionals, while the boys may have a bit more of a challenge with bigger teams.
This season, the girls team is looking for its third consecutive state title, while the boys are looking for their fifth.
Regional preliminaries began Tuesday night at UNLV. Regionals will be held at 5:30 Friday night, also at UNLV.
Contact Rochelle Richards at BCRsports@gmail.com.