Tourney shows promise of young runners
October 22, 2014 - 1:20 pm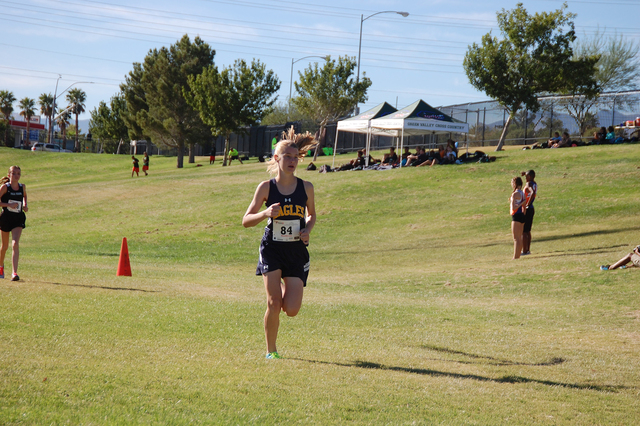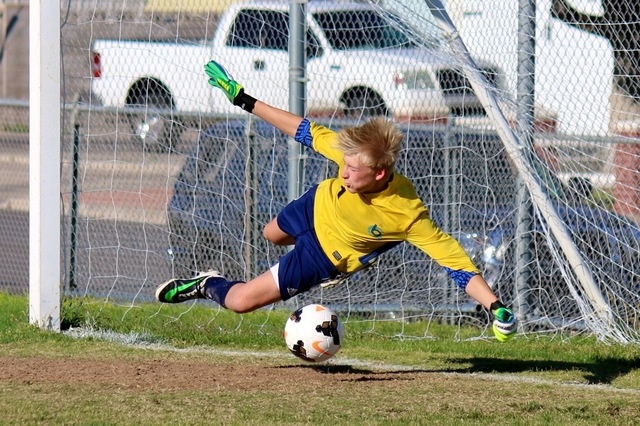 Boulder City's Sierra Selinger finished third among 87 runners Oct. 14 at the annual Freshman/Sophomore Cross-Country Invitational.
The Meadows' Ellen Hirsberg won the 2.5-mile race in 16 minutes, 28.8 seconds, edging Centennial's Delani Dietrich (17:13.1) and Selinger (17:18.1).
"It is an annual event that features only underclassmen in a race where they face athletes of their same grade," Boulder City cross-country coach Canaan Petersen said. "It usually forecasts the students to watch in the upcoming years. We have had some success in the past, but two individuals really stood out this year and represented BC well. As a team, we knew that Sierra was special when she walked onto the team as a freshman."
Her older brother Joren is the boys' team captain and she has been running races, triathlons and Ironman competitions for several years with him and other family members.
"The race went well," Sierra Selinger said. "The freshmen girls finished pretty close together. The course had a lot of hills so that was tough. I just wanted to stick with the pace-leading girls.
"I think that the freshman girls have a lot of potential. When we are all seniors, we might be able to all be in the top five for the girls team."
Sierra Selinger has been running in the top 10 of all of the Lady Eagles' races and has even challenged No. 1 runner Jessica Embro in a few events.
"Sierra went into the race knowing that she could do well," Petersen said. "She ran a fantastic race and being third out of 87 hopefully is an indication of success to come in the future."
Running behind Selinger was another Lady Eagles freshman, Camille Torgeson. She, too, has been running well this season and learning from older sister Emma, a junior. Camille Torgeson finished sixth in the invitational.
The Eagles' Tyler Campbell ran well in the sophomore boys race, placing 21st.
Tennis
Melissa O'Berto and three Boulder City girls doubles teams won their opening-round matches and advanced to the second round of the Division I-A Southern Region girls singles and doubles tournament.
Top-seeded O'Berto defeated Chaparral's Joana Naguit 7-5, 6-2 in the opening round of 32 on Oct. 14 at the Darling Tennis Center in Las Vegas. Also in the first round, Clark's Elissa Gray defeated Boulder City's Arianne Hess 6-2, 6-1
But in the round of 16 on Oct. 15, The Meadows' Ana Frazier, playing on her home court, defeated O'Berto 6-1, 6-4
In girls doubles tournament Oct. 14, all three Boulder City teams won their opening round of 32 matches.
The top-seeded Lady Eagles team of Sariah Gneiting and Alexis LeMaster defeated Del Sol's Jordan Haines and Isabel Hernandez 6-2, 6-0.
Fourth-seeded Iris Meijer and Natalia Fullmer beat Virgin Valley's Emily Leavitt and Jackie Hughes 7-5, 6-2.
Unseeded McKenna Frazier and Kyra Yamamoto defeated Cheyenne's Destiny Rose and Cierra McFarland 6-1, 6-1.
But Boulder City's doubles team did not fare as well in the second round.
Clark's Shirley Wong and Amber Yun beat Gneiting and LeMaster 6-4, 6-4.
The Meadows' Sonia Vohra and Paige Malik defeated Meijer and Fullmer 6-1, 6-1, while The Meadows' Samantha Gondy and Shalini Shah eliminated Frazier and Yamamoto 6-0, 6-0.
In the boys Southern Region, Boulder City's Andre Pappas qualified as a No. 3 seed but lost in the round of 32 on Oct. 14 to Faith Lutheran's Mario Stadtlander 6-3, 6-1.