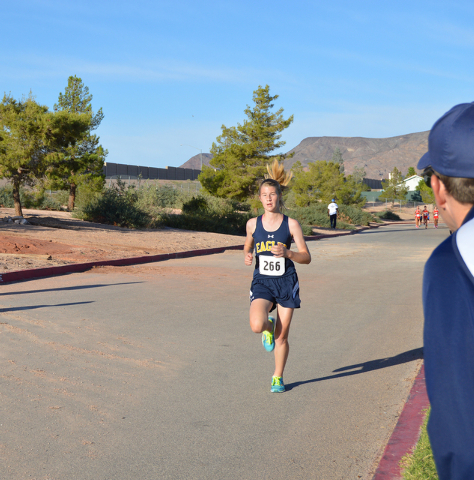 Two weeks without opposing competition did not hurt the Boulder City cross-country teams as coach Canaan Petersen worried it might.
Instead, the Eagles and the Lady Eagles focused on tough runs and workouts, preparing for the second half of the season.
It worked for them as several runners turned in improved performances when they returned to competition Saturday in the Foothill Falcon 5K Invitational, a competition broken into two races — one for freshmen-sophomores and one for juniors and seniors.
"We had many so many individuals step up their performances at Foothill," Petersen said. "For the past two weeks the team did not have a meet, so we focused on tough runs and workouts that really pushed everyone to improve. This is the time of the season where everyone will be pushed to their limit to improve times before we back off a little in time for the end of season tournaments."
Jessica Embro turned in the best performance with a time of 20 minutes, 52.8 seconds to place seventh overall in the girls junior-senior race. Emma Torgesen ran 22:07.6 to place 29th.
"The race was good," said Embro, whose time was the second best among the Division I-A runners she will face in the region and state meets. "It was a fast course and everyone's times were a lot better. I will admit, I love the course. But we need to make sure we get the girls team set and all of our runners need to improve in time. I believe we can make it to the state tournament as a team."
In the girls freshman-sophomore, Sierra Selinger ran 21:12.4 to place 10th, while teammate Sabrina Snow was 79th.
"Individually, Jessica, Sierra and Emma all did fantastic," Petersen said. "All of them improved their times after many individual and team tough workouts these past couple of weeks."
Petersen believes the improved times will place the girls team in position to do well in the postseason.
"Based on those three performances, as well as others, the girls team is in position to do quite well at the Southern Region meet. We need to manage our injuries and continue to perform in practice and meets, but the end of the season could be a lot of fun for these girls," Petersen said.
On the boys team, Tyler Campbell's 18:18.4 effort placed him 20th overall in the freshman-sophomore race. Caleb Shamo was 75th and Tyson Morris was 102nd.
Joren Selinger finished 54th in the junior-senior race with a time of 18:41.8.
"Several of the boys had good performances, too," Petersen said.
"Tyler has steadily improved this season and he ran a great race to place 20th. Joren competed in the junior-senior division, but his time would have been just behind Tyler in a main race in Division I-A.
"Caleb and Tyson also gave good performances. The boys team has been improving over the past month and we are starting to beat teams that we lost to earlier in the season."