Today's tennis match crucial for state title shot
October 8, 2014 - 12:31 pm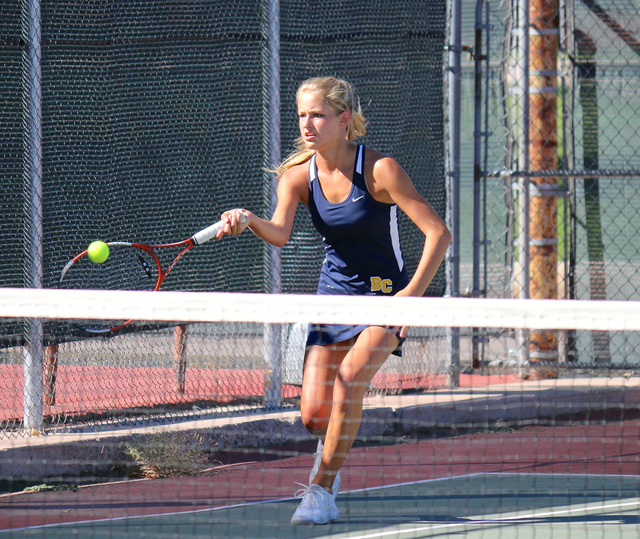 The Boulder City girls tennis team has a chance today to advance to the Division I-A state tournament with a win.
For the third consecutive year, the Lady Eagles finished undefeated in the Sunrise League regular season and advanced to the Southern Region Girls Tennis Team Tournament as the No. 1 seed from the league.
Today, Boulder City, which is 9-1 overall, plays at home in a region semifinal against the winner between Tech (6-3) and The Meadows (5-3). A victory advances the Lady Eagles to Friday's region final at the Darling Tennis Center in Las Vegas; play will begin at 4 p.m.
It also sends the Lady Eagles to the state tournament in Reno next week because both the region champion and region runner-up advance to state. The singles state championships are Oct. 23.
In the Southern Region opening round Tuesday, Boulder City defeated visiting Sierra Vista 10-­-8. The doubles teams of Kyra Yamamoto and McKenna Frazier, and Sariah Gneiting and Iris Meijer both went 3-­0 as the Lady Eagles edged the Mountain Lions. Melissa O'Berto was 2-­1 in singles.
Boulder City (9-­1) will host The Meadows (11-­2) at 3 p.m. today in a semifinal.
The boys tennis Southern Region tournament began Monday, but Boulder City did not qualify for the event.
"Our goals this season included being the No. 1 seed from our league and winning our first two playoff matches to advance to the state tournament," said O'Berto, a senior and the No. 1 singles player. "We won the league and finished No. 1 as we had planned. Now, we have to win to advance to state.
"As a team, we are committed to playing the ball hard regardless of the score or team we are playing. With five seniors playing their final matches, we want to play hard and enjoy the high school tennis season for all it is worth and not take it for granted before it is over."
A year ago, Boulder City won its first playoff match, but fell to No. 2 seed Faith Lutheran in the semifinals, missing its chance to advance to state.
"We have improved each of the past three seasons; reaching state would be a great accomplishment for everyone," said No. 2 singles player Arianne Hess. "We are excited."
On Sept. 29, Boulder City defeated Virgin Valley 13-5 as O'Berto and Hess each went 3-0 in singles to lead the Lady Eagles over the Bulldogs. The doubles teams of Sariah Gneiting and Alexis LeMaster, and Natalia Fullmer and Iris Meijer also went 3-0.