Three honored as top student-athletes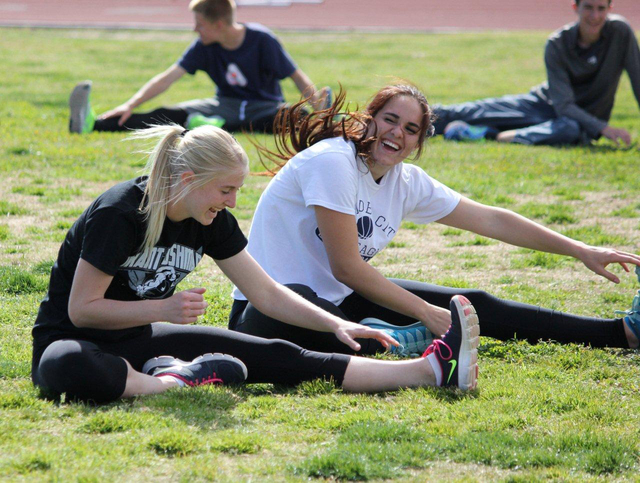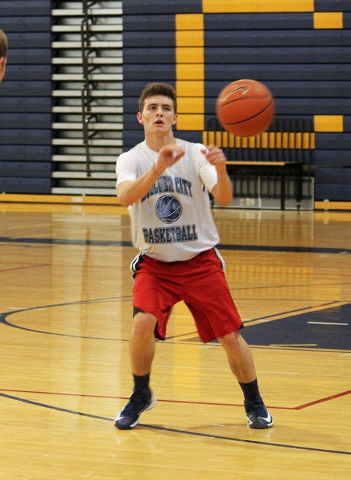 Three Boulder City student-athletes were among those honored April 23 as Southern Nevada's Top 10 Student-Athletes of the Year by the Nevada Interscholastic Activities Association and corporate partners Farmers Insurance Group and Lifetouch.
Ten finalists were chosen in Southern Nevada and 10 in Northern Nevada. The honorees were selected for excelling in the classroom and in athletics.
The three Boulder City student-athletes, Whitney Barlow, Jana Williams and Sam Woodbury, were honored at the Aliante. Each received a $1,500 scholarship.
Barlow earned 11 varsity letters during her time with the Lady Eagles — four in volleyball, four in basketball and three in track and field. A five-time team captain, Barlow is a three-time first-team all-state selection in volleyball and a three-time all-region first-team pick in basketball.
Barlow was voted the Sunrise League's Most Valuable Player in volleyball and basketball this season while leading her teams to the state semifinal in volleyball and state final in basketball. She has a weighted 4.6 GPA.
"I feel as if all the hard work and dedication has paid off," said Barlow, who joins her brother Mitch (2005) as a recipient of the award. "It's one of those things you never see happening to yourself, so when it does, it doesn't seem real. I am proud to do what Mitch did. I think we are one of the few siblings to ever win the honor."
Williams earned nine varsity letters in soccer, basketball and track and field. She was team captain during the past two soccer seasons and helped the Lady Eagles win the Class 3A Southern League title as a sophomore.
In basketball, Williams helped lead the team to the Sunrise League championship en route to the state final. She also ran on her track team's school-record-setting 3,200-meter relay in the 2013 Southern Region Championships. Williams serves as the president of the National Honor Society and has a perfect 4.8 weighted GPA.
Woodbury was team captain of both the football and basketball teams this past season. He was named to the Division I-A All-Southern Region as a cornerback after the conclusion of his senior year and was named the basketball team's Athlete of the Season last winter. He is a five-time varsity letter winner, including one in swimming. Woodbury, who is an Eagle Scout, also carries a perfect 4.8 weighted GPA.
"I am grateful and happy to be receiving such an award that I know so many student-athletes deserve but few are selected," Woodbury said. "I feel lucky. It is also nice to know that all the hard work I put in on and off the field was all worth it."
According to the NIAA, the Top Ten Student-Athletes of the Year award is given to student-athletes "who exemplify total school and community involvement."
Special consideration in the selection process is given to student-athletes who participated in multiple sports, other school and student government activities and community service projects, while at the same time maintained a high academic status within their school.
"This is an outstanding event which recognizes student-athletes who exemplify what high school activities and athletics are all about," said Eddie Bonine, executive director of the NIAA. "While the requirements sound restrictive, we know these student-athletes exist as evident by the group of individuals we have with us tonight. It is our goal through the Top Ten program to find and honor these superb individuals."
All candidates must be seniors. The general categories include scholastic achievement (class rank, unweighted GPA, number of semesters on the honor roll, number of honors classes taken, ACT and SAT scores, overall sports participation (number of varsity sports, number of varsity letters, and individual and team achievements), other contributions (school and church activities and community service accomplishments), an essay and letters of recommendation.
The Top Ten Student-Athletes of the Year in Northern Nevada and Southern Nevada, as selected by a panel of judges, are then honored at a formal dinner banquet.
The Top Ten Student-Athletes of the Year award banquets began in 1996. The Las Vegas Review-Journal, which is owned by the Boulder City Review's parent company, Stephens Media, also is a sponsor of the event.