Three Eagles honored for abilities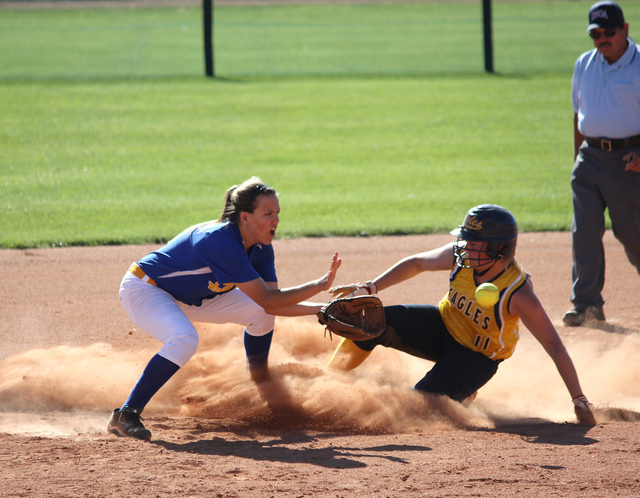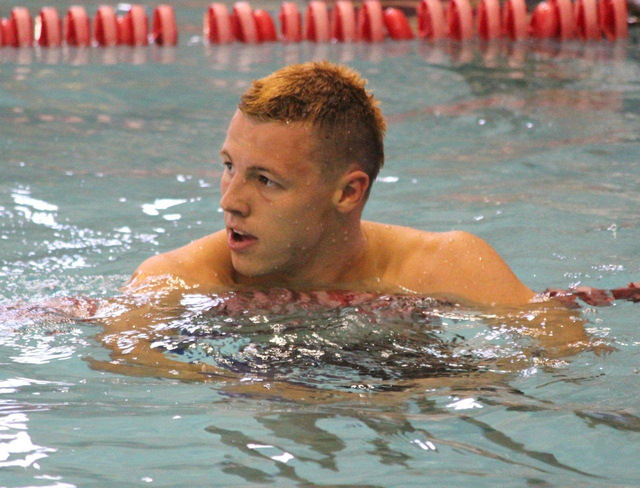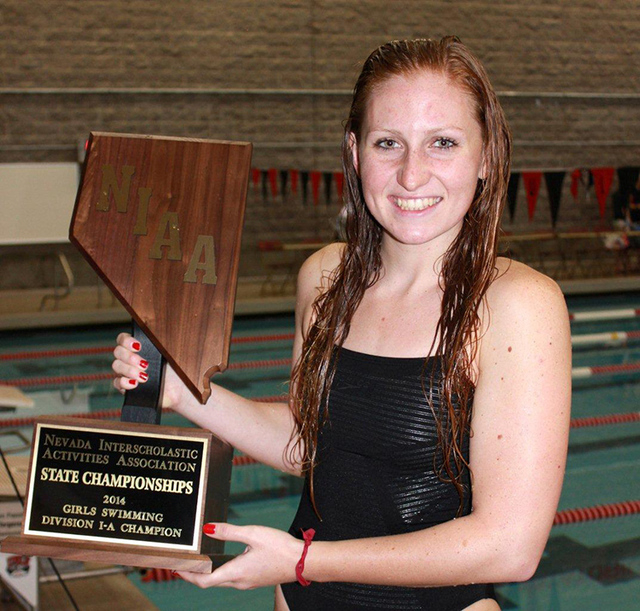 Three Boulder City athletes — swimmers Joey Gebhart and Cori Molisee, and softball player Charlene Masterson — were honored June 11 by the Las Vegas Review-Journal as the Spring Athletes of the Year in their respective sports.
"It is a great honor to be recognized with the award because it is a countywide award and means so much," Molisee said. "It was a great ending to the school year, winning the state team championship and with graduation and this is just more icing on the cake."
Molisee, a senior, won the 200-meter freestyle (1 minute, 54.25 seconds) and 500 freestyle (5:06.74) and was a member of two winning relay teams as Boulder City repeated as the Division I-A team state champion. Molisee has signed a national letter of intent to attend New Mexico State University.
Boulder City made it a sweep in swimming with senior Gebhart taking home the honor for boys swimming. Gebhart, who has committed to attending the Air Force Academy, won the 100 butterfly (50.79) and 100 backstroke (51.50) at the Division I-A state championship meet. He also was a member of two state championship relays.
The Boulder City boys won their fourth consecutive region and state championship and the girls won their second straight region and state championship under coach Sara Carroll.
The third Boulder City athlete, Masterson, is only a sophomore and led Boulder City to the state championship tournament with her pitching and hitting.
Masterson helped the Lady Eagles to a 25-9 record in coach Angelica Moorhead's first season. The Lady Eagles dominated the Sunrise League and were Southern Region runner-up. They lost two close games at the state finals in Reno, and finished fourth.
Masterson was chosen as the Southern Region Player of the Year, as well as the Sunrise League MVP.
The Division I-A All-Southern Region and All-Sunrise League teams were announced for baseball and softball and several Boulder City athletes were honored.
In softball, Masterson, Mickaela Brown and Katlyn Jackson were selected All-Southern Region first-team and All-Sunrise League first-team. Chosen to the All-Southern Region second team were Alyssa Ybarra and Bryanna Lopez.
Ybarra and Lopez also were selected All-Sunrise first-team, while Nikki Schulz, Kaila Davis and Megan Morton were chosen All-Sunrise League second-team.
The Sunrise League Coach of the Year was Virgin Valley's Travis Griffiths, who edged Boulder City's Moorhead for the honor.
In baseball, Colton Bosnos and Peyton Koopman were selected All-Southern Region first-team and All-Sunrise League first-team.
Being selected All-Sunrise League second-team were Preston Van Diest, Nick Giunta, Mario Castanon and Nolan DeSantis.
No Boulder City athletes in baseball or softball were selected to the Nevada All-State (all divisions) first or second teams.