Teamwork results in victory for wrestlers with 10 top-three finishes at Pahranagat Valley Invitational
January 13, 2016 - 2:59 pm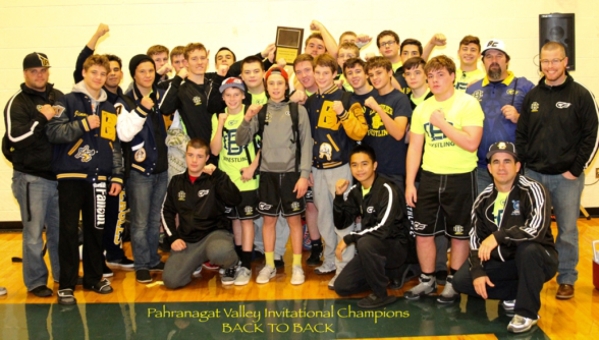 It's overall team performances like this Saturday's domination of the Pahranagat Valley Invitational that brings a team together, one that solidifies a bond, one that ends any doubt.
"This past week's win was not only big for our team as a whole, but for all of our individual guys," said Boulder City assistant coach Allen Haines, a former Eagles wrestling champion in 2009 in the 130-pound weight class. "We knew coming into the invitational that this year's group is special, that we have guys who can compete for state tournament spots. One of the hardest things in wrestling though is believing in yourself, fighting to the last second when you're winded and have your back against the wall. Our guys never quit this past weekend; they fought like champions and are truly starting to buy into the idea that they can be champions."
Following inspiring performances earlier in the year in the Jimmy Hamada Invitational (Calif.) and the Dixie Desert Storm Invitational (Utah) were Boulder City finished modestly, the Eagles broke out entirely in the Pahranagat Valley Invitational, winning eight weight classes to finish with an overall team score of 253.
Division I-A rivals Moapa Valley and Virgin Valley came in second and third, respectively, with scores of 169.5 and 108, showing, at least for the time being, the advantages the Eagles have over both competitors.
"It says a lot about these guys and the way they handled themselves," Haines said. "We've become battle tested because of our out-of-state experiences and the top level of competition we've faced off against. Everyone hates to lose, but sometimes losses are the best thing for you. They humble you, they're learning experiences. Our out-of-state travels paid off this past weekend for sure in what was an even tougher field of competition than we had originally anticipated."
In the 106-pound and 113-pound weight classes, sophomores Garrett Leavitt and Zane Dennington got first-hand looks at their potential regional opponents.
Leavitt, won his decision over Gage Woods of Virgin Valley with a score of 10-5, while Dennington picked up a 5-0 victory over Angel DeSantiago of Virgin Valley.
"This was a great tournament victory for our team," Leavitt said. "I think our performances shows just how much fight we have in us and our dedication to the sport. Everyone worked hard in practice in the week leading up and we just wanted to go in there and give it our all, win or lose."
In the 120-pound weight class, sophomore D.J. Reese soundly picked up a big 16-2 victory over Anthony Veltri of Division I Bishop Gorman, while junior Jimmy Brown defeated Lisandro Rojas of Northern Nevada opponent West Wendover to win the 126-pound weight class.
"This was a great team victory for us," Brown said. "To come back from our losses earlier in the season and dominate the competition like we did just shows where our mindsets are at."
For Brown, avenging last season's Division I-A regional quarterfinals loss is where his mindset is focused toward, proving throughout the first half of the season to be one of the Eagles' top wrestlers.
"I'm just trying to keep a positive attitude moving forward, not only for myself but for everyone," Brown added. "We love this sport, that's what we tell everyone on our team. My focus this season is geared toward competing at state this time."
In the 138-pound weight class, senior Tyler-James Rushworth defeated Jesse Mathews of Lincoln County, while juniors Octavian Trumbo (145 pounds) and Dillon Viera (152 pounds) won their respected weight classes, as well.
Making this past week's biggest impact might have been the Eagles' biggest wrestler. Senior Kyle Gossard earned a 2-1 victory over Keyshawn Rubio of Moapa Valley in the 285-pound weight class. This season hasn't gone quite like Gossard has hoped early on, he said he is hopeful to capitalize on his Pahranagat Valley Invitational performance moving forward.
"This was a big win for me," Gossard said. "I came away from this showing myself that I still have a lot of fight in me. It's been a rough start to the season, but I've been battling to bring myself back."
Giving the boys 10 top three finishers for the day, freshman Jimmy Dunagan and sophomore Wyatt Harling rounded out the group's efforts, taking home third-place finishes in the 132-pound weight class and 182-pound weight class, respectively.
"Again, (I) couldn't be more proud of everyone," Haines concluded. "It's been a few year's since we've had a state champion in our gym, but I think that could change this year. We have a lot of talented guys, who, if they keep putting the work in, could find themselves competing later this year."
Contact Robert Vendettoli at BCRsports@gmail.com.
^
Upcoming games
Wednesday, vs Chaparral, 5 p.m., junior varsity; 6 p.m., varsity