Teamwork keeps Lady Eagles in first place
January 30, 2014 - 5:15 am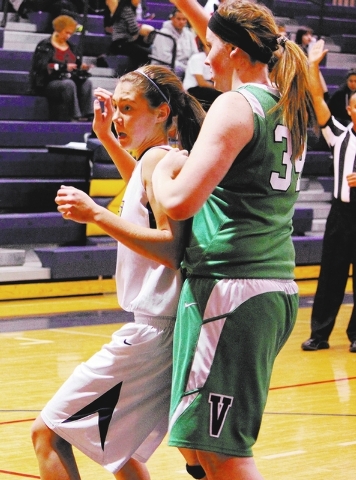 Junior guard Alyssa Ybarra scored 26 points and made six steals to help Boulder City's girls basketball team to a 58-49 home win over Virgin Valley Jan. 23. The Lady Eagles remain in first place in Division 1-A's Sunrise League.
Megan Morton scored 14 points and Whitney Barlow had 10 points for the Lady Eagles. The trio scored 50 of the team's 58 points.
"The team is playing so well together with one goal in mind," Ybarra said. "The only reason I scored 26 is because my teammates made the plays to get me open shots. Every game there is a different leading scorer. Our goal is to win, not to count points."
The Eagles outscored the Bulldogs 14-8 in the opening period and led 31-22 at halftime.
In Monday's 54-23 victory at Desert Pines, Barlow led all scorers with 17 points as the Lady Eagles easily won. She added nine rebounds and five steals.
Ybarra added 11 points, while Jana Williams scored seven points, Ali Rovacchi had six and Morton had five. Katlyn Daly had 10 rebounds and eight assists.
"Against Pines we struggled in the first half, but we picked it up in the second half," Boulder City head coach Paul Dosch said. "We are halfway through our league schedule and we are happy with how we are playing. But everyone needs to keep playing for each other and continue to work hard."
Boulder City is 15-3 overall and 6-0 in the Sunrise League. The Lady Eagles also played a home game Wednesday against Moapa Valley.
The Lady Eagles' next games are at 5 p.m. Monday at Sunrise Mountain and at 6:30 p.m. Wednesday at home against Tech.
Boys Basketball
Garrett Leavitt went 6-for-6 from the free-throw line in the fourth quarter on Jan. 23 as Virgin Valley held on for a 44-41 win over visiting Boulder City.
Boulder City had a chance to tie the game at the end, but a 3-point shot in the final seconds bounced off the rim and the Bulldogs' DeVonte Milligan grabbed the rebound to secure the win.
Tyler Newby had 12 points for the Eagles, who are 6-11 overall and 2-4 in Sunrise League play. The close loss snapped a two-game winning streak for the Eagles.
Newby also led the Eagles in scoring Monday with 11 points, but defending state champion Desert Pines (15-3) won 68-29 at home. Marcus Walker and Jacorey Dixon each scored four points.
The Eagles concluded a tough three-game stretch of their schedule when they played at home Wednesday against Moapa Valley.
The Eagles' next games are Monday at Sunrise Mountain and Wednesday at Tech. Both games are at 6:30 p.m.
Bowling
Both the boys and girls Division 1-A state tournament semifinals were held Wednesday, with the finals today at The Orleans. The results will be printed in our next issue, Feb. 6. The Eagles, state runner-up in 2013, were seeded first in the tournament; the Lady Eagles were seeded second.