April 29, 2015 - 12:56 pm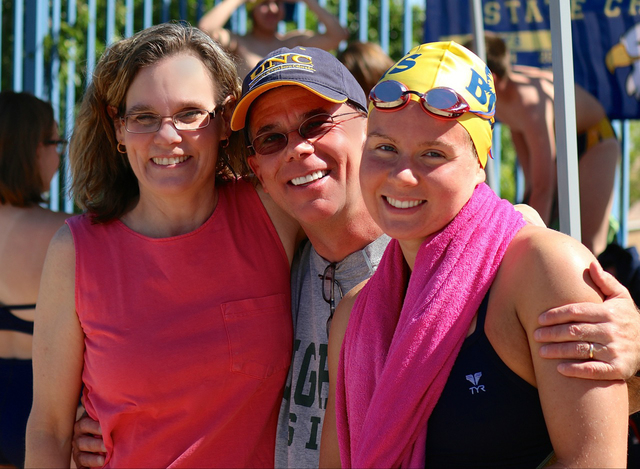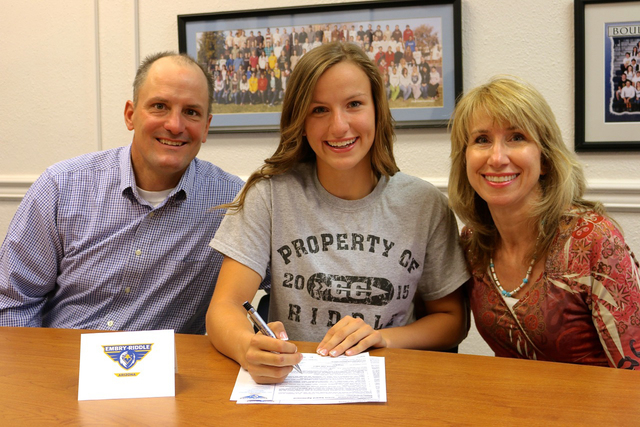 Jessica Purdy
Jessica Purdy has been swimming since she was 6 years old, so it was no surprise when she earned an athletic scholarship to compete for the University of Northern Colorado.
Purdy, a senior at Boulder City High School, is a four-year varsity letter earner, and has swum year-round for more than 12 years. Her training regimen is harsh, having swim practice twice a day, and workouts multiple times per week.
During the school year, Purdy said she wakes up at 4:12 a.m. to make the 25-minute trek to the Henderson Multigenerational pool for morning practice. Most students would loathe getting up that early, especially during their senior year, but for Purdy it's no big deal.
"Waking up early has never bothered me," Purdy said. "Swimming is what I do."
Purdy says that even though the time and dedication she puts into the sport can be demanding and grueling, the benefits far outweigh the costs. She believes that swimming can take her places.
"Jessica is very undemanding and understated. She is agreeable to doing anything to help the team and she is versatile, and therefore very valuable," said swim coach Sara Carroll. "She has represented BCHS at state all four years, and she is just someone we can always count on. She will be sorely missed and we wish her the best."
Through her years of swimming, Purdy said she has learned a plethora of skills ranging from time management to determination and hard work. It's also been an outlet for friendships.
Before moving on to swimming in college, Purdy said she wants to close her high school swimming years with a bang. She wants to improve her times in the 100-yard butterfly and 50-yard freestyle. She also wants to help lead the girls team to its third consecutive state championship.
Purdy will be moving 800 miles away to Greeley, Colo., but said that she will always be grateful for the opportunities she had at Boulder City.
"Boulder City/Henderson swim team will forever be my home," Purdy said. "I cannot thank my coaches and family enough for the guidance to help achieve what I have achieved today. I am excited to swim for the University of Northern Colorado this fall."
At UNCO, Purdy will study nursing or education. As a Bear, Purdy will be swimming in a Division I, Western Athletic Conference.
"I could not be more proud of her," her mother, Joan Purdy, said.
Jessica Embro
Jessica Embro didn't plan on playing collegiate sports; she was going to focus just on her academics. But an opportunity revealed itself, Embro couldn't say no.
On April 22, Embro signed her letter of intent to run cross-country at Embry-Riddle Aeronautical University in Prescott, Ariz.
"I was superhonored to have that happen to me," Embro said. "It was kind of crazy how it all happened, but I was very, very blessed."
Embro, who also plays softball for Boulder City High School, said she fell in love with cross-country by accident. Her addition to the team was conditional, because she lost a bet with one of her teachers when she was a sophomore in Atlanta, before she and her family moved to Las Vegas.
She's been running ever since.
"I just loved the team," Embro said. "That's what I love so much about cross-country is the team atmosphere."
Upon moving to Boulder City, Embro continued to run and excel. She dropped a couple of minutes off her time every year, and by the end her senior year she came out of region and state competitions realizing that she wanted to keep running after high school.
Cross-country coach Canaan Petersen called Embro a "natural leader" who inspires and guides younger athletes on and off the course.
"Jessica has been vital to the success that the girls team has sustained ever since she started running for the team. Her work ethic, leadership capability, and good-natured demeanor will be something that the team misses next year. She is the type of athlete that can go out for any sport, pick it up and contribute to the team," he said. "I wish her well at Embry-Riddle and I know if she applies the same aforementioned characteristics to that team, she will be able to help in many ways."
Besides coaching her, Petersen served as her teacher for Advanced Placement American history. He cited her dedication to improve her skills as one of her strengths.
Originally Embro had her eyes set on a Christian university in Virginia. Her mother discovered Embry-Riddle, and on their way to Northern Arizona University, they stopped for a campus tour where Embro connected with the cross-country coach, Chris Bray.
After talking with Bray, Embro had some hard discussions with her parents about which college to attend. She chose Embry-Riddle.
"I prayed a lot about it, and I decided that, yeah, this is what I want to do," Embro said. "So I committed."
Christ has always been a huge aspect of Embro's life, and she said she felt as if he was pushing her to choose Embry-Riddle. But Embro also had to be true to herself. Before any decisions were made about college, she told Bray about her love for Christ.
"Honestly, I think it's one of the reasons it really sealed the deal for me running for that school is because it gave him a whole new dimension of me, and what I believe and who I am as a person," Embro said. "Because honestly, I don't know what I would do without Christ in my life, and he — Christ — is the reason why I act the way I do, and the way I am, and my drive.
"So telling my coach about that gave him a lot of insight into the person I am, and I saw that is when he was like 'Yes, we need people like you.' "
But Embro said she wasn't going to Embry-Riddle just to run cross-country. She believes the school has great academic programs that can give her the tools and education she needs to pursue a career in global business.
Embro will be studying the language-and-culture route of global business with emphasis on Spanish and minors in aeronautical studies and Mandarin Chinese.
Contact Rochelle Richards at BCRsports@gmail.com.